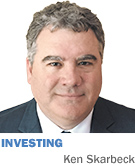 Every year about this time, Warren Buffett releases his annual letter to Berkshire Hathaway shareholders and follows it up with a three-hour interview on CNBC. Buffett takes some arrows these days from investors who don't like his politics or ideas on taxation. Nevertheless, anyone who is serious about investing and does not take the time to absorb the (free!) advice of his teachings is making a colossal mistake.
Take, for instance, Buffett's recent comments on bonds:
"If you save money, you can buy bonds, you can buy a farm, you can buy an apartment, house, or even buy a part of American business. And if you buy a 10-year bond now, you're paying over 40 times earnings for something whose earnings can't grow. And you know, you compare that to buying equities, good businesses, I don't think there's any comparison."
Here, Buffett describes bond investing in terms of a price-to-earnings ratio, or PE, which is normally used as a valuation measure for stocks. He describes the 10-year government bond with a current yield of 2.46 percent as having a PE over 40 (100 divided by 2.46). Worse, it has no ability to grow "earnings" since the rate of return is fixed at 2.46 percent.
On the other hand, the PE on stocks, represented by the S&P 500, is 25 today, while the PE expected one year from now is estimated to be 18 due to earnings growth. Stock investors will also collect an average of 2 percent in dividends over the next year. So, while PE ratios on stocks appear historically high, relative to current interest rates, stocks are still the superior investment.
Contained in Buffett's message is the fundamental evidence that stocks are a much better buy today than fixed-income investments. And yet many continue to avoid stocks for various reasons. We've mentioned that pension plans abandoned stocks because consultants advised them to be non-correlated to stocks, others feared the uncertainty surrounding the election, and plenty of pundits and investors belong to the "stocks are too high" crowd.
Buffett continues: "But that doesn't mean the stock market can't go down 20 percent tomorrow. I mean, you never know what it's going to do tomorrow, but you do know what it's going to do over 10 or 20 years. And people talk about 20,000 being high. Well, I remember when it hit 200 and that was supposedly high. The Dow, I mean, the Dow, in your lifetime. You know, you're going to see a Dow that certainly approaches 100,000 and that doesn't require any miracles; that just requires the American system continuing to function pretty much as it has."
The lesson here is that the near-term movement of the stock market is always uncertain. However, over the long term, stocks will deliver investors a great result, even when you include the periodic downturns.
All an investor needs to do is read, listen and digest the wisdom Buffett has accumulated since he bought his first stock in 1942. In my opinion, there is no greater resource to learn how to be a successful investor.
His valuable lessons are contained in a vast library of letters, books and videos and are easily accessible. Investors able to internalize this body of work will avoid being swayed by their emotions and the daily noise produced by the financial media.•
__________
Skarbeck is managing partner of Aldebaran Capital LLC, a money-management firm. He can be reached at (317) 818-7827 or ken@aldebarancapital.com.
Please enable JavaScript to view this content.