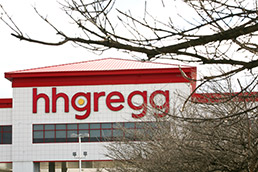 HHGregg Inc., the 61-year-old seller of appliances and electronics, is moving closer to a Chapter 11 bankruptcy filing after announcing a store-closing plan, according to people with knowledge of the matter. 
The filing may come as soon as next week, said the people, who asked not to be identified because the matter isn't public. Bloomberg previously reported that HHGregg might file for bankruptcy in March if it couldn't reach an out-of-court solution.
The move would follow Thursday's announcement that it was closing 88 stores and three distribution centers. The effort to shutter unprofitable locations is meant to jump-start a restructuring that will likely continue during bankruptcy, according to one of the people.
Chantal Kowalski, a spokeswoman for HHGregg, declined to comment on the possible bankruptcy. Chief Executive Officer Robert Riesbeck has been spending this week meeting with employees and preparing for the store closings, she said.
Eliminating the stores will leave the Indianapolis-based company with 132 locations—and 1,500 fewer jobs. Inventory will be sold off in the coming weeks, and the stores will be closed by mid-April.
HHGregg said last month that it was pursuing a range of strategic and financial options. It enlisted advisers Stifel, Nicolaus & Co. and Miller Buckfire & Co. to help find ways to improve liquidity and stem the red ink.
The chain is facing more competition from online outlets and traditional retailers. J.C. Penney Co., for instance, pushed onto HHGregg's turf last year by adding appliances. Best Buy Co. also is expected to pick up customers in the wake of HHGregg paring down the size of its chain.
Adding to its woes, HHGregg received a delisting notice in February from the New York Stock Exchange for failing to meet the minimum listing price requirement.
Its shares, which now trade on the over-the-counter market, rose 13 cents to 26 cents on Thursday on the store-reduction plan. They fell 5 cents to 22 cents on Friday.
Please enable JavaScript to view this content.