The Eiteljorg's annual sale for collectors is seeing strong advance registration, a museum spokesman said.
Quest for the West, which typically draws about 300 buyers from across the country, is scheduled for Sept. 12. Anthony
Scott, spokesman for the Eiteljorg Museum of American Indians and Western Art, said advance registrations are ahead of last
year's.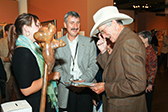 Stan Hurt, art buyer, speaks with artist Tim Cherry at the 2008 Quest for the West. (Photo Courtesy Eiteljorg Museum)
That's a surprising, positive sign in a generally depressed art market. Quest for the West has generated as
much as $1 million in sales in the past. The sale and gala is a major fund-raiser for the Eiteljorg, which keeps a 25-percent
commission.
About 50 artists will participate and show 150 works that range in price from $950 to $65,000.
This year's show will be the first for Susie Maxwell, who recently joined the Eiteljorg as its chief fund-raiser.
She left a similar job at the Park Tudor School after 19 years. She replaces Frank Mulhern, who left for a job in his native
Oklahoma.
Maxwell and museum CEO John Vanausdall are former colleagues—both worked at The Children's
Museum of Indianapolis.
"She is one of the best fund-raisers I have ever known and possesses an endless
capacity to engage donors, volunteers and civic leaders to advance an institution," Vanausdall said.
Please enable JavaScript to view this content.