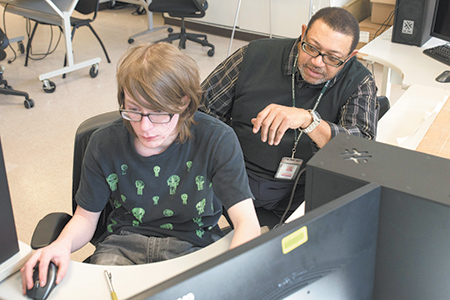 When Davita Johnson graduated from Arsenal Tech High School in 2003, she was the first of her five siblings to attend college. Her parents hadn't finished high school.
Today, Johnson is director of facilities at Eastern Star Church, overseeing five buildings and 21 apartment units associated with the Indianapolis-based mega church. She said she grew up in poverty but was able to carve out a decent lifestyle thanks to a long-standing high school program that exposed her to architecture and design.
"Your next-door neighbor isn't an architect or an engineer—so you don't get exposed to that," Johnson said. "For people like me—black, coming up in poverty—this program exposes us to a world we never looked at."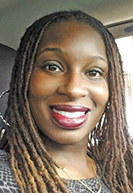 Johnson
Johnson was referring to the Architectural Drafting & Design program that's part of the IPS Career Technology Center. The center is one of many career and technical education centers across the state funded by state and federal dollars.
Such vocational schools have been around for decades, but in recent years they've been honing their focus on professions in STEM—science, technology, engineering and math. The goal: Give students hands-on, work-based learning directly tied to high-wage, high-demand jobs.
The IPS Career Technology Center, based at Arsenal Tech, is open to non-IPS students. It has 15 so-called "pathways," including Computer Science, Certified Nursing Assistant and Architectural Drafting & Design.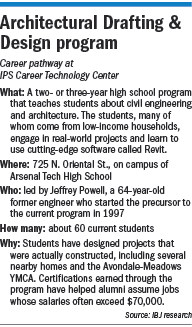 The architectural design program, as it is sometimes called, is not bashful about highlighting the jobs associated with this career path, many of which come with salaries that exceed $70,000.
"I have one young lady who's a project engineer making close to $100,000 a year," said instructor Jeffrey Powell, listing former students who went on to work for engineering, construction and architectural firms.
"So the effect has been, they're making a contribution to society and they're giving back to their communities," he said, "and they're making a good living for their family."
Powell, a 64-year-old former engineer, has been leading this program and its predecessor program for about 20 years.
Powell teaches three classes, including an introductory class that students can take as early as sophomore year. His massive second-floor classroom has about 25 workstations and is decorated with models of projects students have worked on over the years.
One of the most notable skills students obtain is proficiency in an architectural-design software called Revit that is widely used in the industry. Students who complete the program not only become certified in Revit, but also get dual high school and college credits.
Other aspects of the architectural design program include mentor sessions with industry professionals and involvement in real-world projects. Students have drafted designs for a Ronald McDonald House, Eskenazi Hospital and the Speedway Fire Department. Their models were implemented for the Avondale-Meadows YMCA, which opened in 2013, as well as eight two-story homes built near Arsenal Tech.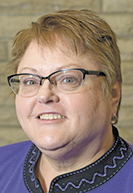 Casey
"It's a popular program with our students," said Linda Casey, academic dean at the Career Technology Center. "A number of them take it and do well in it, and a significant number go on and continue to study in one of those areas."
Powell teaches about 60 students across three classes. About 45 percent of his students are Hispanic, 45 percent are African-American, and the rest are Caucasian. School officials said more than 90 percent of the students qualify for free or reduced-price lunch.
Fifteen-year-old Mariela Lopez, a sophomore taking Powell's introductory course, said she's enjoying the program so far but isn't certain what she wants to do long term. She is certain about going to college, though, and she has her eyes on Ball State University and Purdue University.
"I want to be the first one in my family to go to college," she said.
For 18-year-old Leonna Huddleston, architecture wasn't her first love. She originally thought she wanted to be a veterinarian—but changed her mind when she realized she couldn't stand the sight of blood.
Today, Huddleston is a senior with plans to attend Ball State. She has a paid internship under her belt and got top honors in the student category at the Indiana Career and Technical Education Awards for Excellence ceremony last month.
And she's becoming a rock star on Revit.
"On a scale to 10, I'd say I'm about a seven or eight," Huddleston said, smiling. "But there's always room for improvement."
Damon Brookins said he's had a penchant for architecture and design since he was in fifth grade, back when he built Legos and sketched cars. He dreams of owning his own firm, and said the program has taught him not only software skills but also problem solving and time management.
"We're in crunch time," Brookins said about a high-rise design he's working on for a competition. "I can't take my time with stuff like I would normally do."
Powell and the program have racked up several awards over the years—with honors of varying degrees from NASA, "The Tom Joyner Morning Show" and others. But perhaps the most significant recognition came last month, when the Indiana Career and Technical Education Awards for Excellence honored both Huddleston and the program.
Rummaging through a box of plaques, glass trophies and other accolades one recent afternoon, Powell said, "I should probably hang some of these up, huh?"
Current and former students said Powell's teachings go beyond software skills and industry concepts. One of the most important lessons he provided, said Johnson of Eastern Star, was the example of his professional demeanor.
"It was the way he dressed and how he came to work every day," she said. "And when he took us on field trips to different architectural firms, we would see what he was talking about."
Carlston Elliott graduated from Arsenal Tech in 2005 and spent three years in the architectural design program. Today, he's an electrical designer with Carmel-based KBSO Consulting.
Elliott described Powell as down-to-earth yet exacting, pushing students to their potential. 
"He tried to instill in us principles," Elliott said. "How to conduct yourself and how you represent yourself."
Powell said he's proud of what he helped build but acknowledged he plans to retire in about two years.
"This program has risen to the top, and I, Jeff Powell, have had the privilege to teach it," he said. "And I have a smile on my face when all these young people come back and are very successful."•
 
Please enable JavaScript to view this content.