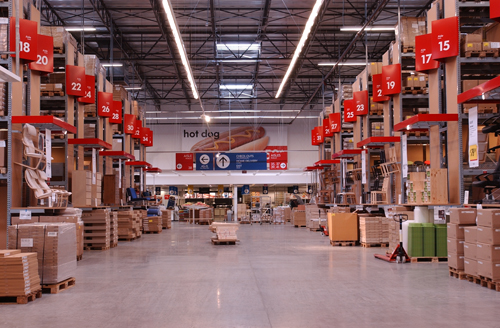 (Editor's note: This story originally ran in IBJ on March 11. Ikea is scheduled to open in Fishers on Wednesday, Oct. 11.)
The long-awaited arrival of Ikea to central Indiana this fall will transform the way many Hoosiers buy furniture.
Known for its ready-to-assemble products, Ikea became the world's largest furniture retailer in 2008. The Sweden-based company, founded in 1943, reported 750 million store visits last year and revenue of nearly $38 billion.
But if the hulking blue and yellow structure under construction near the East 116th Street and Interstate 69 interchange in Fishers has local furniture retailers nervous, they aren't saying so. In fact, several—including behemoth Kittle's—said they welcome its entrance to the market.
Kittle's has a store in Castleton and two others, including a Below Market discount outlet, along I-69 just south of the Ikea site.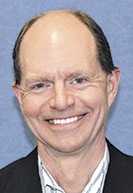 Easter
"Truthfully, we expect this to benefit us," CEO Eric Easter said. "Our research indicates, what generally happens, is that [Ikea increases] the size of the furniture pie and the interest in furniture."
Kittle's won't be leaving anything to chance, however. Easter expects to spend more on advertising so consumers don't forget about his 85-year-old, locally based company amid the hoopla over Ikea's opening.
That would be a wise move, furniture industry observers said, considering Ikea's 41 stores in the United States last year racked up sales of $5.2 billion—an average of nearly $127 million per location.
Because Ikea stores are regional draws that attract shoppers from a 200-mile radius, not all of the Fishers Ikea's sales will come at the expense of other central Indiana furniture stores.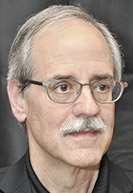 Feinberg
Still, traditional retailers are bound to feel an impact, given that the entire annual central Indiana furniture market is $150 million, just a shade higher than the sales for a single Ikea store, said Richard Feinberg, professor of consumer science and retailing at Purdue University.
"Ikea is a total disruption of the furniture market in any market that they go into," he said.
Visiting an Ikea is a far different experience from visiting a traditional furniture store. Ikea's warehouse-size structures are nearly twice as big as a Super Target; they feature arrows painted on the floor for customers to follow so they don't get lost as they weave their way through.
Along the way, they'll find everything from cabinetry to mattresses to lighting to kitchen tableware and utensils to bathroom accessories, along with dozens of model rooms outfitted with Ikea products.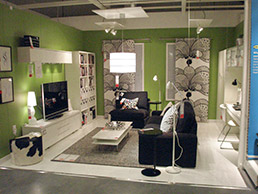 Ikea stores include model rooms outfitted with furniture and accessories. Each product has a code that allows customers to find replica products in the store. (Photo courtesy of Ikea)
The stores also feature restaurants that offer inexpensive meals for breakfast, lunch and dinner, such as Swedish meatballs selling for as little as $2.99, and a grocery section that includes frozen food.
Ikea in November 2015 announced plans to build a 289,000-square-foot store on a roughly 35-acre vacant site within Sunbeam Development Corp.'s Exit Five Corporate Park.
It will be the first Ikea in Indiana, eliminating the need for Hoosiers to drive to Cincinnati or Chicago suburbs to get their Ikea fix. (The retailer has a store in West Chester, Ohio, and one each in Bolingbrook and Schaumburg, Illinois.)
The Ohio location opened in 2008, just as the financial crisis put the kibosh on new-home construction and sent furniture sales reeling. Because of the timing, it's hard to gauge Ikea's impact there, said Rick Daniels, CEO of Furniture Fair, a 54-year-old Cincinnati chain that operates 13 stores in Ohio and Kentucky.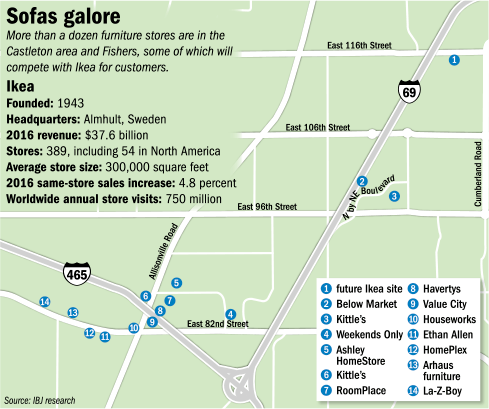 "Did it hurt? It's hard to say one way or the other," Daniels said. "But anytime anybody opens a furniture store, they do affect the market a little bit."
Ikea doesn't keep tabs on how its stores affect the competition, instead preferring to take the "rising tide lifts all ships" mentality, Ikea spokesman Joseph Roth said.
"We view ourselves as a unique retailer, so we don't focus too much on what others are doing," he said. "For central Indiana, we're only putting in one store, so we think there's plenty of business to go around."
Ikea has not announced an opening date for the Fishers store, which is part of a broad U.S. expansion. The company plans to open an outpost in Columbus, Ohio, this summer, "which shows how well the West Chester store is doing," Roth said.
Two other stores, one in the Dallas area and another near Jacksonville, Florida, are scheduled to open this fall.
A longtime Castleton furniture store has its own expansion plans. Ed Cheikh, who started Houseworks 32 years ago, soon will move from East 82nd Street and Allisonville Road to a site farther west that is more than twice as big.
Cheikh's current space is 8,400 square feet. The new location, with 17,000 square feet, currently is home to Ethan Allen, which will move to a new strip center across from Rivers Edge shopping center, also on East 82nd Street.
"I think Ikea actually helps us," Cheikh said. "It elevates people's consciousness of what modern style is."
Sofas at Houseworks are manufactured in Europe or North America and run $1,200 to $2,500 for leather styles—higher end than what Cheikh says can be found at Ikea.
"It's great stuff for starting out," he said of Ikea furniture, "but our audience wants something better and something that lasts a long time."
Several furniture retailers agreed, saying Ikea furniture is geared more toward the millennial crowd and shoppers who might buy furniture from Target or other general-merchandise retailers.
Godby Home Furnishings owner Jeff Godby said his customers aren't about to assemble their own furniture. He said his 42-year-old company—which operates four stores, including two in Noblesville—simply will continue to "do what we do."
"We're killing it," he said. "We've made money every year we've been in existence."
But Purdue's Feinberg insisted Ikea furniture has broad appeal. He cited research that shows buyers feel a sense of accomplishment after they assemble it.
"You would think people don't like to put stuff together, but it turns out they do," he said. "They value it more highly."•
Please enable JavaScript to view this content.