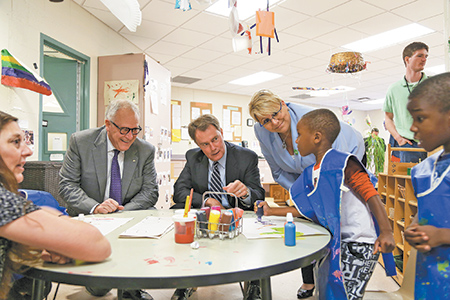 2016 was a watershed year for multimillion-dollar donations in Indiana. Thirty-one people gave at least $1 million to a Hoosier not-for-profit—largesse that added up to $267 million. Of the top five contributions from Indianapolis-area donors, four set records as the largest the organization had ever received from an individual.
When Don Brown contacted the Indiana University School of Medicine last summer to set up a meeting with the dean, school officials didn't know what to expect.
Yes, they knew Brown was a successful tech entrepreneur who had an interest in the medical field (he graduated from the IU School of Medicine in 1985 but never practiced), but they did not know his company, Interactive Intelligence Group Inc., was about to be sold or the amount of money Brown would reap from that sale.
Jay Hess, the medical school's dean, and Elizabeth Elkas, an associate dean for development, went to Brown's office on Aug. 2 to "hear what he had in mind."
Brown, sporting jeans and running shoes, told Elkas and Hess he had been reading and learning about immunotherapy, which involves using the body's own immune system to fight devastating diseases like cancer.
He wanted to invest in the rapidly changing and highly competitive area of medicine, and he had $30 million he was willing to donate. Hess, who has a background in immunotherapy, spent that meeting brainstorming with Brown about what that investment could look like.
"There was a magical moment where there was perfect alignment of what both of these men wanted to accomplish," Elkas said. "This was Jay Hess' top priority, so Don was saying the magical words."
But IU wasn't the only institution Brown was courting, according to Elkas.
So, the IU officials left that meeting and feverishly put together a proposal that detailed plans for an immunotherapy center that would be named for Brown.
"When we left Don's office, we realized we wanted to work swiftly," Elkas said. "Don works in a world where people work very swiftly."
Brown, meanwhile, headed to Australia for a business trip.
Two weeks later, that proposal was in Brown's inbox. He read through it when he returned from his trip. And despite his jet lag, "I got really excited about it and realized this was what I wanted to do," Brown said.
He invited Elkas, Hess and Anantha Shekhar, associate dean for translational research who also worked on the proposal, to dinner in early September.
Again, IU officials walked into the evening with no expectations. Usually, multimillion-dollar gifts take months or years to finalize.
"He committed right then and there to making this gift," Elkas said. "I think Don had it all mapped out before anybody else."
Brown's $30 million gift to IU, which was announced in December after the $1.4 billion sale of Interactive Intelligence to California-based Genesys became public, ranks as the biggest publicly announced donation made by an individual in Indiana last year.
Elkas described the deal as "lightning fast," but Brown said he's happy it moved that quickly.
"I'm kind of a small-businessperson and used to coming up with an idea and executing fairly rapidly," he said.
Fundraising experts say the deal is somewhat uncommon for a couple of reasons—the speed at which it came together and that the donor reached out to the institution instead of the other way around.
"I would say the vast majority of the time, the donor does not approach the institution," said Dave Sternberg, a faculty member at the Lilly Family School of Philanthropy at Indiana University and a partner with Loring Sternberg and Associates. "The vast majority of time, this is an ongoing conversation."
But, experts point out, Brown already had a relationship with the IU School of Medicine: He was an alumnus and he shared the passion and vision of the school's leaders—key elements to securing a big gift.
"There has to be a connection or relationship," said Angela White, senior consultant and CEO of Greenwood-based Johnson Grossnickle and Associates. "Donors want to understand the vision and commit to that vision."
The second-largest publicly announced gift last year—$25 million from longtime Indianapolis business executive Andre Lacy and his wife, Julia, to Butler University—followed a more traditional path.
Lacy, who had been serving on the Butler Business Consulting Group since 2005 (then known as the Butler Business Accelerator), said the ask started in 2014 when Butler President James Danko invited him to lunch along with then-Board of Trustees Chairman Craig Fenneman.
Danko outlined his vision for the business school and gauged Lacy's interest in being involved—financially and personally as an adviser. Naming rights were on the table, with a $25 million price tag.
"I care for laying as much on the table as you can," Lacy said.
He admitted that Danko's decision to include Fenneman was a smart move.
"Craig knew me well," Lacy said. "He probably believed that I was approachable."
Approachable? Yes. Willing to make a quick decision to spend $25 million? Not so much.
After that initial meeting, Lacy conducted what he described as due diligence similar to what companies go through when completing an acquisition. He met with people in Butler's administration and leaders within the business school to see if they shared the vision Danko described.
Lacy also talked with his wife and three sons because he knew the naming rights would bring recognition to the entire family.
"The due diligence is important. What makes a company is not so much their product, but it's really the people and the culture of the enterprise and how they execute their vision," Lacy said. "And I found that to be very attractive and promising at Butler University."
Last April, the deal was done. And now the School of Business bears his name.•
Please enable JavaScript to view this content.