Being a guy, and young, Mike Murphy wasn't inclined to go to doctors or attend health fairs. But in 2005, he'd been feeling sick for months and losing weight. So when his employer, Monarch Beverage Co., held its annual health fair, Murphy went.

He didn't want to, but Monarch had created a wellness program to save money on health insurance and Worker's Compensation claims, and he is a dutiful employee.

Good thing he is. Because when his glucose reading came back, it revealed that his blood-sugar level was off the charts. Murphy was advised to see a doctor immediately.

Turned out he had early-onset type 1 diabetes.

"The health fair forced me to find out what was wrong," he said.

Murphy, now 32, figures the health fair probably saved his life. It's certainly saved his employer money.

Monarch, which is self-insured, is among hundreds of central Indiana companies that have introduced wellness programs to counteract the rising costs of health insurance and Worker's Compensation.

Natalie Roberts, vice president of human resources for the southwest-side beer and wine distributor, figures the company has saved $1 million since it began health screenings for employees in 2003.

Murphy
Not only that, its 640-person work force, which is 85-percent male with an average age of just under 30, is smoking less and stretching and exercising more. Employee blood pressure, weight and work days missed all have declined.

And Murphy is one of several employees whose conditions were caught before they became chronic and costly. Perhaps even deadly.

It's all led to such significant savings on health care that Monarch has added orthodontics, chiropractic services and smoking-cessation drugs, and hasn't raised employee insurance premiums the past three years.

So how did Monarch get its young, predominantly male work force to embrace wellness?

"We've made it part of the normal conversation and we've made it a conversation that's attractive to young men, so they're responding," Roberts said. "They get it, and they're not afraid to talk about it."

Monarch's interest in wellness programs began when CEO Phil Terry attended a Community Leader Breakfast held monthly by Clarian Health CEO Dan Evans. There, Terry heard Evans talk about health care utilization. Specifically, what do employees do to mitigate the costs to their employer—and for themselves?

Evans said he instructed the people at that breakfast to go back to their offices, talk to the people who handle health benefits, and ask: What do we do to help our employees with their health status? More specifically: What do we do to get the "high utilizers"—20 percent of the typical work force—to take better care of themselves?

"The answer," Evans said, "will be, 'Nothing.'"

Monarch converted a women's rest room and an empty room into space for physicals, physical therapy and medical treatment. The company started the health fair, paying employees $25 to participate in health screenings that measured cholesterol, blood pressure and other important indexes. ("Just by measuring, it helps change behavior," Evans said.) Monarch put scales in its conference rooms. And it built on the successes.

Now, 90 percent of Monarch employees participate in at least one of the company's wellness offerings. In a recent "Big Loser"-style competition, 140 employees shed nearly 2,000 pounds total. Employees also are eligible for a $510 annual discount on their health insurance premiums if they complete a health screening, a health-risk appraisal and, if needed, work with a health coach to kick bad habits.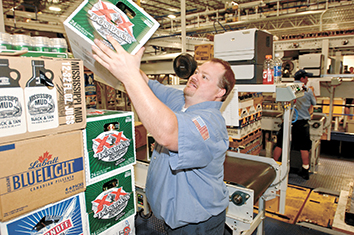 Monarch Beverage workers were lured into health programs with incentives. Cost savings have been so great that employee premiums haven't been raised in three years. (IBJ Photo/Robin Jerstad)
The results have been impressive, Evans said, because, "Phil probably has the least health-care-compliant work force you can have—a bunch of young guys. They all think they're bulletproof."

Resistant companies

Some companies with largely male work forces resist creating wellness programs because the companies don't want to spend the money on something employees won't use, said Bridget Scott, spokeswoman for Benefit Associates Inc., an employee benefits firm that does not count Monarch as a client.

But due to increasing health care costs and seeing results other companies are achieving, they've come around. This summer, a Benefit Associates client, Knauf Insulation in Shelbyville, will offer its health screenings to all employees.

Knauf is offering monetary incentives at the time of screening. Employees who complete an initial screening—height, weight, blood pressure, glucose level, cholesterol (good and bad) and a health-risk assessment—will receive $75 for about 15 minutes of their time. If they're deemed high-risk, they'll be eligible for additional rewards for participating in different coaching programs.

In researching how to reach young men, Benefit Associates found it can be done. But:

• Everything needs to be done on company time.

• The programs have to be easy to access—you leave your work station and there it is.

• Incentives are key, and ideally part of the benefits they offer. So if you participate, you reduce your premiums.

Scott said companies typically realize about $2.50 in savings for each dollar they invest in preventive care.

"It takes time to catch up," she said. "But you have to spend money to make money. Year one, you'll spend more on setup. And you're going to encourage employees to go to the doctor for preventive care, which brings up the costs. But the long-term investment saves in the long run. People also stick around because they have a sense of loyalty to the company and 'presenteeism'—they come to work."

Sally Stephens, president of Spectrum Health Systems, a health risk-management company, said it's a challenge to get young males to participate in anything health-related—even purchasing health insurance.

"The young population feels immortal and don't have health issues," she said.

But they've also found that a lot of young males have health issues they're not aware of, like high blood pressure. So clients have asked Spectrum to design plans that maximize participation. Many create achievement-based programs that reward workers with discounts on their insurance premiums if they achieve certain health criteria.

American Structurepoint Inc., an Indianapolis engineering firm, is one of Spectrum's clients getting serious about wellness. This year, to focus on weight, it's doing a charity challenge against another company to see which can shed the most pounds.

Stephens said health care has become so expensive that some companies are even instituting mandatory health screenings and telling workers, "No screening, no insurance."

Whether that policy would stand up in court remains to be seen. Stephens said the Equal Employment Opportunity Commission just issued an opinion saying such a policy might violate the Americans with Disabilities Act.

So far, that's just an opinion, not a ruling.

"But prevention is one of the approaches employers are putting a lot of emphasis on and putting money toward because they're showing positive results," Stephens said. "If the program is well-designed and well-implemented, they can be effective."•