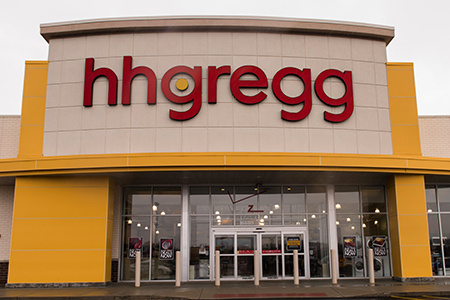 HHGregg Inc. disclosed late Thursday that its proposed purchase by an anonymous buyer has fallen through and that it now is considering the sale of some or all the business to other possible suitors.
The struggling company, which filed for Chapter 11 reorganization March 6, said at that time that it had reached an agreement to sell the business to an undisclosed party. The buyer was supposed to help HHGregg experience a "quick and smooth process through Chapter 11 with emergence in approximately 60 days."
However, HHGregg said Thursday that it "terminated its previously announced nonbinding term sheet with an anonymous party to purchase substantially all of the assets of the company" because the parties were "unable to reach a definitive agreement on terms."
HHGregg said it still anticipated exiting Chapter 11 in early May.
Statements by attorneys in court and in a court filing reviewed by IBJ suggest the unnamed buyer was affiliated with Zimmerman Advertising, the company's advertising agency, which is an unsecured creditor owed more than $6 million in the bankruptcy.
A dispute arose earlier this month after HHGregg sought to earmark $6 million of the $8 million being set aside to pay critical vendors for Zimmerman, a move that HHGregg said was a condition of its proposed sale.
Setting aside funds for critical vendors is common in bankruptcy because they otherwise might refuse to continue doing business with the bankrupt company. But the idea of setting aside three-quarters of the money for one vendor spawned a written objection from Haier US Appliance Solutions, maker of appliances sold under the GE brand.
"Based on the information currently available–which is precious little–paying the vast majority of the proposed Critical Vendor Cap to one unsecured creditor who is affiliated with the potential stalking horse, to pay the prepetition claim of that creditor at 100 percent, raises concerns," according to the objection filed Tuesday.
In bankruptcy cases, a stalking horse bidder is the party making the initial purchase offer that any other prospective buyer would have to beat. Suitors in that position often receive a break-up fee if they are outbid and the business is acquired by another party. 
Since Haier US Appliance Solutions filed its objection, HHGregg has backed off earmarking so much of the critical vendor funds for Zimmerman. It is unclear whether opposition to the original plan was a key factor in derailing negotiations on a definitive agreement.
In a press release issued late Thursday, HHGregg said it has other possible buyers in the wings.
"We have received strong interest from third parties interested in buying some or all of the company's assets," HHGregg CEO Robert Riesbeck said. "We and our advisers continue to work with potential acquirers to help them understand our business model for future growth and our value proposition."
HHGregg had said the anonymous buyer planned to continue the business as a going concern and continue to operate the 132 stores slated to remain open after the company completes the recently announced closings of 88 stores and three distribution centers.
HHGregg's bankruptcy filing said other potential suitors could submit offers through April 21 with a possible auction taking place April 24. The retailer said that bidding timetable would remain in effect.
Please enable JavaScript to view this content.