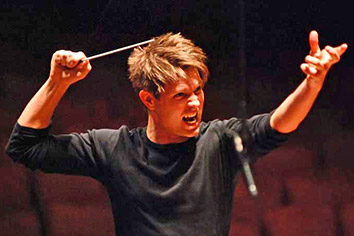 During a rehearsal for the Indianapolis Symphony Orchestra in November 2015, principal bassoonist John Wetherill stopped playing his instrument.
The musician, who joined the ISO in 1989, says in a federal lawsuit that he pretended to play by moving his hands and fingers with the instrument, but his bassoon was silent.
ISO music director and conductor Krzysztof Urbanski, who had accused Wetherill of playing out of tune in practices earlier that day, again yelled that he was out of tune, even though the instrument wasn't making any noise, Wetherill says.
In a federal lawsuit filed late last week by Wetherill, he uses that anecdote and others to detail what he alleges have been years of age discrimination and harassment by Urbanski and the ISO leadership.
Wetherill, 62, filed the lawsuit against Indiana Symphony Society Inc., the not-for-profit that oversees the ISO. The 17-page document alleges multiple occasions in which Urbanski, 34, discriminated against Wetherill and other musicians older than 40 as part of a "move out and replace" strategy.
"New musicians do not receive seniority pay, nor do they receive pension participation benefits," the lawsuit says. "Thus the [ISO] is economically benefitted by moving out older musicians and bringing in younger musicians below the protected age of 40."
Wetherill accuses the ISO leadership of knowingly allowing this to occur and says the actions have damaged him and other older musicians.
"A number of older musicians resigned during the period from late 2012 and thereafter, as a result of Urbanski's 'move out and replace' plan and action," the complaint states.
The ISO declined to comment on the litigation.
Urbanski joined the orchestra as music director in 2011 under a four-year contract, which was renewed in 2013 to extend through the 2017-2018 season. The on-the-rise conductor earned $395,000 in compensation in 2015, according to the orchestra's tax filings.
According to the lawsuit, problems between Urbanski and Wetherill started in May 2012, when Wetherill received a handwritten note from Urbanski asking to meet one on one.
When Wetherill asked Urbanski about the request, Urbanski kindly responded that it was "no big deal" and would take only a few minutes.
But the meeting was not cheerful. Urbanski criticized Wetherill for how he played two notes months earlier, asked Wetherill about other musicians and "was threatening" toward him, the lawsuit says.
And Wetherill said he wasn't alone. Similar meetings occurred with seven other musicians, all older than 40, he said.
Wetherill said he felt "duped and ambushed" by Urbanski, who was 29 at the time.
"The meetings were part of a plan that was commenced in about May 2012, and carried forth by the Conductor continuously thereafter, to move out older musicians and replace them with younger musicians," the complaint reads.
In October 2013, Wetherill met with Daniel Beckley, vice president and general manager for the orchestra. According to Wetherill, during the meeting he was encouraged to step down to second chair "in order to nurture a younger player into the principal chair."
The lawsuit alleges that Beckley told Wetherill that's the way orchestras operate in Europe, where Urbanski, a Polish native, is used to working.
Wetherill became principal chair in 2000 and receives additional compensation for that position and his seniority in the orchestra. He declined to step down to second chair. According to Wetherill, Beckley pushed back and tried to set up a meeting between Wetherill and Urbanski to discuss the proposed transition.
The lawsuit says Wetherill sent emails to Beckley in October 2013 and February 2014 complaining about age discrimination.
Complaining didn't help, according to Wetherill. If anything, it might have made things worse.
"Despite Plaintiff's complaints in 2013 and 2014 to Daniel Beckley, the Symphony Society took no substantive action to rectify the discriminatory environment, and instead began to retaliate against Plaintiff for his complaints by increasing the level of hostility and humiliating conduct toward Plaintiff," the complaint states.
In December 2014, Wetherill discussed the ongoing issues with orchestra CEO Gary Ginstling. According to Wetherill, Ginstling "admitted that things were done wrongly by" Urbanski and Beckley.
But the lawsuit says the discrimination and harassment continued through the 2015 and 2016 seasons.
Wetherill said Urbanski tried to publicly humiliate him in a February 2015 concert at Hilbert Circle Theatre by requiring him to play a solo, without notice, on a piece of music that required a different reed than the one he had been using. Wetherill said he had the correct reed with him, fortunately, and played the solo without problem, avoiding embarrassment.
In October 2015, Wetherill was suspended for two weeks without pay for using an electronic tuner at rehearsal—a move Wetherill claims is common practice for musicians and was needed to show Urbanski that he was not out of tune.
At the end of October 2015, Wetherill filed an age-discrimination charge with the Equal Employment Opportunity Commission and followed up with a supplemental charge for discrimination and retaliation in March 2016.
The EEOC has the right to litigate claims itself but more often issues a "right-to-sue letter"—a document signaling that the agency has finished processing the charge and that the complainant can move forward with a lawsuit. Wetherill received his letter in December.
The lawsuit filed Thursday accuses the orchestra of age discrimination and requests back pay for lost wages, compensation for other damages such as emotional distress and mental anguish, and attorney's fees and court costs.
The orchestra has not filed a formal response to the lawsuit.
Please enable JavaScript to view this content.