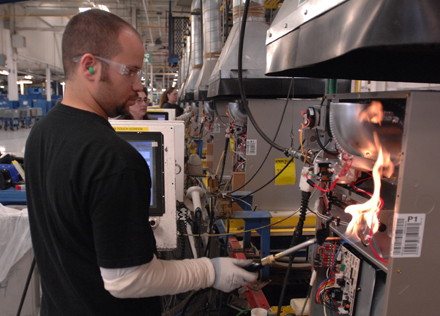 Even as layoffs loom at Carrier Corp.'s Indianapolis plant, state officials are moving forward with plans to offer the company financial incentives for the jobs that will remain here.
On Tuesday, the Indiana Economic Development Corp.'s board of directors approved an incentive package worth up to $7 million for Carrier's Indianapolis facility. 
The package includes up to $1 million in tax credits if Carrier invests $16 million in its Indianapolis facility as well as a training grant of up to $1 million.
The remaining $5 million is in the form of a rarely used incentive—a tax credit for companies that pledge to retain existing jobs rather than create new ones. This credit is called the Economic Development for a Growing Economy Tax Credit for Job Retention—or EDGE-R, for short.
Between 2005 and 2015, the IEDC offered EDGE-R tax credits to only 11 companies. In comparison, the IEDC offered EDGE for Job Creation incentives to 1,467 companies during that period.
In order to receive the full $5 million EDGE-R tax credit, Carrier must retain 1,069 jobs in Indianapolis for 12 years. That includes a 10-year period during which Carrier can claim the tax credits, followed by a two-year period in which the company must continue to comply with contract terms. 
The 1,069 jobs include 800 positions associated with gas furnace manufacturing—jobs that the company had previously said it would shift to Monterrey, Mexico. The figure also includes another 269 research and headquarters jobs that Carrier always planned to keep here.
Indiana Secretary of Commerce Jim Schellinger said he's not concerned that the Carrier incentives will set a precedent for other companies hoping to cash in with threats to leave.
The state requires "really hard evidence" that retention incentives are necessary to save jobs, Schellinger said, and in Carrier's case that evidence was clear.
"They were in the process of putting the final touches on a $52 million plant in Monterrey, Mexico," Schellinger told reporters. "This one was very easy to substantiate."
Carrier still plans to move its fan coil production from Indianapolis to Mexico, eliminating some 600 jobs here.
Those layoffs are expected to happen in two waves which should be complete by early next year, said Kelly Hugunin of United Steelworkers Local 1999, which represents hourly workers at Carrier. 
"(Carrier) is predicting August or September for the first round of layoffs, then December or January for the second round of layoffs," Hugunin told IBJ.
Carrier spokeswoman Michelle Caldwell confirmed in an email to IBJ that layoffs "are expected to begin in the second half of the year." It's unclear how many people will end up being laid off, Hugunin said, because some Local 1999 members are of retirement age and others will likely leave for other jobs or take advantage of a severance package Carrier is offering.
At Tuesday's board meeting, Schellinger said about 400 people will end up losing their jobs at Carrier.
Board member Bob Koch of Evansville recused himself from the Carrier discussion and vote to avoid a conflict of interest. He is chairman of Evansville-based Koch Enterprises Inc., which does business with Carrier.
Tuesday's action marked the latest development in a high-profile situation that has unfolded over the past 13 months.
In February 2016, Carrier announced that it planned to cease production at its Indianapolis plant and move that work to Monterrey, Mexico. The move would have eliminated 1,400 positions here, though Carrier wouldn't have left Indianapolis completely. The company has another 269 research and headquarters positions in Indianapolis that were always slated to remain.
Based on that announcement, state and city officials clawed back a combined $1.6 million in previously awarded incentives.
Then, in late November, Carrier announced it had partially reversed course and would keep some production in Indianapolis after all. The reversal came after President-elect Donald Trump contacted Carrier and asked it to reconsider its plans. 
Trump visited the plant in December to celebrate the company's change of heart.
And the incentives are still not yet a done deal. By state statute, the Indiana State Budget Committee must approve all EDGE-R incentive offers. That approval will happen later this year, IEDC says.
Please enable JavaScript to view this content.