Rupert Boneham switches on the power in his new Shelbyville arcade and the buzzing and ringing signals a row of pinball machines coming to life—a move that lights up his bearded face almost as brightly as the flashing targets inside the games.

The four-time "Survivor" star who parlayed his reality-show fame into do-gooding via his Rupert's Kids charity, opened the doors to Rupert's Kids Arcade in downtown Shelbyville in February with an official grand opening March 25.

The game room isn't just an exercise in nostalgia for Boneham, a former Libertarian candidate for governor. It was designed as a self-sustaining—and perhaps eventually money-making—place where the formerly incarcerated and others with blips in their backgrounds can learn useful business practices, customer service and pride in their work.

He calls the arcade "a vocational training program cloaked in an arcade."

Not that would-be pinball wizards necessarily see the do-gooding behind the games. Their focus is on keeping a metal ball in the playing field and scoring enough points to get a free game.

The Shelbyville spot is the latest sign of renewed interest in the once-ubiquitous games that used to be a staple in restaurants, bars and arcades before they were usurped by video games. Such arcades as Dave & Buster's and Circle Centre's Tilt Studio don't bother with pinball machines and, even just a few years ago, Indianapolis was described as a "pinball desert" by a poster on the obsessive Pinside.com site.

Central Indiana wasn't alone. The rise of Space Invaders, Asteroids, Pac-Man and their offspring pushed the physics-based games out of the arcades decades ago. When home consoles became more sophisticated, most of the estimated 13,000 arcades in the United States suffered the fate that would later befall video stores. Long-standing companies either merged into entities that stopped producing games or went out of business—including Chicago-based Gottlieb, the first company to add flippers and turn pinball into a game of skill.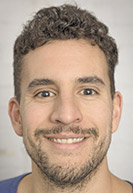 Rangel
The industry limped along, thanks in large part to Stern Pinball Inc., another Illinois-based company that continued to produce pinball games based on "The Sopranos," "Family Guy" and "Shrek." But finding a barely functioning copy of "Funhouse" in a laundromat or smoky bar isn't the same as experiencing the game in a cacophonous arcade.

Jon Rangel, an owner of Fountain Square's La Margarita restaurant, was one of those pinball loyalists who missed the arcades of yore. He recalled searching for pinball machines to play, only to find machines in dive bars that desperately needed repair. Instead, he connected with other enthusiasts who, together, hatched the idea of bringing their own machines together for a tournament. "That," he said, "was the beginning of the Fountain Square Pinball Classic," in 2012.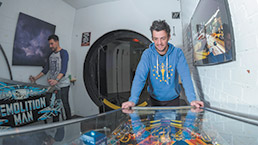 Pin Vault co-owner Jon Rangel, left, and Tad Aschliman demonstrate the appeal of the machines that can attract 100-150 players on the first Friday of each month to the upper floor of the Murphy Building in Fountain Square. (IBJ photo/Eric Learned)
The tournament, still held annually, revealed more of an interest in pinball than Rangel had thought—which led him and his fellow players to negotiate with the Murphy Building landlord to take over an upstairs space to house The Pin Vault.

Now, the narrow space is packed with machines, opening on First Fridays with limited hours the rest of the month. Still, the Pin Vault can attract 100-150 people over the course of a five-hour period. And the annual tournament continues to grow.

Just up Virginia Avenue, a few more machines can be found at Tappers Arcade Bar, which opened in 2016 with the idea of providing free video games to lure folks in to buy drinks. Pinball machines like "Elvira and the Party Monsters" are available to play for a few quarters.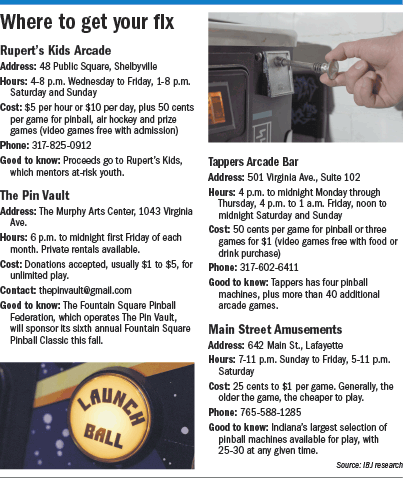 Pinball wizards

Rupert's Kids Arcade wasn't even an idea six months ago.

Then a series of events set things in motion.

On Dec. 5, Shelbyville's Skyline Drive-In Theatre was hosting a fundraiser for Rupert's Kids where Boneham took note of the arcade games. Then a karate studio that rented space in a Shelbyville building owned by Rupert's Kids moved around the corner, opening up some space.

Boneham had an idea. He told the drive-in folks, "You guys are going to be closed for the next four months [of winter]. What's going to be happening with these games?"

The next day, he met with them and a group of local pinball and video-game owners.

"Within one hour, we worked out a deal where I provide the space and the clientele—they provide the machines, the maintenance, the expertise, everything—and we do a split," enthused Boneham, "with all of our proceeds going to our re-entry program."

As popular as Boneham's new venture has proven to be, none of the newcomers in the pinball world quite rival Main Street Amusements, a Lafayette landmark that boasts the state's largest collection of pinball machines to play. Here, brand-new games such as Batman 66 and Game of Thrones share space with yesteryear's Harlem Globetrotters on Tour (1979) and King of Diamonds (1967).

"We got in at the beginning of the resurgence, but I didn't expect it to be successful," admitted Main Street's Dan St. John, who owns the Village Bottle Shop chain of liquor stores and operates the arcade on nights and weekends. "We've had nights in the winter when we've had too many people in here. I never anticipated that."

What's the appeal?

"A video game played in an arcade isn't fundamentally different than a video game playing on your home computer screen," he said. "Your controller at home actually may be more responsive and your screen bigger.

"But there's nothing in your basement or den to re-create the feeling of slapping the buttons on the side of a pinball machine, where gravity and a gentle shake have a real impact on play."

Of course, there are challenges—mostly mechanical—in running such a business. One of the reasons many arcades don't feature pinball is because of the maintenance. Unlike video games run on a chip, pinball machines suffer physical wear and tear. They also feature unique artwork on the glass and in the playing area itself. Searching for replacement parts can be a challenge.

"We couldn't do this without Matt Forflund, one of the owners," said Pin Vault's Rangel. "He's the one who finds the parts and has the nuance and technical skills for maintaining these things. Without him, there's no pinball."

Reputation reboot

With the mechanical issues at Rupert's Kids Arcade being taken care of by the machines' outside owners, Boneham is free to focus on using pinball for a higher purpose.

Once seen as a pathway to delinquency (Kokomo lifted an ordinance against the game only last year), pinball, for Boneham, is a road to self-sufficiency for a challenged population. He predicts the arcade will improve on his organization's success rate in keeping participants out of trouble. Of the 34 men and women he's worked with in Shelbyville over the past three years, 29 have stayed out of jail.

"That's an over 90 percent success rate," he said proudly.

"We have young men and women in our mentoring program ready to go out into the workforce, but I wanted to teach them that there's more than just showing up and expecting a paycheck," he said, pointing to a pair of employees at a table in the back. "You see, we use ledger books instead of computer programs to do our books, our profit and loss, our debt-to-income, our payroll. They see what it takes to run a business and that a business has to earn money so they can get paid."

So far, he's pleased with the results. Before the official grand opening, the arcade was making nearly enough to cover expenses. And he has a goal of the arcade's generating profits to help pay for a warehouse facility he's rehabbing to serve as a training facility for participants in Rupert's Kids programs.

"At the same time, we're bringing something to the community," he said, "that is safe and secure and affordable."

And, for some, he's offering a brand new cultural experience.

"Over 34, they know pinball," said Boneham of his customers, who range from skateboard-carrying teens to parents showing their kids the game they love. "But we even get 20-somethings who've never played."

One of the biggest challenges for Boneham and his staff: Closing down at night and actually going home without playing just … one … more … game.•