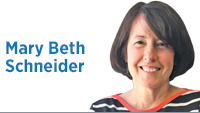 Mike Pence was supposed to be the guy who knew Capitol Hill and knew how to pull the levers to make a deal on repealing and replacing Obamacare possible.
Donald Trump was supposed to be the guy who closed the deal.
They both failed.
In Trump's case, it seemed obvious he didn't understand that negotiating a real estate contract for a new hotel or golf course is nothing like negotiating a complex deal with a deeply divided Congress.
In Pence's case, it seems he was asked to do a job he had almost no experience in at all: compromise.
Pence was an excellent choice to be Trump's running mate. He reassured social conservatives as well as establishment Republicans that he could pull the populist to the right and provide some badly needed government experience at both the federal and state levels.
But anyone who thought Pence would be the legislative deal-maker Joe Biden was for Barack Obama didn't know Mike Pence.
He served in Congress from 2001 to 2013 but ushered virtually no legislation into law. A 2016 New York Times profile of Pence noted that, of 90 bills and resolutions he introduced, none became law. A Bloomberg review of his congressional record found "scant tangible achievements," as Pence focused most of his time on conservative wish-list items such as defunding Planned Parenthood.
Pence's forte was not bridging ideological chasms, but widening them. He was effective not at bringing people to "yes" but in pushing them toward "no." He was the smiling face of the staunchest conservatives, voting against key initiatives of President George W. Bush such as No Child Left Behind and the Medicare drug expansion.
And when a government shutdown loomed over a budget-funding and debt-ceiling battle in 2011, Pence was blunt: "Shut it down."
As governor, Pence was known less for negotiating tough deals than for mangled communications in the Religious Freedom Restoration Act debacle. Ironically, his biggest success was negotiating the Healthy Indiana Plan—paid for with the expansion of Medicaid under Obamacare—with the Obama administration and GOP Indiana lawmakers.
As vice president, Pence was sent to Capitol Hill to try to negotiate an agreement to gut that with an Obamacare replacement that almost no one liked. He was, it seems, ill-suited to the task. He'd never brought the moderates and far-right together as a member of Congress and couldn't do it now. He even admitted to the Freedom Caucus members, who remained firmly against the bill because it wasn't a true repeal, that if he were still in Congress, he'd be one of them.
Later, as Trump pulled the failing bill from a vote, Pence stood by his side nodding as Trump put part of the blame on Democrats for standing united against repealing Obamacare—even though there had been no effort by Pence or the president to try to find a compromise that improved the health care law with the votes of Democrats and moderate Republicans. But, then, standing firm on "no" is what Pence is good at, not compromising to reach "yes."
On some issues, that will serve Pence well politically. But those aren't the hardest issues of government. Now, Trump is suggesting he'll try a do-over on health care, saying—bizarrely—that a bipartisan deal is "such an easy one." It won't be. The intransigence of both the left and right flanks in Congress is something Pence can tell his boss all about.•
__________
Schneider covered Indiana government and politics for The Indianapolis Star for more than 20 years. Send comments to ibjedit@ibj.com.
Please enable JavaScript to view this content.