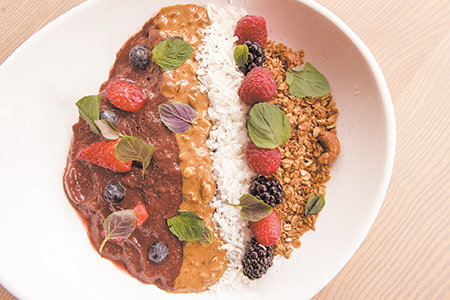 The word "brunch," for me, conjures up images of leisurely weekend dining excursions where some members of the party are experiencing their first meal of the day and others their second.
The operative word in the above is "weekend." Has anyone ever said, "Hey, how about getting together for brunch on Tuesday?" If anyone did, it certainly wasn't within my earshot.
However, at Garden Table (342 Massachusetts Ave., 317-638-0321), brunch is an any-day-of-the-week option. The word "lunch" is nowhere to be found on the menu of this airy Mass Ave newcomer, a handsome spinoff of its farm-to-table Broad Ripple brother.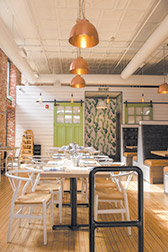 The airy new Garden Table. (IBJ photo/Eric Learned)
The reservation-free spot offers coffee and pastries beginning at 7 a.m. on weekdays and 8 a.m. on weekends, with the full brunch menu kicking in at 8 a.m. on weekdays and 9 a.m. on weekends. Brunch is available only until 3 p.m., although the restaurant is open all day. Stressing simple dishes with natural ingredients, its suppliers include Miller Poultry in Orland, Indianapolis-based Native Breads and Jasper's Fischer Farms.
That freshness was evident throughout our meal.
The Acai Bowl ($13) arrived beautifully presented with rows of berries and coconut paralleling rivers of almond butter, all adorned with minty herbs. A few shared spoonfuls later, it had lost its symmetric attractiveness but none of its pleasures.
My dining partner and I had to stop our efficient-but-seemed-like-she-had-better-things-to-do waitress from taking it away before we were willing to give it up.
El Desayuno ($15) is Spanish for "breakfast," but at Garden Table it's a glorified way of saying "fancy nachos." That's no slight, though. The tortilla chips here carried shredded roasted chicken, a sunny-side-up egg, ample slices of avocado, and heirloom beans, plus cilantro, onion, queso fresco and a trio of mole sauces. It's a dish that proved a little creativity can add new life to an appetizer staple.
We also tried the Veggie Terrine Spinach Wrap ($10), which enveloped English pea hummus and sprouts flavored with bagna cauda (an Italian dipping sauce).
It took a little searching to find the poultry in the Butter Chicken ($14), a soupy Indian-influenced bowl with a garam masala spice blend, tomato and turmeric, but the yogurt-marinated chicken did eventually make an appearance. I would have preferred it served at a temperature higher than lukewarm and with a greater ratio of solids to liquids. A side of round, thicker-than-usual naan was a plus.
Had we opted to take more of a breakfast route, the choices include Flank Steak & Eggs ($15), a Silver Dollar Blueberry Pancake Stack ($5), Garden Benedict ($12) or the creatively concocted Flight of the Donut and Coffee ($8) with a trio of doughnuts or beignets paired with three 2 oz. coffees.
While wine and other adult beverages are served at the central bar, at brunch you are just as likely to see folks sipping cold-pressed $8 juices such as the Detox Dream or the Hoosier Heater, each with an elaborate description that includes such phrases as "antioxidants and enzymes," "revs your metabolism," and "help to repair tissue, regulate blood sugar levels, and promote satiety."
Call me old-fashioned, but I'm still resistant to paying more for juice than I pay for an average lunch and equally resistant to promises that seem to come from a medicine-show barker.
But I'd still be happy to meet you at Garden Table for brunch.•
Please enable JavaScript to view this content.