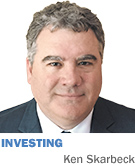 The economic environment for retailers is the worst it has been since 2009. Nine retailers have filed for bankruptcy in the first three months of 2017, a pace that would exceed the 18 bankruptcies recorded in 2009. The turmoil hit home recently when local appliance and electronics retailer HHGregg filed for bankruptcy last month.
According to Moody's, over the past six years the number of distressed retailers in its lowest-rated Caa tier tripled to 19, representing 13 percent of retailers under Moody's review. Moody's notes that the era of cheap money allowed companies with weak financials to expand using debt. Over the next four years, $5 billion of that debt is coming due, 40 percent of which will need to be refinanced next year. While refinancing terms remain favorable, lender sentiment could change with interest rates trending up and if industry fundamentals deteriorate further.
Another problem retailers are confronting is a "race to the bottom" spiral that can occur when companies under stress or in bankruptcy dramatically lower prices or hold going-out-of-business sales. This forces their healthy competitors to either lower their prices and compete for less-profitable sales or forgo sales to preserve margins.
Several retailers acquired by private equity firms via leveraged buyouts are under stress. TPG Capital, which bought J. Crew in 2011 in a $3 billion leveraged buyout, is now attempting to restructure $2 billion in debt. Teen retailer Claire's Stores was acquired by private equity firm Apollo Global Management for $3.1 billion in 2007. The company is negotiating with creditors to restructure its $2.4 billion in debt. Payless (shoes), owned by Blum Capital and Golden Gate Capital, filed for bankruptcy in early April.
Other teen retailers that have filed for bankruptcy in the past two years include Aeropostale, Pacific Sunwear and Wet Seal. The ratings firm Fitch has a "Bonds of Concern" list of debt payments due in 2017 for Nine West Holdings, 99 Cents Only, rue 21 and Gymboree.
Former retail giant Sears warned in a filing that it was in doubt of continuing as a going concern, while JC Penney and Macy's are aggressively closing stores.
All this retail carnage has hit the shares of mall REITs such as locally based Simon Property Group Inc. (down 23 percent from market highs reached last summer), Macerich (down 27 percent) and GGP (down 28 percent).
These market declines spell opportunity to hunt for mispriced businesses in an industry that's out of favor. For, while the obvious elephant in the room is Amazon.com—as Mark Twain might have said, the death of the mall has been greatly exaggerated. Americans are still going to flock to well-positioned malls, particularly the upscale open-air malls or community shopping centers.
Another REIT worth a look is locally based Kite Realty Group, which owns and develops community shopping centers and appears less affected by the big-box store closings. Kite shares appear attractively priced with a 5.85 percent dividend yield.
Retail is a tough industry for investors to navigate. Hot new brands can see their stock prices soar, only to crash back to Earth when fickle consumer tastes change. In this environment, investors might have better opportunities in well-run REITs that own attractive locations and can adapt to the changes taking place in retail.•
__________
Skarbeck is managing partner of Indianapolis-based Aldebaran Capital LLC, a money-management firm. His column appears every other week. Views expressed are his own. He can be reached at 818-7827 or [email protected]
Please enable JavaScript to view this content.