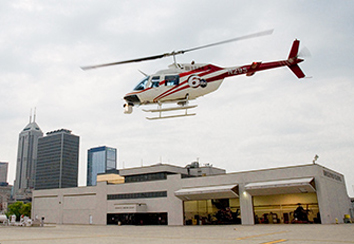 Local television stations are clipping their wings when it comes to news coverage.
The costly use of helicopters to cover weather-related stories, traffic accidents and snarls, and sporting events is on the decline nationwide.
Locally, WISH-TV Channel 8 last month grounded its helicopter—and is selling it—while also parting ways with longtime chopper pilot and reporter Keith McCutcheon. WISH said McCutcheon, who has been with the station 20 years and could not be reached for comment, will retire in the coming weeks.
Sources close to WISH said station officials deemed it too expensive to upgrade their nearly 30-year-old chopper and—with newer communication technology available—thought the helicopter was no longer necessary.
Tribune Broadcasting's WXIN-TV Channel 59 and WTTV-TV Channel 4 don't use a helicopter. And WTHR-TV Channel 13 is decreasing the use of its chopper, sources said. WTHR officials didn't return calls for comment and haven't had a full-time pilot since December.
WRTV-TV Channel 6 General Manager Larry Blackerby said his station, which leases a helicopter, continues to use it as much as ever.
Gevers
But Rick Gevers, a locally based agent who represents on-air talent and pens a blog covering the TV news industry, isn't so sure.
"There's no question, the stations here are using them less," said Gevers, president of Rick Gevers & Associates. "It used to be you would see three TV news helicopters hovering over every major traffic accident or flying around after almost every major weather incident. … Oftentimes these days, you don't see any."
That trend is especially evident during morning newscasts when traffic news is paramount. There are often no TV helicopters in the air, Gevers said.
WISH's new owner, Nexstar Media Group, is likely looking for ways to trim the station's budget, industry sources said. Texas-based Nexstar closed on its acquisition of WISH parent Virginia-based Media General Inc. in January. WISH's new general manager, Randy Ingram, and Nexstar officials were not available for comment.
It costs $400,000 to $750,000 to buy a helicopter suitable for TV news coverage and another $50,000 to $100,000 to outfit it with high-definition broadcast equipment. It costs $400 to $500 an hour to fly it and another $125,000 or so a year for a pilot.
That makes the decision by many stations to ground their aerial coverage "mostly economic," Gevers said.
"No one seems to be too excited about the economy of the TV business these days," he said. "With all the cord-cutters and the growth of the internet and with fewer viewers spread over a growing number of TV stations, it's tough."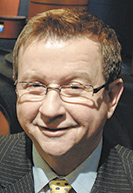 Blackerby
WRTV's Blackerby conceded that operating a helicopter "is a significant portion" of the station's budget. He declined to elaborate other than to say it's a six-figure annual cost.
"It's expensive, but we think it's worth it because, not only does it get you to stories quicker, it gives viewers a different and important perspective on a story," he said.
In pre-recession 2007, the National Association of Broadcasters estimated Indianapolis TV revenue—spread across all stations—at $210 million. That number tumbled to $160 million last year. Coming off an Olympic and presidential-election year, one local media buyer said TV advertising revenue could decline another 5 percent or more.
"I'm sure the 2017 forecasts are pushing some of these cost-cutting decisions," she said.
Nationally, the number of news pilots has plummeted from 180 to about 110 over the last decade, according to several helicopter vendors familiar with the data.
'Pretty unusual'
Over the last 25 years, stations in the top 30 TV news markets have used helicopters to cover breaking news, sports, weather and traffic. Indianapolis is the 27th-largest market.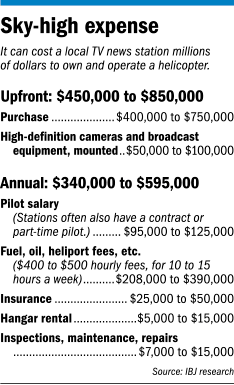 In big markets like Chicago, Houston, Los Angeles and New York, it's still common for stations to have helicopters for two primary reasons: First, they're indispensable in covering those cities' horrific traffic. And second, news crews in those cities sometimes need to cover stories that involve large bodies of water—where vehicles obviously can't reach.
Still, over the last decade, stations in major markets like Chicago, Denver, Philadelphia and Phoenix have started sharing a helicopter. But that has its drawbacks.
"If you're all showing the same footage from the same helicopter, you have to ask yourself what the real value is," a Denver station news director who asked not to be identified told IBJ.
While Indianapolis is on the fringe of the top 30, one helicopter vendor said "it's pretty unusual to have the top three TV news stations in a market that size either not using or limiting the use of a helicopter in news coverage."
WTHR, WXIN and WISH are the top three stations in many time slots.
Compounding the situation locally is the addition of WTTV in 2015 as a news provider.
The CBS affiliation moved from WISH to WTTV in January 2015. With that move, WTTV launched a news department. WISH, meanwhile, increased its news air time. Also in recent years, WXIN has increased its newscasts and grown its audience reach.
"For years, Indianapolis had three primary TV news stations; now there are five. The pieces of the revenue pie are simply smaller," said Kevin Finch, an assistant professor of journalism at Washington and Lee University in Virginia and veteran Indiana journalist who worked as news director for WISH and WRTV.
That means less money for stations' news budgets. The annual expense would be close to 10 percent of some stations' news budget, said a source familiar with the numbers.
Despite the cost, Lee Giles, who spent 35 years as WISH's news director before retiring in 2003, said, "I'd lobby any way I could to keep that helicopter."
"I would argue that WISH needs this magnificent asset now more than ever since they don't have a network affiliation and they're relying more on local news to make its mark," Giles said. "Simply put, having a helicopter is a game-changer on a number of levels. I think it absolutely brings viewers to your newscast."
In the beginning
In the 1980s, WTHR, which at the time trailed WRTV and WISH in local news viewership, was the first local station to use a helicopter in news gathering.
The station grounded its helicopter from 1992-1994 to cut costs. In 1994, it took wing again and was soon joined in the air by a WISH helicopter, then one from WRTV in the late 1990s.
During the height of helicopter usage, local stations had at least one full-time pilot and another part-timer (often contracted). At one point, WTHR used three pilots. That's because helicopter pilots are governed by strict federal regulations on how much they can fly. If stations invested all that money in the helicopter, they wanted to have someone available to fly it when needed, Giles said.
Helicopters quickly became key tools in covering big events like the Indianapolis 500 and Indiana State Fair and, in the days before high-speed video communication, were used to quickly transport videotape and personnel. They also were critical marketing tools, featured prominently in on-air and print promotions.
"A helicopter is like a floating billboard," said Tom Cochrun, a former anchor and news director who worked for WTHR and WISH. "Whenever a helicopter is coming in, everyone stops what they're doing and looks up."
Helicopters have been used prominently to cover sporting events, especially to fly a crew around the state to cover a half-dozen or so football games on a single Friday night.
But the whirly birds were most instrumental in covering breaking news.
Early on, stations used the heliport on the southeastern edge of downtown to launch their helicopter. WTHR later built a helipad in its expansive parking lot directly behind the station's Meridian Street complex.
"That gave WTHR a big advantage with breaking news, maybe a 10- or 15-minute head start," Cochrun said.
So, WISH struck a deal to use the heliport on top of Methodist Hospital to get its chopper in the air quickly.
"That was fine," Cochrun said, "as long as the hospital wasn't using the helipad for their chopper."
Technology allows change
Today, wireless communication and Indiana Department of Transportation traffic cameras (since 2008) help stations report on traffic.
But, Giles added, "you lose editorial control with those. They're uni-directional and you can't control them like you can a camera on a helicopter. Besides, they're simply not everywhere you need to be."
Drones can help get aerial shots for a fraction of the cost of helicopter operation. WISH owns a drone. WXIN and WTTV got one last month, and staffers are undergoing training and licensing to use it. WRTV, too, is considering a drone.
But, Finch said, there's no comparing a drone to a helicopter.
"Yes, you get the aerial views, but you don't get the commentary and analysis of someone up in the air like a helicopter and you still have to drive a drone [to] wherever you want to fly it," he said. "So you lose a lot of time in terms of breaking news. And there are also still a lot of questions in terms of regulations and how they can be used."•
Please enable JavaScript to view this content.