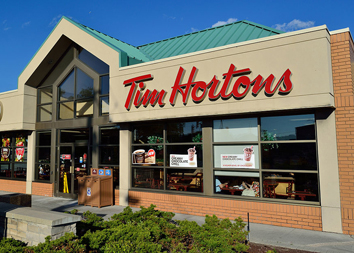 Tim Hortons is moving forward with its much-anticipated expansion into the Indianapolis area and plans to open its first restaurant on the west side.
The coffee and doughnut chain, an institution in its Canadian homeland, plans to enter the area by building a restaurant at 8301 Rockville Road, near Avon and adjacent to a new GetGo convenience store, according to a state construction filing.
The April 10 filing comes more than a year after parent company Restaurant Brands International Inc. announced that it plans to open new locations in areas including Indiana, Cincinnati, and Columbus, Ohio, adding to its roughly 650 restaurants in the United States.
RBI said then that it reached an agreement with Hobart-based Luke Family of Brands to develop Hortons in Indianapolis and Lafayette. A Luke spokeswoman declined to comment and said the company will release details when it has the approvals needed to start construction.
The president of Tim Hortons said last year that the company is excited about its expansion into Indianapolis.
"Given our strong presence in the Columbus (Ohio) area and aggressive development plans in neighboring Cincinnati, the Indiana market is a prime growth opportunity for our continued expansion in the U.S," Elias Diaz Sese said in a written statement.
Tim Hortons has more than 4,600 locations in nine countries and is the largest quick-service restaurant chain in Canada.
The chain competes with Starbucks and Dunkin' Donuts, which have largely cornered the U.S. coffee market by locking in millions of customers with loyalty programs and convenient locations.
RBI said upon last year's expansion announcement that Luke would be "responsible for owning and operating restaurants, managing the market and sourcing local entrepreneurs to develop restaurants, creating thousands of jobs in the state of Indiana."
Luke's holdings include Luke Oil, Luke Builds and County Line Orchard.
In Canada, Tim Hortons is known simply as "Tims." Hockey legend Tim Horton, who played for the NHL's Toronto Maple Leafs, opened his first restaurant in Hamilton, Ontario, in 1964—back when doughnuts and coffee were 10 cents each. By 1967, the brand had begun franchising and adding locations. It debuted its first store in the United States in 1984, in Tonawanda, New York.
Burger King acquired the chain in 2014 as part of a deal that the burger chain used to form a new parent company with a Canadian headquarters. The $11 billion transaction, backed by Warren Buffett's Berkshire Hathaway Inc., created Restaurant Brands International, which is based in Tim Hortons' longtime home base of Oakville, Ontario.
Restaurant Brands is controlled by billionaire Jorge Paulo Lemann's 3G Capital, which previously teamed up with Buffett to take H.J. Heinz Co. private and has a famous zeal for cost cutting. Since the takeover, Tims has eliminated jobs at regional offices and corporate headquarters.
In making a bigger play for Americans, Tims is eyeing the growing share of budgets that go toward java. Coffee-shop sales growth are outpacing those of burger joints, according to data from research firm Technomic. The U.S. also is the world's largest coffee-consuming country.
Please enable JavaScript to view this content.