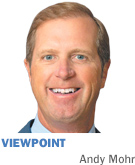 Indy Eleven's effort to bring Major League Soccer to Indianapolis is the latest exciting opportunity for a city known around the globe as a first-class sports capital.
Our bid allows our community a one-time chance for Indianapolis to bolster this reputation for decades to come by bringing the "world's game" here at the highest level possible on a permanent basis.
During the last two decades, Major League Soccer's measured approached to growth and expansion has paid dividends, resulting in ever-increasing media and corporate attention across the country and the world. Indy Eleven's current expansion bid will mark the only chance to bring these expanded opportunities and the exposure MLS provides here to Indiana.
With 12 markets competing for MLS' next four teams, the time to showcase Indianapolis as a Major League Soccer destination is now; that's why I am proud to partner in this project with club founder and owner Ersal Ozdemir and additional business leaders who live and work right here in central Indiana.
Why do I believe MLS can succeed here? Because Indy Eleven has proven that the fan base and corporate support for professional soccer are already here.
Indy Eleven's reputation as one of America's best-run, fan-friendly organizations in professional soccer is beyond dispute. By averaging nearly 10,000 attendees per game, the question, "Will soccer succeed here?" has already been answered with a resounding, "Yes."
The team's stable of corporate partners is the best in the NASL. Moreover, the spotlight MLS can shine on local, national and international brands will grow that base exponentially.
Soccer's roots in Indiana are strong and growing stronger. While attending Indiana University in the 1980s, I witnessed the growth of the men's soccer program that now boasts eight national championships. As the father of children who have played the sport while growing up in central Indiana, I see every day the passion they and their friends have for the game.
A move to Major League Soccer represents an investment in the future. Soccer is the most popular sport for millennials—and it is truly only beginning to weave its way into the fabric of American culture and American sports.
A move to MLS, whose growth and ambition will see it rise to become one of the world's top leagues in the coming decade, and the construction of a multi-purpose stadium are economic and community investments that will spark development and create jobs now and in the future. A successful bid will also provide more world-class entertainment and tourism opportunities that can help attract the next generation of talent to Indiana.
Our sports consumers are used to watching successful professional sports in first-class venues. Now is the time to take advantage of an opportunity that uniquely pairs Indianapolis' best qualities as a leader in the sports industry with a capital that has become a true destination city for people from around the globe.
A club ready to take soccer to the next level, a strong local ownership group that understands how to do business in Indiana, and a stadium plan that will treat taxpayers respectfully are all taking shape.
The competition will be strong, but so is our commitment, our fans and our team. Major League Soccer in a truly major league city is our goal. Indianapolis is absolutely ready to join the top ranks of soccer destinations in the United States. Let's come together in the same spirit that has transformed our city during the past 50 years and bring Major League Soccer to our capital.•
__________
Mohr owns 12 car dealerships and service centers, four collision centers, and one heavy-duty truck center. He is an investor in a bid to move the Indy Eleven to Major League Soccer.
 
Please enable JavaScript to view this content.