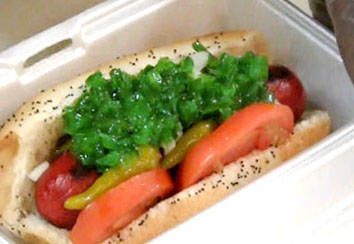 King David Dogs is partnering with a local franchising consultant to offer its quarter-pound, all-beef frankfurters in convenience stores and travel plazas nationwide.
Indianapolis-based King David operates a restaurant at 135 N. Pennsylvania St. downtown in street-level space at BMO Plaza. Owners Brent and Hannah Joseph recently teamed with CZ Growth Strategies LLC in Carmel to develop a franchising proposition with a kiosk-sized version of the restaurant designed to fit comfortably in a convenience store.
"There seems to be a growing trend in the convenience store industry for upgraded food choices and some better-quality varieties," Allan Zukerman, chairman of CZ Growth Strategies, told IBJ on Tuesday. "We're hopeful that King David Dogs will fit into that niche."
Convenience store owners are offering more culinary choices to get customers to spend money beyond just gasoline, which has razor-thin profit margins.
One of the most prominent and contentious examples is playing out with Indiana-based convenience-store chain Ricker's. It recently obtained a liquor license typically reserved for restaurants, after finding its in-store eateries offering burritos and other fare qualified certain locations to sell cold beer for carryout.
"It makes a lot of sense [for convenience store owners] to offer a higher-quality, gourmet product instead of two hot dogs for 99 cents," King David owner Brent Joseph said.
King David hopes to launch with independent stores before getting more aggressive and going after chains, Zukerman said.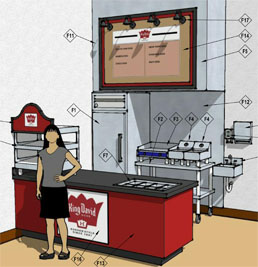 This detail from franchising designs shows the basic layout of the King David Dog module. (Image courtesy King David Dogs)
Store owners would need to invest about $50,000, including a $7,500 franchising fee, to get the cooking units into their locations. King David marketed the concept at the M-Pact convention for the energy and convenience-store industry last week in the Indiana Convention Center and received a handful of solid leads.
"It's a lot easier and a little more palatable for a convenience store owner to open a kiosk, rather than maybe purchasing a Subway franchise," Joseph said. "We only need 100 square feet."
King David's all-beef, quarter-pound dogs are made using a recipe that dates to the 1940s, when Brent Joseph's grandfather and great uncle started Indianapolis-based Hene Meat Co. after immigrating to the city from their native Germany.
The family brand remained in business until 1993. The Josephs resurrected it in 2006 by opening a downtown restaurant at 15 N. Pennsylvania St. King David Dogs moved to its present location in 2011.
Zukerman and Bill Church, president of CZ Growth Strategies and a 30-year restaurant veteran who has worked for MCL Cafeteria, Roly Poly and Noble Roman's, have represented more than 30 restaurant concepts throughout their careers as both franchisors and franchisees, as well as providing expertise.
Most recently, they helped Indianapolis-based and Cajun-inspired Yats franchise outposts.
Please enable JavaScript to view this content.