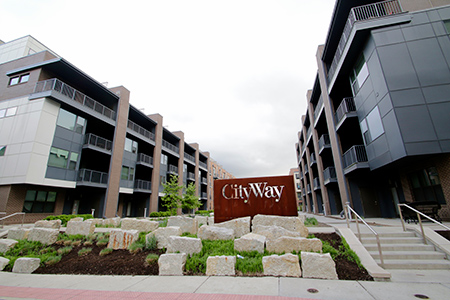 Construction on the $135 million second phase of CityWay is expected to begin in early June, further transforming downtown by adding 400 more rentals to the already booming apartment market.
When finished in late 2019, the entire CityWay project, developed by Indianapolis-based Buckingham Cos. at Delaware and South streets, will boast 650 units—by far the biggest apartment project downtown.
It will surpass the existing Lockefield Gardens (493 units) near Indiana Avenue and dwarf three developments under construction: TWG Development LLC's Park at Pulliam Square (334 units), Flaherty & Collins Properties' 360 Market (292 units) and J.C. Hart Co. Inc.'s Penrose on Mass (236 units).
And in the pipeline is Hendricks Commercial Properties LLC's mammoth, $260 million mixed-use development at the former Coca-Cola plant near College and Massachusetts avenues that will include 337 apartments.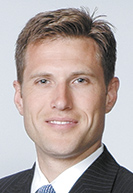 LaMotte
The five projects together will add 1,500 apartments to the core's growing housing stock, which might seem like a lot for downtown to absorb, especially given the already-swift pace of apartment construction in recent years.
But Steve LaMotte, who co-leads CBRE's Central Midwest multifamily team, remains bullish on the market given downtown's 95 percent occupancy and 8,000 residents, still a relatively "puny" number.
"I see demand only strengthening," he said. "There's still a lot of runway left. I don't have any concerns at all."
Apartment developers are building to meet demand from companies flocking to downtown, creating the need for more housing.
The highest-profile expansion is by Salesforce.com Inc. The San Francisco-based company announced in May 2016 that it plans to add 800 jobs in Indianapolis by 2021 and establish a regional headquarters in the former Chase Tower, now renamed Salesforce Tower.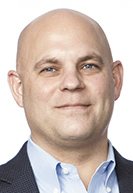 Gallmeyer
Downtown has progressed in a big way since Buckingham began leasing apartments at CityWay in 2012. The $155 million first phase of the firm's much-heralded project included 250 apartments, The Alexander hotel, 40,000 square feet of retail and office space, and a YMCA.
Now Buckingham is wrapping up city approvals to build the 400 additional units, in addition to 23,000 square feet of retail—including a 13,000-square-foot CVS pharmacy with a drive-thru—a two-story, 20,000-square-foot office building and a 220-space parking garage.
"This is a fantastic opportunity for this quadrant of downtown," said Ryan Gallmeyer, Buckingham's director of development operations.
Buckingham is building the second phase—so big that it will be constructed in two stages—with the help of $15 million in downtown tax-increment financing funds approved in October 2015 under the administration of then-Mayor Greg Ballard.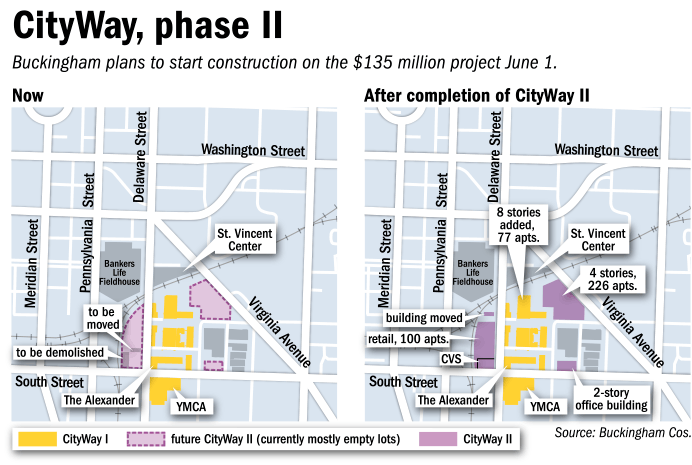 The $15 million Buckingham will receive for the second phase is far less than what the city gave the developer in 2011 to build the first phase. The city then issued $98 million in bonds to finance a portion of the $155 million project.
The second phase is expected to start next month with construction of a four-story building with 226 apartments on a surface parking lot bounded by railroad tracks to the north, Louisiana Street to the south, Virginia Avenue to the east and a six-story CityWay parking garage to the west.
Atop the parking garage, Buckingham plans to build an eight-story residential building consisting of 77 apartments.
At the northeast corner of Alabama and South streets, Buckingham plans to build a two-story, 20,000-square-foot office building that should be finished early next year. Buckingham already has a first-floor tenant signed, Franciscan Health, which will operate an urgent care center there.
The second stage, on the west side of Delaware, would start in April 2018, or about 10 months after the first stage. Both stages are expected to wrap up in late 2019.
Buckingham plans to construct two buildings and a parking garage on the west side of Delaware that will include 100 apartments and the 23,000 square feet of retail.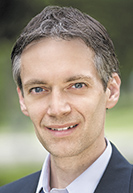 Miller
The developer received a variance April 19 from the Metropolitan Development Commission to add a drive-thru to the 13,000-square-foot CVS, even though Department of Metropolitan Development staff members opposed the plan. They cited city zoning regulations prohibiting a drive thru within downtown's Mile Square.
"If this were on the south side of South Street, this would be permitted and it wouldn't be in front of you," Tim Ochs, a lawyer for Buckingham, argued to the MDC. "It seems arbitrary, that, because we're on one side of the street, we're not allowed a drive thru, and it's not for fast food."
City-County Councilor Jeff Miller, who represents the district that includes CityWay, supports the drive thru and thinks the addition of a CVS might attract additional business to the area.
"I'm hoping that this continues to push development south," he said. "CVS is usually an indicator that an area is a good place to open a business."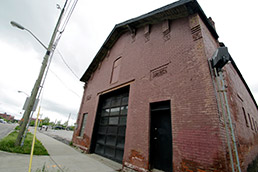 Buckingham plans to move this historic structure, originally a horse stable, 300 feet north on Delaware to make room for two apartment and retail buildings. (IBJ photo/Lesley Weidenbener)
To make way for the building anchored by the CVS, Buckingham wants to demolish the one-story, mural-soaked building flanking the train trestle above Delaware. The company is expected to present its plans for demolition in May to the city's Regional Center Hearing Examiner.
Another building on the property, though, is considered by Buckingham to be too historic to demolish. The small brick structure lacks landmark status but was built in the late 1800s as a livery.
Buckingham plans to move the building, which currently is used for storage, 300 feet to the north to make way for the two apartment and retail buildings. The developer is in the process of buying the land where the building now sits.
The company ultimately hopes to find a retail use for the historic structure.
"This is going to be a unique opportunity to restore a structure on site and move it to another location," Gallmeyer at Buckingham said. "It'll actually be a pretty quick process to move it."
Buckingham is consulting with Indianapolis-based Merlin King Inc. on how best to remediate and move the building, which will be jacked up and relocated just as a home or any other building would.•
Please enable JavaScript to view this content.