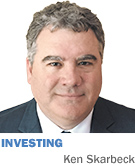 It's annual report season. As the booklets arrive in the mail, they are accompanied by a document called a proxy statement. The proxy statement announces the date and location of the company's annual meeting and provides a list of the proposals that shareholders are asked to vote either "for, against or abstain."
The first item on the proxy is a vote for the company's slate of directors. A surprising number of companies have moved to annual voting for the entire board of directors. That is in contrast to the practice of staggering board elections, where perhaps four of 12 directors elected in successive three-year periods led to engrained boards. That more companies hold annual elections for the entire board is a plus for shareholders (owners), giving them the clout to voice dissatisfaction if necessary.
Recently, Wells Fargo endured a contentious board election coming on the heels of last year's fake-account scandal. The voting results released April 25 showed all 15 directors were re-elected, although nine directors fell short of garnering 75 percent of votes in favor. Two directors, the company's non-executive chairman and the board's risk-committee head, squeaked by with 56 percent and 53 percent votes, respectively.
Historically, directors up for re-election receive 95 percent of votes in favor. According to proxy advisory firm ISS, over the past 10 years only 22 directors out of 400,000 at S&P 500 companies have received less than 60 percent of the vote. ISS, in its advisory capacity to institutional investors, had recommended investors vote against the Wells Fargo board. While the company directors survived re-election, the less-than-enthusiastic endorsement from shareholders will likely lead to Wells Fargo's making internal changes on its board.
Other proxy items typically include a ratification of the company's independent auditing firm. Any newly proposed stock incentive plans are discussed in detail in the proxy. These plans detail the various bonuses, stock options and other incentives that can be achieved by executives who meet targeted business goals. The complexity of these plans and the size of the various payouts can make a shareholder's head spin.
Next on many proxies is the relatively new "say on pay" vote, where you can weigh in on whether you approve of the compensation being paid to the top five executive officers. The outcome of the vote is not binding on the company.
Last, any shareholder proposals that have been submitted to the company are listed for vote. Sometimes, these proposals are well-reasoned suggestions: for example, to allow large shareholders to call special meetings if unforeseen events were to require a special vote. Often, larger companies receive shareholder proposals asking for changes in their approach to environmental, political and lobbying-related matters. These shareholder proposals always receive board recommendations to vote "against."
The proxy document clearly notes how the board recommends shareholders vote each of the proposals. On some proxies, there is a spot to vote for all items based on directors' recommendations, much like voting a straight ticket in a political election.
Just as with political elections, shareholders should take the time to vote their proxies. Researching the various proposals should be part of the annual checkup on the companies you own, along with reading the annual report.•
__________
Skarbeck is managing partner of Indianapolis-based Aldebaran Capital LLC, a money-management firm. Views expressed are his own. He can be reached at 317-818-7827 or ken@aldebarancapital.com.
Please enable JavaScript to view this content.