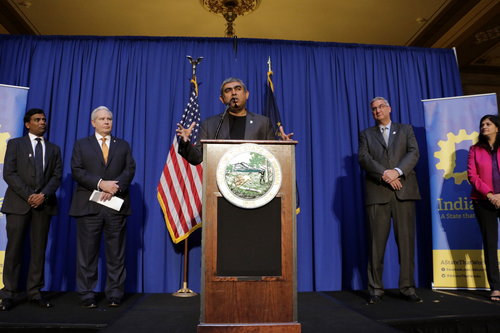 The deal to bring India-based tech giant Infosys Ltd. and as many as 2,000 technology jobs to central Indiana happened fast—in less than three months—and was the result in part of a dogged pursuit by Indiana economic development officials who were in touch with the Indian firm almost daily.
The roots of the move, however, are likely older, dating back at least five years when then-Indianapolis Mayor Greg Ballard went to Hyderabad, India—where the company has a campus—to try to pave the way for just this kind of announcement.
Infosys President Ravi Kumar, who recalled meeting Ballard in India, said that he had worked with governments across the U.S. and the world and had never found one as committed as the one in Indiana.
The company called Indiana officials in February to express interest in bringing one of four U.S. tech hubs to Indiana and then came to the state in late February to visit with Gov. Eric Holcomb, economic development officials and Indianapolis Mayor Joe Hogsett.
Then in early March, company officials asked Indiana Commerce Secretary Jim Schellinger to come to an Infosys board meeting in India and visit two of the company's campuses in Bengaluru. Days later, Schellinger was on a plane.
"We went right away. We presented Indiana," Schellinger said. "Then we kept in touch on an almost daily basis."
Weeks later, Infosys "basically committed to the governor: 'We're coming to Indiana and we're coming in a big way'," Schellinger said. Holcomb, however, said he didn't feel completely certain the company was headed to Indiana until just a week ago.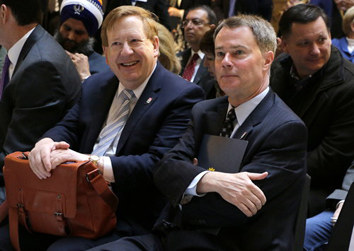 Carmel Mayor Jim Brainard, left, and Indianapolis Mayor Joe Hogsett both hope to land Infosys' tech hub. (IBJ Photo/ Lesley Weidenbener)
Now the question is where Infosys will land in central Indiana—both in the short term, when the company needs about 50,000 square feet to start ramping up operations here, and in the long term, when it plans to build a much larger campus.
Infosys plans to create 500 jobs by 2018 and then expand to 2,000 by 2021.
At least five locations are currently in the mix for the company's temporary digs, Schellinger said. Four are in Indianapolis and one is in Carmel, although he declined to be any more specific about the locations.
The leaders of both cities—Hogsett and Carmel Mayor Jim Brainard—sat in the front row at the Statehouse on Tuesday morning as Infosys made its official announcement.
But both said later that while they will push to land the technology consulting firm, the competition will be "friendly" and that the entire region will benefit.
"It is very exciting for central Indiana regardless of where exactly they decide to put their facility," Brainard said. "What we need are better-paying, higher-paying jobs for our college graduates, and because of that this is a great, exciting announcement today."
Although Brainard said he just met the Infosys officials on Tuesday, the Hogsett administration has been in regular contact with them since they visited Indianapolis in February.
"They're looking around," Hogsett said of the firm's search for short-term and long-term space.
The former GM stamping plant site could still be in the mix for a long-term campus. Although the owners of the property on Tuesday chose Ambrose Property Group to redevelop the land, there still would be time to include Infosys, Hogsett said. The location would be close to IUPUI and a critical mass of the city's tech community.
Hogsett said the planned 16 Tech development to be located north of the IUPUI campus would be another possibility.
"I would hope they would want to locate in Indianapolis, particularly our downtown, because of the talent attraction and talent recruitment they've talked about doing," he said. "We're very optimistic and excited about" the company locating in Indianapolis.
Gov. Eric Holcomb said regardless of where in central Indiana the company locates, it will lift the region and the state. He said it's part of the state's larger focus on technology and entrepreneurship.
Infosys officials "noted throughout our discussions about how aggressively we were leaning into developing the innovative front, the entrepreneurial front," Holcomb said. "It's not enough just to have your books in order. You have to be leaning into the future and leading."
He said the Infosys deal happened "on a fairly aggressive timeline" but one that Indiana officials were prepared to meet.
"We've been a manufacturing powerhouse for 200 years," Holcomb said. "But we're going to manufacture our future with companies like Infosys."
Ballard, who attended the Statehouse announcement, said the Infosys announcement is just what he was hoping to accomplish when he made two trips to India and established the sister city relationship with Hyderabad.
"I met a lot of these folks and I think we helped create these relationships that helped led us to this point," Ballard said. "India is a large, burgeoning economy that is extremely important to the world. To get a company of this international quality to put huge presence is Indianapolis is a great thing."
Please enable JavaScript to view this content.