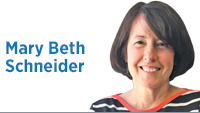 The Indiana General Assembly concluded last month with applause for a sound budget and a plan to fund road construction. But the 150 lawmakers also left town having failed, as usual, to address a reform needed to make that body more representative of the voters they serve.
Two years ago, the Legislature—which treasures the partisan power of deciding a district's boundaries in order to decide whether it tilts Republican or Democrat—took what seemed like a big step to create a study committee to come up with a bill. It recommended an independent commission to draw maps, and Rep. Jerry Torr, the Carmel Republican who has long championed this issue, and House Speaker Brian Bosma, R-Indianapolis, sponsored it. It got a hearing in the House but—bam!—Rep. Milo Smith, the Columbus Republican who heads the House Elections Committee, promptly killed it with no vote.
Smith questioned whether an independent commission would work. Besides, he told the Columbus Republic newspaper, "there are 6.5 million people in Indiana and all of them weren't here [the day of the vote] and we need to listen to them, too."
(Imagine my eyes rolling here.)
Lawmakers aren't listening to all the voters, only to the ones who voted for them.
Almost none have any incentive to reach out to different voices or seek consensus.
Of the 50 senators, 17 had no opponent in their last election and 22 won with at least 60 percent of the vote. In the 100-member House, 27 lawmakers were unopposed in 2016 and 57 won with at least 60 percent of the vote.
These aren't competitions; they're coronations.
Torr, who first filed a bill in 2005 seeking the commission, said he'll try again next year with his same argument: "Voters should choose their elected officials, not the other way around." But he called it "a hard sell."
"So many of my colleagues have never served in the minority," he said. And with GOP supermajorities, they haven't even served in a chamber where Democratic support was needed to pass anything.
Julia Vaughn, policy director of the citizens lobbying group Common Cause Indiana, is—amazingly—optimistic that this change will eventually come, that districts will be drawn without regard to partisanship.
The lack of competition, she notes, has contributed to the hyper-partisanship climate in which officeholders fear primaries, not general elections and the lack of cooperation and consensus-building.
She sees new lawmakers like Sen. John Ruckelshaus, R-Indianapolis, and Rep. Carey Hamilton, D-Indianapolis, joining the fight. It's no coincidence that those two see the value in having to appeal to a broader group of voters. They won their elections by 51 percent and 52 percent, respectively.
Ruckelshaus said he's optimistic, too. After all, he said with a laugh, "I'm a Cubs fan."
Of course, it might not take 108 years, as it did the Cubs to win the World Series, for independent redistricting advocates to win this fight.
The U.S. Supreme Court will take up a Wisconsin case, with the state challenging a federal appeals court ruling that the maps there were deliberately drawn to hurt Democratic voters' representation. While past Supreme Courts have said extreme gerrymandering is unconstitutional, they never could define how to decide what is mere politics and what violates due process constitutional protections. The Wisconsin case gives advocates hope the math has been found that can force the change that mere debate didn't.
If at least five members of the Supreme Court agree, Vaughn said, "the gerrymandering jig is up."•
__________
Schneider covered Indiana government and politics for The Indianapolis Star for more than 20 years. Send comments to [email protected]
Please enable JavaScript to view this content.