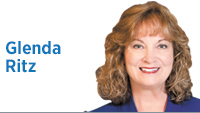 I have never hesitated to criticize our Legislature when I feel lawmakers deserve it, but I was excited about specific sections of two bills passed this legislative session that could have a positive impact on all high school students in our public schools.
Taken together, House Bill 1003 and Senate Bill 198 will focus on the implementation of individual student graduation plans to successfully complete graduation pathways toward post-secondary education and employment.
SB 198, after a pilot, mandates the offering of career exploration to all eighth-grade students in our public schools. Most districts already offer this course in eighth or ninth grade. It is a logical step toward students' creating their graduation plan at ninth grade. The career exploration program must have an aptitude assessment tool, educational course track information, a tool for preparation, and development of the graduation plan with a parent sign-in component, and allow access to education and career-demand information using data prepared by the Department of Workforce Development.
In addition, the Senate bill recognizes the needed funding for many student-centered career and technical programs in place in our public schools (apprenticeships, cooperatives, work-based, high-value, moderate-value, and less-than-moderate-value programs, introductory programs and foundational CTE courses). Questions remain regarding the effect of SB 198 surrounding funding to school corporations for career and technical education programs, but the clarity of a state system approach after the last four years of good conversation around this topic will help provide students with graduation plans that focus on each individual student.
This work sets the stage for HB 1003, which says students must complete a graduation-pathway requirement rather than pass a graduation exam after June 30, 2018. The State Board of Education, working with the Department of Workforce Development and the Commission for Higher Education, will decide the acceptable graduation pathways for students to demonstrate college- or career-readiness. To graduate, students will not only have to meet the current Core 40 course and credit requirements, but also demonstrate their college- or career-readiness through a graduation pathway.
Moving away from the passing of high schools tests in English and math and toward demonstrating college- or career-readiness through a graduation pathway gives students many options to achieve an Indiana diploma tailored to their graduation goals.
I know Indiana high schools will embrace this work and will be vocal participants in this dialogue about graduation pathways. It is a complicated topic as we look to meet the needs of ALL students across the spectrum of students we serve and seek to avoid the tracking of students into certain graduation pathways.
It is good that the Legislature recognized the complexity of this work, chose not to be prescriptive, and allowed this work to evolve through public discourse before implementation. Funding support for equity of opportunities for students throughout Indiana will be a focus during the conversation that will probably result in proposals for the next state biennium budget.
In closing, the path toward student-centered college- and career-readiness will greatly assist schools with the engagement of families and employers at the middle school and high school levels. Direct involvement at the middle school level leading to the exploration of career in eighth grade, then continued involvement with the completion of the graduation plans to graduate, will add that sense of relevance to a student's secondary education … guiding each student to be confident of success in post-secondary opportunities.
This is good news for our future economy.•
__________
Ritz, a Democrat, is a former state superintendent of public instruction. Send comments toibjedit@ibj.com.
Please enable JavaScript to view this content.