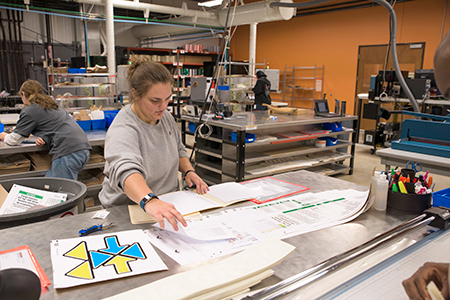 Sometimes, little things can become big business.
That's the case with Westfield-based label maker DuraMark Technologies Inc. The company makes durable warning, instructional and branding labels for a host of equipment, from lawnmowers and scissor lifts to automobiles and hospital beds.
DuraMark's niche: a patented all-digital production process the company says allows it to produce labels faster, cheaper and in smaller quantities than by the traditional screen printing method.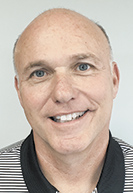 Bussick
Started in 2007 with four people (three co-founders and one employee), the company now has 62 workers and annual revenue of more than $10 million.
"We've had pretty incredible growth the last three years," said Bill Bussick, one of the co-founders.
Over the past three years, Bussick said, DuraMark has seen year-over-year growth of well above 60 percent, and has added employees at the rate of eight to 10 per year.
How has it accomplished this? Good timing and lucky breaks are part of the story.
The seeds for the business were sown when Bussick, along with Steve Diller and Bill Garland, worked at an Ohio-based printing company called Relizon Co. In 2003, that company launched an effort to develop a digital printing technology.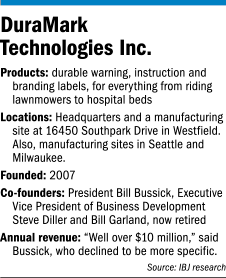 It did so at the request of an automotive customer that wanted labels that could be produced in "kits"—a single sheet that contains all the labels that need to go on a product. In manufacturing, kitting improves efficiency and decreases the chance of errors because production workers have everything they need in one place.
But by the time Relizon had developed the prototype in 2006, the company had changed hands. The new owners had no interest in the project, Bussick said, and the prototype ended up in storage.
"They didn't know what they had," he said.
But Bussick, Diller and Garland, who had worked on the business development side of the project, saw its potential.
Though the label business was dominated by screen printing, the three men could see that digital was the wave of the future.
So they bought the technology from their employer and left to start DuraMark.
Bussick is now president of DuraMark and Diller is executive vice president of business development. Garland has since retired.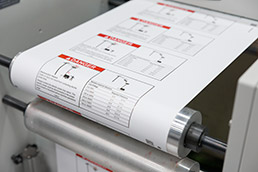 DuraMark can take orders from design to finished product in a day or less. Its small print runs mimimize the risk customers will be stuck with obsolete labels when products change. (IBJ photo/Eric Learned)
Bussick concedes that being on the leading edge of the digital-print trend was a lucky break.
"I can't tell you how many people have asked me, 'Why didn't somebody think of that earlier?' I don't know," he said. "That is a great question. It's not rocket science."
According to Johnny Shell, spokesman for industry trade group Specialty Graphic Imaging Association, technical factors—including the type of ink used and the way the process lays the ink on the label—explain why non-digital technologies like screen printing are still common.
But times are changing, and DuraMark is benefiting.
It had some tough times in the beginning, though. The Great Recession years were lean. Industrial manufacturers weren't producing many new products, so they didn't need product labels.
DuraMark "scratched and clawed for survival," Bussick said.
But the company, which had about a dozen employees during that time, made it through without layoffs. The founders didn't take a salary for three years, Bussick said, and the company kept making sales calls, which set the stage for when the economy picked up.
The DuraMark sales pitch focuses on the advantages of digital printing.
Because label information is stored digitally, DuraMark can make changes to labels quickly and produce "kits" in small quantities.
Orders can go from design to finished product in a day or less, and small print runs mean customers don't need to keep large stocks of labels that become obsolete when products change.
The company's largest categories of clients are in agriculture, lawn care and construction equipment, although it makes labels for a variety of industries, including health care and automotive.
Recently, General Motors Corp. recognized DuraMark as one of 118 suppliers of the year from its network of more than 21,000 global suppliers. (That list included two other Indiana honorees: Indianapolis-based consultant Allegiant International LLC and Brazil-based Morris Manufacturing and Sales Corp.)
Labels pose a significant logistical challenge for automakers, Bussick said. They go on all new vehicles, but automakers are also required to replace labels that are destroyed. If, for example, a car involved in a collision needs its doors replaced, all the labels on those doors must also be replaced.
From its Westfield headquarters, DuraMark supplies labels for all of GM's North American dealerships. Every day, Bussick said, DuraMark ships out 500 to 700 label kits, each destined for a different vehicle. Because DuraMark has these label files stored digitally, it can print labels on demand.
Previously, Bussick said, GM had a 40,000-square-foot warehouse in Flint, Michigan, used solely to store and distribute vehicle labels.
Another DuraMark customer is Iowa-based Mi-T-M Corp., which makes industrial equipment like pressure washers, air compressors and generators.
Mi-T-M started using DuraMark about six years ago, and the manufacturer has a DuraMark printer inside its facility so it can print labels on the spot.
"Literally, I could create a decal today, print it today and use it tomorrow," said Karen Anderson, Mi-T-M's marketing manager.
The wait time for screen-printed labels, which Mi-T-M still uses for some products, is typically four to six weeks, she said.
Small-batch production is also important to Mi-T-M because some of its private-label customers might sell only 10-12 of a particular item a year, Anderson said.
And printing on demand also helps Mi-T-M win over potential customers.
"We can actually put production decals on a sample so that, when [prospective clients] come to see us, they can see what an actual product would look like," she said. "That's been huge."
DuraMark has moved to different Westfield facilities as it's grown. The company is now operating out of its fourth Westfield location, a 17,500-square-foot, $3 million facility it built last year. The company also has production sites in Seattle and Milwaukee, both of which opened in 2014.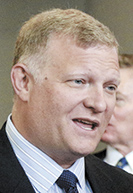 Wimer
Business experts say DuraMark had several factors boosting its odds for success.
"They had the right people in the right place at the right time," said Dennis Wimer, the incoming director of Butler University's new Old National Bank Center for Closely Held Business.
The founders already had a product when they formed their company, Wimer said. They also had the expertise to tackle a key business challenge—marketing and selling that product—and they had inside knowledge of the industry.
"They were starting within an industry they understood," said Donald F. Kuratko, the Jack M. Gill Distinguished Chair of Entrepreneurship at Indiana University's Kelley School of Business. "They were able to identify the problem areas [for manufacturers] and say, 'Our technology, our product can solve that.'"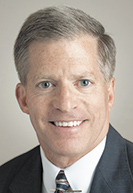 Kuratko
Having patent protection for the technology was also key, Kuratko said. "So many potential entrepreneurs skip a couple of these steps and find themselves with a lot of problems later on."
Bussick said the future looks bright.
The company just doubled its sales staff from three to six, and continues to add to its overall workforce. Bussick said he expects year-over-year revenue growth in the range of 20 percent to 25 percent a year, with no end in sight.
"If you can rent something or use something at home and it can hurt you, it's going to have labels on it—and I don't see that going away," he said. "The market is immense."•
Please enable JavaScript to view this content.