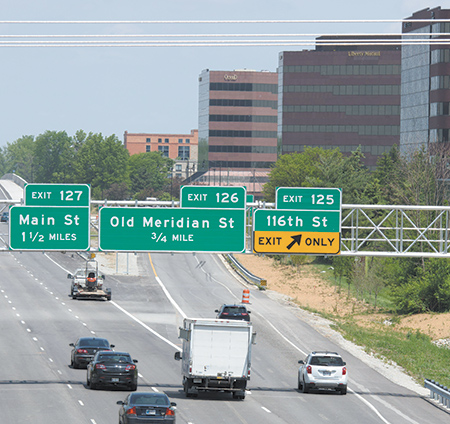 Imagine living in a Carmel apartment on the North Meridian corridor, with views of the surrounding office buildings and the downtown Indianapolis skyline, and your office only a short walk away.
It's not possible—yet. But it could be soon.
The city of Carmel is considering a zoning ordinance that would eliminate the U.S. Highway 31 Corridor Overlay, which prohibits residential uses and carries restrictions for retail, parking, and building locations and sizes.
The zoning all but guaranteed the stretch of highway from 96th Street to 136th Street would develop into a sea of multistory office buildings and sprawling parking lots.
And the city has been satisfied with how the area has built out—it's now considered the premier suburban office corridor. The Carmel office market had a vacancy rate of just 12 percent in the first quarter of 2017, lower than nearly all other markets surrounding Indianapolis.
"It's still a very in-demand submarket and so, if you start to look and you say, 'What has Carmel done?' and 'Is this the right thing?'—clearly, if you're just looking numbers, they're doing something right," CBRE Senior Vice President John Vandenbark said.
But now companies want more than a traditional high-rise office building and accompanying parking lot. Employers are emphasizing the need for walkability and nearby amenities. So, Carmel is responding by updating its zoning regulations to allow more retail, restaurants—and even residential property.
"The market just hasn't really embraced integrated mixed use on 31," said Mike Hollibaugh, director of community services for Carmel. "We're hoping to change that with some updated rules. The residential is probably the most interesting twist."
The city is making the changes through a proposed Unified Development Ordinance, which could streamline the municipality's zoning regulations, eliminate redundancies, and update old parts of its zoning language. Months of public meetings are expected before the Carmel City Council could vote on it.
Most of the tweaks in the new zoning code are technical, and most property owners wouldn't see any changes. Only two districts would be rezoned—U.S. 31 and Old Meridian—but development experts say the opportunity for alterations along Meridian Street could have a big impact.
"What we're looking at is the next evolution of that corridor," Brad Johnson, consultant with Ground Rules Inc., said at a Carmel Plan Commission meeting.
Johnson, who is helping the city draft the zoning ordinance, said "regulations that are there today were fantastic for the 1970s, 1980s, but it's not really the best fit for that today."
The Office Core zoning category would replace the U.S. Highway 31 Corridor Overlay. And while it still emphasizes office uses, it would allow residential units on upper floors, loosen the restrictions on how much retail can occupy buildings in the corridor, and reduce the amount of parking required.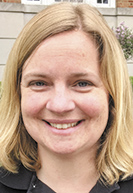 Keeling
Carmel Planning Administrator Adrienne Keeling said the city decided it needed "to take a fresh look" at the Meridian corridor after the state completed its $350 million U.S. 31 reconstruction project last year.
The project upgraded about 13 miles of roadway, from Interstate 465 to State Road 38, to interstate standards. Existing zoning preserved right-of-way for the anticipated road expansion; that regulation would also be dropped in the new zoning.
"We are proposing to create more opportunities," Keeling said. "The market is changing, and as we try to attract employees and employers, they're looking for something a little bit different."
Keeling introduced the revised zoning to the Plan Commission on April 18, and the proposal is now in the hands of a special seven-member group known as the UDO Advisory Committee. That body has two meetings scheduled for this month—May 9 and May 23—and more might be added if needed.
Keeling estimated it could be August before the zoning proposal goes before the Carmel City Council for final approval.
At least one Plan Commission member wasn't initially convinced the revisions for the Meridian corridor were necessary.
"I don't really see where there needs to be changes, but that's just me," Plan Commission member Tim Moehl said at the April 18 meeting. "That U.S. 31 corridor is what makes Carmel, Carmel."
Moehl specifically had concerns about gas stations or fast food restaurants popping up along the highway, but the new zoning would still prohibit those uses.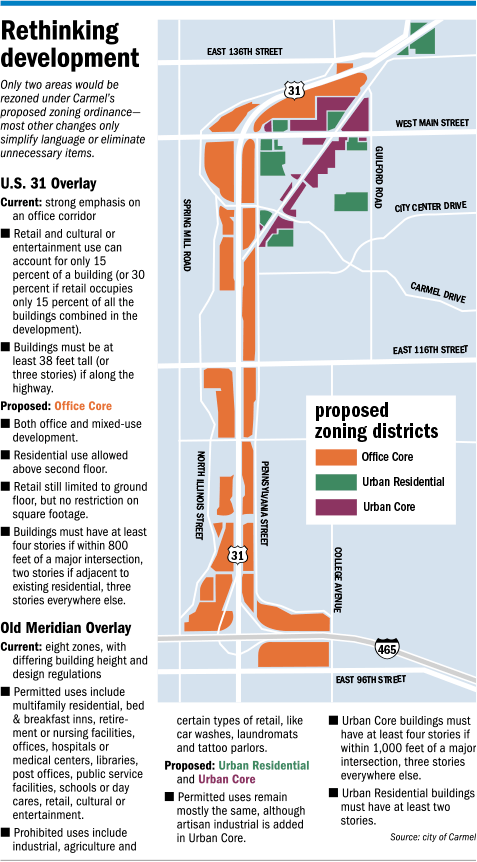 "That's all still off the table," Johnson said.
Tim Monger, president and CEO of Hamilton County Economic Development Corp., said it makes sense for Carmel to update its zoning periodically so it can review how an area has developed and consider what it needs to look like in the future.
"What was significant about the overlay was the focus on jobs," Monger said. "I think every community always looks at that as a particular issue—if there is a job generator, how do you continue to foster that?"
Traci Kapsalis, senior vice president of agency leasing for JLL, said the North Meridian stretch could significantly benefit from transforming into a more amenity-rich office hub.
Kapsalis predicted that developers would become more interested in the corridor because the new zoning would give them more options and could make a project "more financially advantageous."
Those added amenities of retail, restaurants and residential could make the area more attractive to prospective employers.
What surrounds an employer's potential location "often plays a big part in their decision-making process," Kapsalis said.
Businesses are looking for nearby restaurants and retail, Monger said, and for easy pedestrian access to those amenities. A technology company already based along the corridor recently lamented to Monger that the downside of the location is the lack of walkable amenities.
"You might have a certain amenity—I'm thinking of Market District [grocery]—in close proximity," he said, "but to get there other than in a car can be challenging."
Market District opened in 2015 in The Bridges development along 116th and Illinois streets, just west of U.S. 31.
No proposals have been submitted yet that include residential, but Keeling and Hollibaugh said the developers they've spoken to have "embraced the concept," and additional retail and restaurant space is already on tap.
A development with 14 office buildings proposed by Indianapolis-based Browning Investments would bring 950,000 square feet of space to the northeast corner of 111th and Pennsylvania streets and would include restaurants and retail.
Kapsalis said upgrades to the corridor would come soon if the new zoning is approved; Monger predicted changes within a year.
"I think now it's sort of the next phase of development for the U.S. 31 corridor," Monger said. "It sort of, in some cases, begs for higher and better use."•
 
Please enable JavaScript to view this content.