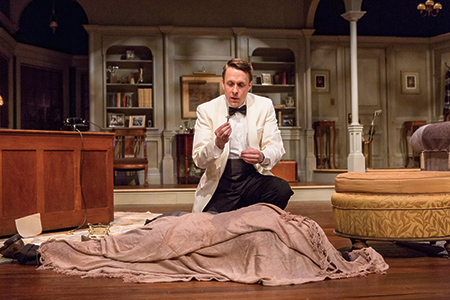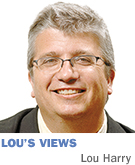 Thrillers—as opposed to mysteries—don't necessarily rely on viewers piecing together clues and they don't hold back revealing whodunnit. Instead, they often give spectators more information than the characters onstage have, with the pleasure coming from watching them try to outwit one another.
Such thrillers used to be a staple on Broadway and in regional theaters, but the genre has largely disappeared from stages, being usurped by movies and TV in the telling of such tawdry tales. I can't think of many since 1978's "Deathtrap" that have had much shelf life.
"Dial 'M' for Murder," one of the go-to classics in the genre, still has some life in it, though, as evidenced by the Indiana Repertory Theatre's stately season-ending production (through May 21).
As old-fashioned as the rotary phone telegraphed in the title, Frederick Knott's tale isn't interested in offering nonstop thrills. Neither is it interested in building characters to care about nor in scoring big with punch lines. Instead, it effectively and patiently lays out a scheme and allows us to watch how it unravels. I'm glad that it's been a couple of decades since I saw Alfred Hitchcock's film version starring Grace Kelly and Ray Milland. The less known about the murder plot—and how it goes wrong—the better.
A hint of plot should suffice: A retired tennis pro hires a killer to off his wife after discovering her earlier affair with a TV mystery writer. There are two investigators at work in this case—one official, one not. As the legit one, Robert Neal plays all the available notes as Detective Inspector Hubbard, even though not many notes are written into the role. Christopher Allen is a bit more generic as chronic mansplainer Max Halliday, the mystery writer whose past dalliance with Margot Wendice (Sarah Ruggles) triggers the plot. Again, Knott doesn't offer much to work with.
There's more to play with in the character of Tony Wendice, Margot's husband. A breath of fresh homicidal air when he enters the play, Matt Mueller makes clear his constant calculation and attempts to adapt to the mitigating factors that get in the way of his scheme.
A lack of sexual energy across the board dampens the drama—it's hard to believe that either pairing in this triangle ever generated much heat. And while the set (designed by Kate Sutton-Johnson) is handsome and effective, the projected images of extreme closeups—primarily mouths at the other end of phone calls—are an unnecessary distraction, pulling focus from the tension-building action on the set below in an effort to make the drama more cinematic.
Yet the well-constructed play, under James Still's direction, manages to make for a pleasant bit of unpleasantness, harkening back to a time when playwrights didn't feel the need to grab audiences by the lapels in the first few minutes of stage time. In a world filled with "CSI" shows, "Dial 'M' for Murder" is oddly—and, often, pleasantly—relaxing.•
__________
This column appears weekly. Send information on upcoming arts and entertainment events to lharry@ibj.com.
Please enable JavaScript to view this content.