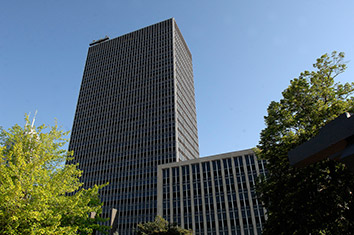 Indianapolis' City-County Council is embarking on an effort to raise pay for some municipal employees and provide them "livable wages."
The council's proposal to set the local government's minimum wage at $13 per hour starting in October would impact 365 city and county employees, and is slated to cost between $450,000 and $500,000 annually. A full-time employee earning $13 an hour would make about $27,000 per year.
Council President Maggie Lewis said at a press conference Monday that the proposal in part was designed to send a signal to companies that want to do business with the city—such as firms bidding for contracts or requesting tax incentives—about the preferred wages for new jobs.
"We're often pushing developers to raise their salaries but we don't do that ourselves," Lewis said. "Our salaries are not at a livable wage. If we do it, we can go back and continue to have that debate with developers and those that want tax incentives."
She also said the goal was to "help our families become more self-sufficient."
"We have folks in the building that are not making a livable wage and are relying on federal assistance," Lewis said.
The wage increase primarily would impact administrative assistants, people who work with permits, and people working on the "front lines" of public safety including dispatchers and data analysts. Under the $450,000 proposal, the average additional cost for each of the 365 affected employees would be about $1,230.
The minimum wage in Indiana is $7.25 per hour, or about $15,000 annually.
Lewis noted that the $450,000 price tag of the proposal was doable within the city's budget of more than $1 billion. It could rise to $500,000 as the city adjusts the salaries of supervisors above the $13 per hour minimum.
Lewis, on a quest for 13 eventual "yes" votes from other council members, was joined by Council Vice President Zach Adamson and Councilman Vop Osili at the announcement. The proposal is being introduced at Monday evening's council meeting, but it would be several weeks before a final vote. Democrats have 14 members on the council, while Republicans have 11 members.
The proposal seems to already have at least one Republican supporter: Jeff Miller, who said in an email that "we can't have city employees living on poverty wage salaries."
"I was surprised to hear we had as many people as we do making that low of a salary," Miller said. "Generally, for every $1 per hour increase, we are talking about $2,000 a year, so this could be a potentially substantial budget impact. But it is the right thing to do."
Although the wage increase is set to take place Oct. 1, Miller said budget questions may mean that it wouldn't go into effect until early 2018.
But it remains to be seen whether Mayor Joe Hogsett will endorse the proposal. He was not in attendance at the announcement Monday, although Lewis said the proposal wouldn't come as a surprise to him.
The mayor's spokeswoman did not immediately respond to IBJ's request for comment.
Council CFO Bart Brown said the proposal was not in conflict with Hogsett's pledge for frugality. He said, rather, that frugality and "underspending" has allowed this proposal to make fiscal sense. The cost of the proposal would primarily impact the county's general fund.
"We believe this will not impact his ability to balance the budget," Brown said.
Asked why the council didn't just raise the county's minimum wage, Council Vice President Zach Adamson noted that the state preempted local governments' ability to do so.
The $13 per hour threshold was set after consulting with the Indiana Institute for Working Families, an advocacy and research group.
Jessica Fraser, director of the institute, said she hopes the council's conversation "starts sending a signal to other employers that they can do this."
She said she hopes the raise allows city employees to afford child care more easily, or help afford classes at Ivy Tech Community College in order to move up the ranks into a better job.
"Let's start having that discussion as a community," she said.  
Please enable JavaScript to view this content.