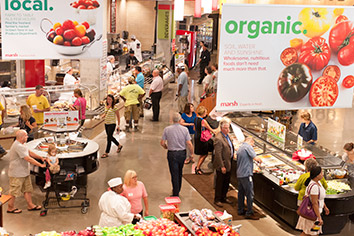 More Marsh grocery stores will close within two months unless the struggling company can find buyers or business partners, the locally based supermarket chain warned in a letter to state officials on Monday.
Marsh has identified 16 more stores for closure—including 11 in the Indianapolis metropolitan area—which would eliminate 1,454 full- and part-time jobs. The grocer said that figure was equivalent to 986 full-time jobs.
Two of the stores are located in the heart of downtown, which would leave the city's core without a grocery store as apartment developers prepare to open thousands of units in the area.
"The company is currently seeking buyers or business partners that would allow our locations to continue operations and avoid closures," Marsh said in its letter to the Indiana Department of Workforce Development. "If the company is unsuccessful in its efforts the company will be forced to permanently close the locations identified on the enclosed list and terminate employees at those locations in 60 days from the date of this notice or sooner."
The owner of Marsh Supermarkets is seeking a buyer for the 44 grocery stores that would remain after a spate of closings already schedule for this month, a spokesman for the company said Tuesday morning.
Sun Capital Partners has hired Peter J. Solomon Co., a New York City-based investment banking firm, to help the company in its quest to unload the stores.
"They're actively shopping them," said Thomas Mulligan, a spokesman for Sun.
Indianapolis-area stores slated to close in 60 days if a buyer isn't found:
— 5151 E. 82nd St., Indianapolis
— 1435 W. 86th St., Indianapolis
— 227 W. Michigan St., Indianapolis (Axis at Block 400)
— 6965 W. 38th St., Indianapolis
— 2350 Broad Ripple Ave., Indianapolis
— 320 N. New Jersey St., Indianapolis
— 843 E. Main St., Brownsburg
— 2140 E. 116th St., Carmel
— 2904 S. State Road 135, Greenwood
— 10679 N. Michigan Road, Zionsville
— 5 Boone Village, Zionsville
Others are in Bloomington, Kokomo and Marion, as well as two in Muncie.
The store at 227 W. Michigan St. in downtown Indianapolis opened in May 2014, the newest among Marsh's stores, as part of Flaherty & Collins Properties' Axis at Block 400 apartment project. Downtown's other Marsh is the location on New Jersey Street.
Catherine Esselman, real estate development manager for Downtown Indy, is confident that the two downtown Marsh locations will get filled, if in fact the stores close.
"I think the locations are right for other (grocery) users," she said. ". I'm not worried about downtown, I'm worried more about the rest of the [Marsh] locations that could be harder to backfill."
Marsh said in its letter to the state that the company "has experienced a period of unexpected difficulties and increased competition resulting in poor sales performance" and the closings of several stores in recent months.
Three stores already have closed this month: 2135 N. Post Road in Indianapolis, at 1240 N State St. in Greenfield, and at 11865 Hamilton Ave. in Cincinnati.
Seven more are set to shut their doors on May 14, including three in Indianapolis, at 7481 Shadeland Ave., 6243 E. Washington St., and 5104 N. Franklin Road. Also closing on that date are Marsh stores in the Indiana cities of Frankfort, Logansport and Portland, and in Union City, Ohio.
The company announced on Thursday that it would close nine more stores by the end of the month, bringing the total number of stores expected to close in May to 19.
Slated to close May 21:
— 3633 Kentucky Ave., Indianapolis;
— 8766 E. 96th St., Fishers;
— 1960 E. Greyhound Pass, Carmel;
— 500 South Buffalo Street, Warsaw.
Stores set to close May 27:
— 5830 W. 86th St., Indianapolis (Traders Point);
— 17901 River Ave., Noblesville;
— 2002 Stafford Road, Plainfield;
— 2940 N. Broadway, Anderson;
— 1900 S. Hoyt Ave., Muncie.
After the 19 stores close in May, Marsh will operate just 44 stores, down from 120 in 2006, when Florida-based Sun Capital Partners acquired the company.
But the number of Marsh stores in Sun's portfolio would fall to just 28 if all 16 close that are listed in Monday's letter to the state.
The closings come as Marsh announced April 28 that it had sold its customer prescription accounts to pharmacy giant CVS and would close all in-store pharmacies May 3. The pharmacy closures prevent Marsh from selling hard liquor at those stores.
Marsh operated 37 pharmacies at the time, according to its website.
Please enable JavaScript to view this content.