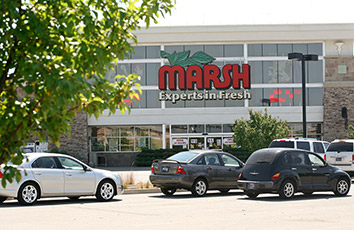 Marsh Supermarkets told employees Friday morning that it will close all in-store pharmacies on May 3—the latest effort by the struggling grocery chain to cut costs amid declining market share.
Locally based Marsh operates 37 pharmacies in its 64 stores, according to its website. As part of its decision to stop providing pharmacy services, the company has sold customer prescription accounts to Woonsocket, Rhode Island-based CVS.
CVS confirmed Friday morning that it has agreed to acquire the prescription records and pharmacy inventory from the 37 Marsh pharmacies in Indiana. The files will be transferred to nearby CVS locations between May 3 and May 5.
"CVS and Marsh will work together to ensure that pharmacy patients experience a seamless transition with no interruption of service," CVS spokesman Mike DeAngelis said via email.
Each Marsh store will have signage informing customers of the nearest CVS location, DeAngelis said, although any CVS pharmacy will fill prescriptions for Marsh customers.
A representative for Marsh confirmed the news early Friday aftenoon but declined to reveal how much CVS paid in the deal.
CVS' purchase of Marsh prescription accounts follows its acquisition in December 2015 of Target's pharmacy and clinic businesses for about $1.9 billion. CVS obtained Target's 1,672 pharmacies across 47 states and operates them through a store-within-a-store format, branded as CVS Pharmacy. Target's 79 clinic locations were rebranded as Minute Clinic.
Marsh's internal announcement Friday to exit the pharmacy business comes after the grocery chain earlier this month said it would close more stores in May.
Marsh confirmed that it will close stores May 6 at 2135 N. Post Road in Indianapolis; at 1240 N State St. in Greenfield; and at 11865 Hamilton Ave. in Cincinnati.
Seven more are set to shut their doors on May 14, including three in Indianapolis, at 7481 Shadeland Ave., 6243 E. Washington St., and 5104 N. Franklin Road. Also closing on that date are Marsh stores in the Indiana cities of Frankfort, Logansport and Portland, and in Union City, Ohio.
Marsh said the stores were closing because of "sustained weak performance." The company said it would work with employees at those stores who wished to transfer to another Marsh location.
All four of the Indianapolis stores that are closing are among those involved in lawsuits from landlords who say Marsh has stopped paying rent at those locations.
Marsh also is facing a lawsuit from Winston-Salem, North Carolina-based Krispy Kreme Doughnut Corp., which claims in the April 18 complaint that Marsh owes it nearly $105,000 for unpaid shipments of doughnuts.
The 10 closures will leave Marsh with 54 stores, down from 120 in 2006, when Florida-based Sun Capital Partners acquired the company.
Sun likely is marketing its top stores, according to retail observers, who view Giant Eagle, Fresh Thyme and Fresh Encounters as among the most plausible suitors.
Marsh Supermarkets, founded by the Marsh family in 1931, has struggled to compete in recent years with larger chains such as Kroger, Meijer and Walmart—making its stores less attractive to potential buyers.
Please enable JavaScript to view this content.