The Humane Society of Indianapolis on Tuesday announced the hiring of Steven Stolen to succeed John Aleshire as chief executive.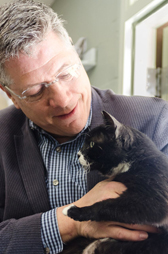 Stolen will begin his new role June 1. (Image courtesy IndyHumane)
Stolen, who has a lengthy resume in the arts, education and not-for-profit fundraising, begins the new role June 1.
Aleshire announced Sept. 28 that he would retire from the society after leading it for eight years. He plans to work with Stolen through June to help with this organizational transition.
Stolen has been working as vice president of corporate advancement for the Indy Chamber, a newly created position he took in September 2015.
His previous positions include:
—    regional director of not-for-profit charter-school network Rocketship Education (2013-14);
—    managing director of the Indiana Repertory Theatre (2006-13);
—    executive director of the Indianapolis Childrens Choir (2005-06);
—    executive director, major gifts and campaign programs, at Butler University (2003-05);
—    chairman of Butler's School of Music and Jordan College of Fine Arts (2001-02);
—    professor of music at Butler (1990-2001).
Stolen also spent time as an independent consultant to the Indianapolis Opera (2014) and the Julian Center (2015).
And he's worked at WFYI-FM 90.1 for more than two decades, hosting music shows "Opera Matinee" and "Stolen Moments."
"I'm absolutely thrilled that Steven will be leading IndyHumane into its next chapter," Aleshire said. "He's been a good friend to me, and a longtime advocate and friend to the animals as well. I have full confidence that IndyHumane's position in the community will reach even greater heights with Steven on board as CEO."
Indy Chamber Board Chairman Brian Sullivan said Stolen has been instrumental in getting the group's 2-year-old "Accelerate Indy" campaign up and running.
"Steven has been very valuable in advancing the Chamber's Accelerate initiative to the point where it is now in the implementation phase," Sullivan said in written comments. "IndyHumane found a very passionate and capable leader. Congratulations to the organization and to Steven!"
Aleshire is credited with helping the humane society execute a major rurnaround, leading an organization that had been saddled with $3.1 million in debt when he joined it in 2008 and putting it back in the black. The animal welfare organization also cut its shelter euthanization rate to less than 10 percent, down from more than 40 percent.
The society has more than 60 fulltime employees and dozens of volunteers.
"My family and I have been beneficiaries of the important, life-changing work that is done by the quality people at the Humane Society of Indianapolis," Stolen said in a written statement. "Whether we are pet owners, animal enthusiasts, or citizens who support the impact IndyHumane makes on our public health and public safety, we benefit from the efforts of this organization. I'm honored and humbled to have an opportunity to build upon the great work of its dedicated staff and supporters."
Please enable JavaScript to view this content.