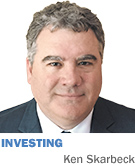 May 2 was a lollapalooza day in Indiana business, as three companies delivered significant news.

The day began with the national headline that Infosys, an India-based technology consulting firm, would mark its entry into the United States by opening an $8.7 million office in the Indianapolis area and hiring 2,000 employees by 2021. This is excellent news for students at Purdue, IU, Rose-Hulman and Ivy Tech, as well as other schools in the state. For graduates who want to stay in Indiana, it is a plus that the state continues to build its technology base.

As the stock market opened, shares of Angie's List shot up more than 60 percent following the announcement that the company was being acquired by the parent of HomeAdvisor for $505 million, or $8.50 per share. The stock has continued to rise and now fetches about $11.75 a share, 38 percent higher than the merger valuation, as investors anticipate the potential of the combined companies.

You have to tip your hat to the folks at Angie's List, who, from its beginnings in 1995, successfully built a business that the marketplace values at more than a half billion dollars—although the results for public shareholders have been mixed. Investors who bought the stock over the last couple of years have made money, whereas investors who bought their shares when the company went public are still underwater. Angie's List went public at $13 a share in November 2011. The stock reached its all-time high of $27 in mid-2013.

The roller-coaster ride for Angie's List shares—from $13 to $27 then down to $5 and up to $11.75—reflects the difficulty in investing in many of these new public companies. These are typically companies growing revenue at a fast pace, often while losing a lot of money. The only year Angie's List managed to make a profit was 2015. Trying to value these companies' uncertain futures can lead to wild swings in share prices.

A University of Florida study on IPOs found that, of the 4,331 companies that went public from 1980 to 2014 with sales of more than $50 million, 51 percent had negative five-year returns measured from the closing price on their first day of trading. By comparison, an index fund investor would have achieved a 65.3 percent return.

The last big news story on May 2 came from Celadon, the large Indianapolis-based trucking company, which, after reporting a $10 million quarterly loss and financial irregularities, saw its stock drop 55 percent on the day.

The fall at Celadon has been swift. Over the last two years, its value has plummeted from $800 million ($37 per share) to $60 million ($2.20 per share)—a more-than-90-percent drop. History is littered with cases where a company loses its dynamic founder and the second generation of leadership sinks the ship.

So May 2 was certainly a spirited day in Indiana business. A scorekeeper might have recorded the results of the three events as 1-1-1, with the Infosys announcement as a potential big win, Angie's List awarded a tie, and Celadon notching a loss.

There promises to be plenty more action in Indiana businesses in the coming years.•

__________

Skarbeck is managing partner of Indianapolis-based Aldebaran Capital LLC, a money-management firm. Views expressed are his own. He can be reached at 317-818-7827 or ken@aldebarancapital.com.