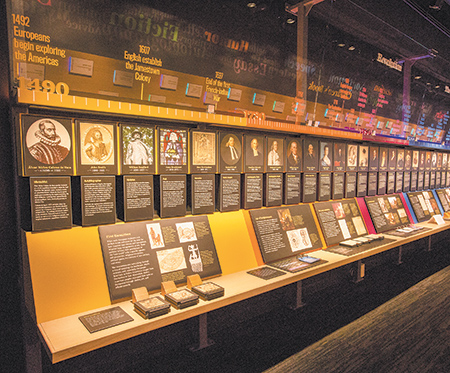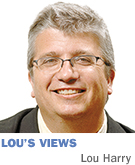 I ran into some Hoosiers recently while in Chicago. Maybe you recognize the names: Kurt Vonnegut, James Whitcomb Riley, Theodore Dreiser, and Gene Stratton-Porter.
All are part of the new American Writers Museum in Chicago and the four form a quartet of the most noted wordsmiths to come out of Indiana. Also at the museum: Jim Irsay's contribution to literature—Jack Kerouac's original scroll for the novel "On the Road," which Irsay owns. It's featured in one of the inaugural displays, but some readers might have seen it on display a few years back at the Indianapolis Museum of Art.
The museum, the first of its kind in the United States, celebrates the written word, exploring works of American literature while also delving into the writers' processes.
It's not an artifact-focused museum. Instead, there are walls of informational displays and lift-and-look interactives. You can feel the textures of materials described in Laura Ingalls Wilder's "Little House" books and see the real people Willa Cather based her characters on. "Word Waterfall" is a slightly dizzying work of art in which lighting effects allow author quotes to pop out of a cryptic wall of words. You can add to a story of the day on an old-school typewriter and hear excerpts from classics.
At a press preview, a touchscreen was introduced that allows you to create a bookmark featuring your five favorite works—and have those works added to a visitors-favorite list. Somehow, "The Bridges of Madison County" was high in the rankings, an eyebrow-raiser that I'll just assume will work itself out once the doors are officially open and more voices chime in. One side effect of the museum is that it gets you thinking about the books you truly love.
In a children's literature area, Maurice Sendak's "Where the Wild Things Are" is paired with an invitation for kids to spin a wheel of emotions and then make faces to that effect in a pint-size mirror. Grown-ups can compete in seeing who can match the most correct words into Mad Libs-style paragraphs from famous works.
Chicago writers get their own corner—where the definition of "writer" is broad enough to include improvisational comedy pioneer Del Close as well as prominent Windy City journalists. And, of course, there's a reading room, which not only offers respite to do some actual reading, but also has a busy schedule of writer appearances, classes and other word-focused events.
The most powerful space for me was the temporary exhibit "Palm: All Awake in the Darkness." As moving a multi-disciplinary art installation as I've ever seen, it uses the life and work of poet W.S. Merwin to create a walk-through environment. Poems play subtly as a soundtrack in a world of palm trees, which are relevant because Merwin grew, according to the provided materials, "one of the most species-rich palm gardens in the world" in a Maui wasteland. The rich, green gallery leads to Merwin's poem, "Place," which begins:
On the last day of the world/I would want to plant a tree
Wall text tells how Merwin used letters from people around the world as compost for his garden. The installation's artists, Susannah Sayler, Edward Morris and Ian Boyden, provide pen and paper for visitors to write their own thoughts and feelings—and, perhaps, poetry—in response to Merwin's words. The kicker: All these messages will eventually become part of the soil in the author's Hawaiian gardens.
Up until walking through this introspection-inspiring garden, I had only passing experience with Merwin's work. The exhibit—and the museum—nudged me to seek out more.
Here's hoping the American Writers Museum does the same thing with a wide range of authors—and readers—for years to come.•
__________
This column appears weekly. Send information on arts and entertainment events to lharry@ibj.com.
Please enable JavaScript to view this content.