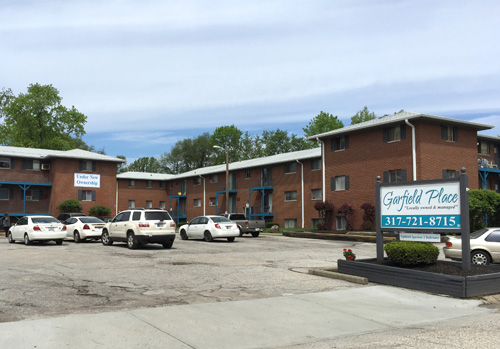 A local startup that uses crowdfunding to invest in residential real estate is starting to make bigger acquisitions by progressing from rental homes to apartment complexes.
Jacob Blackett and Sterling White launched Holdfolio in October 2014 by attracting investors to collectively purchase run-down rental houses that the company could renovate with hopes of turning a profit.
Now the company has acquired its first apartment property, in the Garfield Park neighborhood on the city's near-south side, and has another under contract in Beech Grove.
For Blackett and White, who have grown Holdfolio from four employees to 17 in less than three years, the jump to apartments represents a major step for a firm that has few—if any—direct competitors.
"This was pretty run-down," said White, 26, describing the complex between East Raymond Street and East Pleasant Run Parkway. "But I saw value in it, and it's close to downtown."
Holdfolio buys properties and bundles them into a portfolio. The residential properties are renovated, and outside investors can buy equity stakes in the properties via an online platform. They receive returns from rents paid for the properties.
The company so far has drawn about 100 investors who have forked over a minimum of $10,000 each. Holdfolio says they have reaped an 8 percent average annual return on their contributions.
Holdfolio in March purchased its first apartment property, named Garfield Place, for $900,000 from a local owner. It's sinking another $400,000 into the building using investor funds. Holdfolio requires a minimum $15,000 investment for apartment properties—$5,000 more than what's needed for rental homes.
The company targets properties that are considered distressed and in areas of the city that can benefit from the company's investment. Holdfolio typically purchases the homes it targets for roughly $25,000.
Garfield Place, a 46-unit brick apartment building west of Garfield Park, was built in the early 1950s and is roughly 50 percent occupied. White hopes Holdfolio can grow occupancy to 90 percent within the next 10 months.
Counting Garfield Place, Holdfolio now owns 130 units (including 84 rental homes) in Indianapolis and roughly 10 in Dayton, Ohio, where the company expanded in January.
Garfield Place commands $640 per month for a two-bedroom unit. Holdfolio made several upgrades, such as replacing kitchen countertops, installing new carpet and refinishing hardwoods. In addition, the company plans to install a new electric heating system to replace an outdated boiler and to improve the property's parking lot by patching, coating and restriping it.
Holdfolio hopes to have 500 multi-family units in its portfolio by the end of the year, White said.
Across Ransdell Street from Garfield Place, a vacant apartment complex is undergoing a renovation from a California owner.
The improvements to the two apartment properties are welcomed by City-County Councilor Jeff Miller, whose district includes the Garfield Park neighborhood. He attended a Friday ribbon-cutting for Garfield Place and said the vacant complex across the street in recent years had become a dumping ground for trash.
White at Holdfolio hopes his company's investment will help give the area a boost.
"This little pocket has been distressed for some time," he said. "With this and what's going on across the street, we're helping to make Indianapolis beautiful."
Please enable JavaScript to view this content.