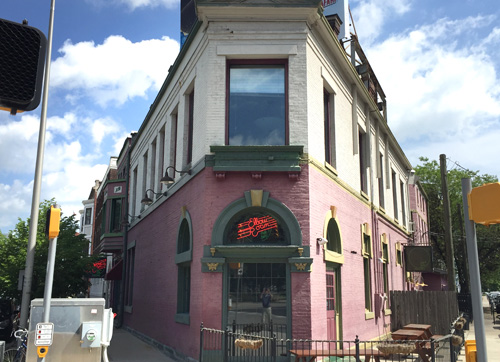 A downtown dining institution that dates to the Prohibition era is set to close May 27.
The Elbow Room restaurant and bar at 605 N. Pennsylvania St. opened in 1933, shortly after the 21st Amendment was ratified on Dec. 5. It's owned by locally based Lux Restaurants.
Lux has operated the restaurant since 2002. It said in a media statement Thursday that the historic building will be available for lease or sale.
Built in 1893 and located in the St. Joseph's neighborhood, the structure is one of the few historic flat-iron buildings remaining in Indianapolis.
"It has been a great location for Lux Restaurants, but it was time to upgrade the restaurant or sell and we have ultimately decided it was time to reimagine the future of this location as the cultural landscape of downtown Indianapolis continues to evolve," owner Rick Lux said in the statement.
County assessor records show Lux entity 605 Fort Wayne Av LLC owns the building.
Lux said Elbow Room employees can transfer to the company's five other restaurants: Broad Ripple Tavern, Meridian Restaurant & Bar, Blind Owl Brewery and Binkley's Kitchen & Bar in Indianapolis, in addition to Nickel Plate Bar & Grill in Fishers.
The Elbow Room was operated throughout the 1980s and 1990s by local restaurateur Rick Rising-Moore, who also owned the Aristocrat Pub and Union Jack Pub.
Please enable JavaScript to view this content.