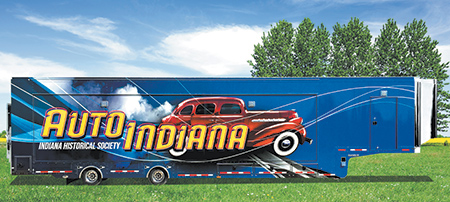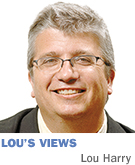 Yes, it's a prominent downtown building that encompasses both an extensive local history library and a ticketed attraction filled with "You Are There" living history interactives.
But the Indiana Historical Society's reach extends well beyond the walls of its canal-side home.
Consider the new IHS History on Wheels traveling exhibit "Auto Indiana."
Whereas a traveling exhibit usually means one that is unloaded and set up on location, in this case it means a 53-foot double expandable semitrailer where the curious can pop inside for a 1,000-square-foot exploration of Indiana's automotive history. It will be hitting festivals and other events over the next five years. In the near term, it will spend Fourth of July weekend in Covington and an August weekend at the Starke County Fairgrounds, then do a September stint at the Back to the Fifties Festival at the Boone County Fairgrounds. Here's hoping the exhibit looks this good after a summer of use by cotton-candied fingers.
The playfully bright-blue exterior wraps around a surprisingly slick interior where reflective black surfaces make the space seem larger than one would expect. But there weren't many people there with me, so your experience might differ.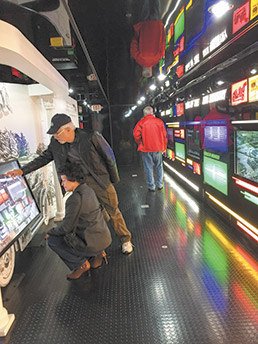 Photos courtesy of Indiana Historical Society
Much of the presented material plays to the Historical Society's strengths. Video screens showcase historic photos and are accompanied by text info on such groundbreakers as Kokomo entrepreneur Elwood Haynes and Ralph Teetor, the inventor of cruise control. It's not deep, but neither is it shallow–just enough to make the case for Indiana as an important auto state beyond that race in May. An open-and-look display of various glove boxes—or, depending on where you hail from, glove compartments—seems out of proportion in this space.
It's not always clear which screens are meant to be touched, but the designers have managed to pack in a surprising amount of detail, even finding room for a sit-in
Indy 500 car model for a kid's photo op.
Another way the Indiana Historical Society extends its reach is through its busy publishing division.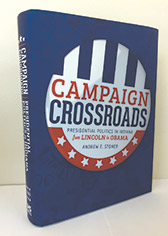 One of the latest volumes, Andrew E. Stoner's "Campaign Crossroads: Presidential Politics in Indiana From Lincoln to Obama" might have missed election season, but in the aftermath, it's a good way to explore the campaigns of the men Hoosiers chose—and didn't choose—to be the country's commander-in-chief.
The title is a bit misleading, since the encounters in the hefty hardback include visits by William Henry Harrison, Martin Van Buren and others who pre-dated Honest Abe on the campaign trail. Lincoln, in fact, wasn't big on campaigning: He conducted his entire 1860 presidential campaign from Springfield, Illinois, while his opponent visited 23 states.
As of my deadline, I'm still working my way through the book, opting to jump around rather than read it straight through. What I've found has proven fascinating both historically and anecdotally.
Perhaps those with deeper Indiana roots than mine have a familiarity with Ulysses S. Grant's collapsing-stage incident in Logansport or Harry Truman's impromptu visit to a Masonic induction ceremony in Noblesville. But as a transplant, I found these and other stories as interesting as the big-picture politics at play.
By taking a state that—Pence, Quayle and Harrison notwithstanding—has not traditionally been at the center of presidential politics and using Indiana to tell the story of who and how we elect our top leader, "Campaign Crossroads" delivers a unique perspective not just on this state, but on the country as a whole and on how we elect our leaders. Given the volatility of the most recent contest, it's probably best that Stoner cut his off before 2016.•
__________
This column appears weekly. Send information on upcoming arts and entertainment events to lharry@ibj.com.
Please enable JavaScript to view this content.