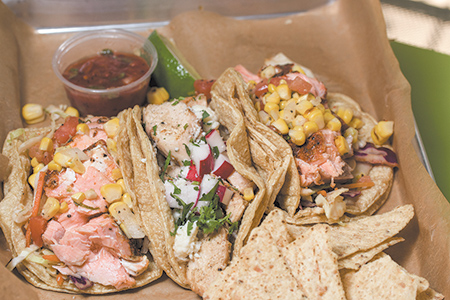 No, Mofoco isn't a slang term you need to look up in the urban dictionary. It's a new downtown lunch spot (72 W. New York St., 317-744-8530) that gets its moniker from the nickname of Broad Ripple's Monon Food Company.
While the original offers table service and a few more big-plate options in its spot along the Monon, the downtown variant has streamlined the menu, cut back on the seating, and shifted to an order-at-the-counter setup, with food delivered to your table. In its first weeks, this meant a bit of a backup, as lines extended out into the street on some sunny days. But it certainly makes the concept easier to franchise.
What those in line during peak hours are getting is solidly on par with the Broad Ripple location. The "It So Gouda" burger ($10 with a side) features—according to the IBJ staffer who ordered it—"three of the greatest ingredients known to man: smoked Gouda, fried egg and bacon." Despite the burger's name, the cheese didn't take center stage. Instead, it was the bacon and fried egg that starred, making what could have been an average burger a pretty darn good one. The side of Seasoned Fries were crispy and near-perfect, especially when dipped in the Basil Aioli served with them.  
Mofoco's tacos ($9-$10) come two to an order, with 16 varieties on the menu in the veggie, fowl, pork, beef and fish categories. Both tacos can be of the same variety, or you can mix it up. Each is built on top of two soft corn tortillas, which introduces an interesting wrinkle: Two tacos for $10 might seem a little pricey. But how about four? One diner in our party pulled out the bottom tortillas and transferred half of the toppings, creating four satisfying tacos—enough for two patrons who aren't expecting a gut-busting meal. Add that to your list of restaurant hacks.
The diner in question ordered Smoked Salmon and Street Style tacos. Both seemed a bit subdued—the former dominated by bland Asian slaw and cold (but cooked) salmon, and the latter a chicken-based offering brightened somewhat by a sweet peanut sauce.
On the salad side, the Sam's Chicken Cobb would be easier to eat with smaller bits of lettuce vs. whole leaves, but that's probably nitpicking. The salad was flavorful and didn't skimp on the meat or the tasty barbecue dressing, which came on the side in two containers (one wouldn't be enough).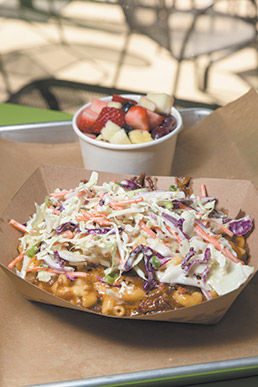 Mac N Cheese choices include one topped with Bourbon BBQ and apple slaw. (IBJ photo/Eric Learned)
The Plain Jane Mac N Cheese ($4 for a side) was more flavorful than one might expect from a mac-n-cheese with that name. It wasn't our only pasta plate, since a communication glitch led to an expected Smoked BBQ Pork sandwich ($11 with one side) being delivered as an order of Sriracha Bourbon BBQ Pork Mac N Cheese ($12). The staff did exactly what should be done under such circumstances—happily prioritizing a reordering of the sandwich while allowing the customers to keep the mistake.
And a delicious mistake it was, with mounds of pulled pork and caramelized onions mixing with a bright barbecue sauce in an eminently sharable pasta mix. The sandwich—which arrived quickly—was more of the same, well captured on a chewy bun with a side of apple slaw.
A small wedge of Double Chocolate Stout Brownie (tough to resist at $1.50) had the consistency of room-temperature butter throughout and could have used a more solid exterior. We didn't need the dessert, anyway.
Mofoco management has plans for more expansion—we were informed of a search for a second downtown location east of Meridian Street. While there's more competition there, I'm guessing hungry lunchers will be just as happy as those now indulging at the first downtown Mofoco.•
—Lou Harry
Please enable JavaScript to view this content.