During the first 24 years of his career, Gregg Brase worked as a manager for large liquor companies distributing well-known
brands such as Jose Cuervo tequilla and Seagram's gin. In his last corporate job he oversaw a nine-state sales territory.
Then, three months ago, Brase joined a small local firm that supplies goods to independent grocery stores. He's
one of just 55 employees. And Brase couldn't be happier about it.
"I was a division vice president,
and I was extremely good at that job," said Brase, 47. "But I was failing at being a good husband and father.
In one period, I was gone [traveling] 31 out of 35 nights. And I wasn't succeeding in the most important job to me."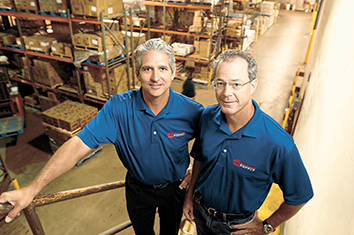 Gregg
Brase, right, traded a corporate office for a more hands-on job when he was hired by Scott Weaver, left, of Grocers Supply,
a distribution company. (IBJ Photo/Robin Jerstad)
In the recession, folks with former big-company careers
are increasingly taking jobs with small businesses. For some downsized executives, it's about the desperate need for
a paycheck. Others, who felt impotent and pigeonholed in corporations, discover they prefer the challenge of entrepreneurship.
Either way, the new pace makes for a tricky transition. Many former executives struggle to keep up. But the impact
of those who can is often enormous.
"You really do have to be prepared to do more and work harder in order
to make an adjustment to a small-business environment," said Steve Fero, president of locally based executive placement
firm Career Solutions Group Inc. "And it doesn't work for everyone."
The economic downturn
offers a silver lining for some small businesses: the opportunity to access talent previously out of their league. But to
retain former executives once they're on board, small employers must be creative with pay and benefits.
Think of it as the difference between formal meetings and flexible Fridays. Working for a small company means getting your
own coffee and putting paper in the copier yourself, Fero said. It also means fewer steps to get decisions approved. Fero
jokes about execs he's placed at small firms who spent their first two weeks on the job waiting for marching orders
in written reports that never materialized.
That's not how Brase approached it. He quit his last job after
his employer changed its relocation plans for him repeatedly within a few months, each time requiring a sale of his home.
When the company asked him to put a third house on the market and transfer to Chicago, but offered no pay hike or moving reimbursement,
Brase handed in his walking papers.
He met his new boss, Scott Weaver, 50, through a mutual business acquaintance.
In December, Weaver had bought Grocers Supply, a 71-year-old company with fewer than five dozen employees and $60 million
in annual sales. It delivers frozen food, dairy products and dry goods to small grocery stores in Indiana and neighboring
states. The business is stable, with 250 customers, but there's not much opportunity for growth.
That's
where Brase comes in. After brainstorming, the pair realized liquor stores need many of the same items grocers do, from snacks
and soda to cleaning products. But liquor stores typically buy those items individually, sometimes sending clerks to fetch
them at the grocery when they run out. Instead, Grocers Supply would offer to set up a regular delivery service that packaged
everything liquor stores need (except the liquor) at a discount.
The result: in just three months, Grocers Supply
has added 80 customers. And Brase has several dozen more deals in the works. That's the type of impact a former corporate
executive can provide a small business.
Weaver explained what it took to lure Brase into his organization: an
upside.
"He wasn't hired as a salesman. He was hired as a director to build a division in the company.
And as the division matures, he'll have opportunities to move into an executive role," Weaver said. "We
can never compete with the large companies when it comes to salary and benefits. But I think we can compete for the right
person. Because while salary and benefits are a significant portion of anybody's life, they're not always the
best way to balance your life, particularly when you have kids."
Even in the recession, small businesses
often struggle to offer pay and benefits equivalent to their bigger brethren. Rather than match his old salary dollar for
dollar to snag Brase, Weaver said Grocers Supply created a customized scale in which Brase shares in any profit increase that
his work yields.
In exchange, Grocers Supply gets to leverage contacts and relationships that Brase built over
years at bigger companies. Experts say such creative deals are often necessary to keep former corporate talent happy at small
firms in the long term. Otherwise, small businesses seldom get a shot at such hires. And people who make the move will likely
bolt when the economy improves.
The economic downturn led Mary McGuire to her new job. She spent almost 30 years
working for Troy, Mich.-based Delphi Corp. Her career there included stints in Singapore, China, India and Mexico as a process-improvement
manager, leading lean manufacturing and Six Sigma quality-improvement projects.
The auto-parts maker is now
bankrupt. McGuire ended up with a buyout package. Reinventing her career, she knew she wanted to work for a smaller employer.
A friend suggested she check out locally based engineering and architecture consulting firm RW Armstrong. McGuire worked a
few connections, landed an interview and last month became the company's operations manager.
Some big-company
perks are now just a pleasant memory for her. For example, Delphi used to offer discounts on General Motors vehicles. McGuire
and her husband enjoyed buying new cars every two to three years. But for more crucial forms of compensation, like pay and
benefits, McGuire said RW Armstrong stacked up surprisingly well against Delphi.
Even better, she said, Armstrong
has continually impressed her with its high ethics. And the big-company hurdles that dragged out every project at Delphi don't
exist at Armstrong, which has about 500 employees. Now McGuire can conceive, implement and harvest results from her projects
in short order.
"It's definitely easier to implement change," she said. "You can go to
a meeting, make a decision and you know your next steps. You're empowered to make decisions."
Sharon
O'Donoghue, executive director of the Business Ownership Initiative of Indiana, warns that personal career downsizing
doesn't always work out so well. Moving from big companies to small ones can involve tough pay cuts and less attractive
health or retirement plans. Some former executives chafe in the long run, and will likely return to corporate jobs again as
soon as the economy improves.
Or they'll figure out that entrepreneurship isn't as intimidating
as they feared, and they'll leave to form small businesses of their own.
"Like with divorce, you
don't meet the person you marry on the next date," O'Donoghue said.
"People often realize
they had become slaves to their [corporate] paychecks and weren't passionate or even interested in the work they did.
This offers an opportunity to regroup," she continued. "It's kind of a bad news/good news situation. The
bad news is my house burned down in a fire. But the good news is now I get to build the one I wanted."•
Please enable JavaScript to view this content.