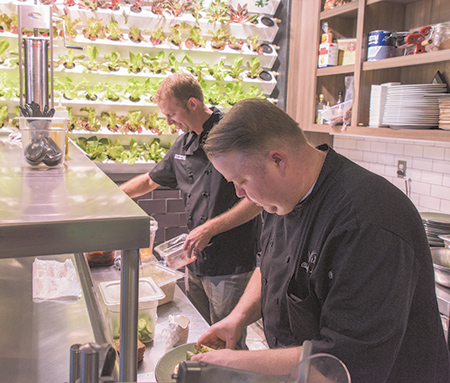 Vida on East New York Street downtown is unlike any restaurant in Mike Cunningham's growing stable.
Cunningham considers the limited, seasonal menu featuring items such as foie gras, gnocchi and orecchiette as the most creative in his portfolio. But even beyond that, Vida is home to Cunningham Restaurant Group's test kitchen.
That's where his chefs experiment with their creations before rolling them out in Cunningham's 19 restaurants.
"The idea came out of Chef Carl [Chambers] saying, 'We need a facility to work out of, like a playground,'" Cunningham said. "Instead of building a kitchen that will never generate any income, we decided to build a restaurant."
Chambers is executive chef of the restaurant group and, along with Vida Chef Layton Roberts, is responsible for most of the dishes created there.
Cunningham opened Vida in February 2016 at 601 E. New York St. He commanded a major renovation of the existing building, which formerly housed Amici's Italian Restaurant, and built an accompanying structure on the adjacent parking lot to the east.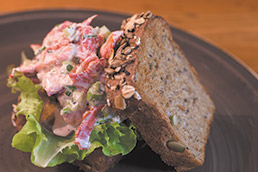 Vida launched to critical acclaim, earning AAA's coveted Four Diamond award, given to only 2 percent of nearly 30,000 restaurants reviewed annually. Vida is the first Indianapolis restaurant ever to receive the honor, and the only restaurant in the state added to the list last year. Indiana has only four other four-diamond restaurants.
Roberts arrived as Vida's chef after opening downtown Cunningham restaurants Mesh and Union 50, and keeps the Vida menu fresh by rotating dishes crafted in the test kitchen. "I develop a lot in my head," Roberts said. "Sometimes I fly by the seat of my pants, but it always seems to work out for me."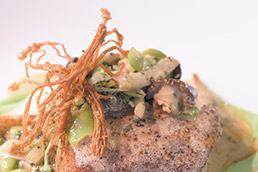 Many concoctions either Roberts or Chambers develops are destined for other Cunningham restaurants.
Chambers described the process this way: "Mike says, 'Hey, this is something I'm interested in.' So we both make it and end up with a finished product."
It's not as simple as Chambers makes it sound, of course. The chefs sometimes spend a month testing an item or dish; they are taking that long now, for example, to re-create the quinoa burger that's been on the menu of the company's six Bru Burger Bar restaurants for about two years.
"People either love it or hate it," Cunningham said. "We're just trying to improve on it."
Quinoa (pronounced keen-wah) is a high-protein grain often used as a base in vegetarian burgers. Both chefs have made an updated version, with Chambers using eggs as a binding agent and Roberts opting for flax seeds and apple sauce instead.
Both agree the burger is still a work in progress, but the end-product needs to be simple enough for Bru Burger chefs to replicate quickly, Roberts said.
"What I can do once," he said, "they need to do 100 times."
Chambers has been Cunningham's executive chef for six years, and Roberts has been with the company for six. Both say they're not competitive when creating new dishes.
"We can be brutally honest with each other," Roberts said. "We're past the point of hurting each other's feelings."
The test kitchen has birthed everything from a chop salad for Mesh on Massachusetts Avenue to an entire menu for the launch of The Livery on North College Avenue just south of Massachusetts Avenue.
The Latin-flavored Livery opened in November and is Cunningham's newest restaurant. Like Vida, The Livery is housed in a historic building. The structure, at 720 N. College Ave., needed a major revamp.
The building dates to the 1890s, and The Livery name refers to its original use. Many of the walls were crumbling, there was no plumbing or electricity, and the second floor was in such poor shape that it was too dangerous to walk on.
Menu highlights, created in the test kitchen, include empanadas, salads, skirt steak, chicken and pork dishes, yucca fries, chile relleno and red drum fish, all priced from $5 to $15.
Chambers and Roberts now face the challenge of developing menus for two restaurants Cunningham will operate in Hendricks Commercial Properties' $30 million, 120-room Ironworks hotel expected to open in September.
Rize will occupy 2,000 square feet on the first floor and will serve breakfast and lunch seven days a week, with a menu focused on "healthy, clean eating," Cunningham said.
Provision will operate in 5,000 square feet on the second floor as an upscale lunch and dinner restaurant, he said.
One downside to testing menu items for those and other restaurants: "I feel like my full-time job is eating food," Cunningham said. "It's getting difficult for me. It sounds fun, but it can be miserable."
Adding to his innovative test kitchen is a greenhouse he owns near Morris and Meridian streets just south of Interstate 70, where he grows the company's greens and herbs.
Cunningham purchased the standard greenhouse about two years ago and has converted it into a high-tech, 7,800-square-foot room complete with grow lights, cooling systems and hydroponic pumps.•
Please enable JavaScript to view this content.