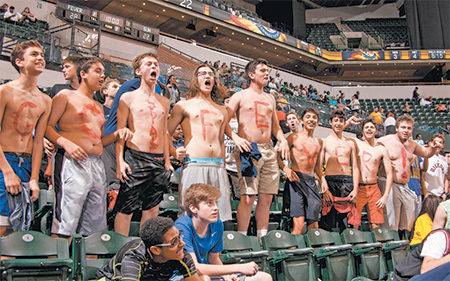 Scanning the stands during the May 20 Indiana Fever home opener at Bankers Life Fieldhouse, Fever Chief Operating Officer Julie Graue noticed a group of bare-chested teenage boys.
Each had a letter spray-painted on his chest; the composite spelled "Go Fever!"
"I thought, 'We've made the big time. We've got guys painting 'Go Fever!' on their chests,'" Graue said with a laugh.
But she was serious about one thing. Graue figured if the WNBA in general and the Fever in particular can attract male sports fans, that is a great leap forward for the 21-year-old league and the local franchise, which is starting its 17th season.
While the Fever have been ahead of the curve in drawing male fans (about 52 percent, according to Scarborough Research; league average is 25 percent, according to the Huffington Post), many men have often been in tow with their wives or daughters. And WNBA officials admit that, despite the fan demographics, most ticket buyers are still women—in some markets, by a fairly large margin.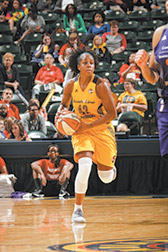 Guard Shenise Johnson is starting her third season in Indiana.
(Photo courtesy of the Indiana Fever)
To become more mainstream, sports marketers said, the WNBA has to do a better job of appealing to male fans, who are bigger consumers of sports—by far—than are women.
Graue said the Fever are making progress in diversifying their fan base—and the group of chest-painted young men from Carmel is a sign of that.
"We're drawing a wide demographic," she said. "It's a melting pot."
Fueled by the farewell tour of 15-year veteran and fan favorite Tamika Catchings, the Indiana Fever had a stellar 2016 in terms of attendance and revenue.
But Fever officials are more intent on looking forward than back as the 2017 season tips off.
While some sports marketers wonder about the impact of Catchings' retirement, Fever officials say last year is a perfect springboard to propel the team forward this season.
The Fever in 2016 saw a 40 percent increase in single-game ticket sales and a 20-percent-plus increase in mini-season-ticket packages over 2015, according to team officials.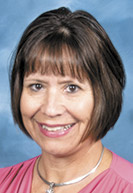 Graue
Average home attendance was up nearly 15 percent, to 8,572—the highest since the team's second season, in 2001.
Revenue from parking and concessions was up 20 percent, and revenue from other ancillary categories also was up in 2016 from 2015, according to team officials. And the team ranked No. 2 in the 12-team WNBA in sponsorship sales.
"Those are all huge benchmarks," Graue said.
Last year, she said, the Fever scored about $3.6 million in combined ticket and sponsorship sales. The team made enough money to cover expenses and "is heading in the right direction in terms of profitability."
And, while early season-ticket sales this year are "slightly less" than in 2016, according to Graue, she is optimistic 2017 will be another strong year.
"Obviously, there will be a transition without Tamika Catchings," she said.
But Catchings—whose career included 10 All-Star selections, one WNBA championship, one league MVP and four Olympic gold medals—hasn't left the building entirely.
She was hired in April as director of player programs and franchise development. Community outreach will be a big part of her job, and the team hopes to exploit her popularity to keep the turnstiles humming.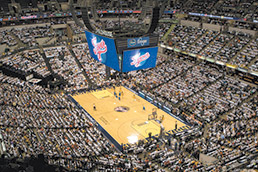 Fever officials are trying to capitalize on last season's attendance boost that was sparked by fans catching a last glimpse of popular 15-year veteran Tamika Catchings, who retired in 2016.
(Photo courtesy of the Indiana Fever)
Larry DeGaris, director of sports marketing at the University of Indianapolis, said Catchings "can continue to have a huge positive impact on this team in the front office."
"You don't replace a player like Tamika Catchings," said DeGaris, who recently completed a study on women's sports. "But I think, in the front office, she has the opportunity to do even more for the team. She can be totally dedicated to being an ambassador … without the distraction of having to train and prepare to play."
Good signs
Signs are still trending up for the Fever's finances. In May, the team signed a two-year extension to keep Old National Bank as floor sponsor. Old National's name and logo appear on the Bankers Life Fieldhouse court—between the visitors' bench and center court—for all Fever home games.
The team has 46 sponsors—that's among the league leaders—and Graue is optimistic five more sponsor deals can be signed early this season. Top sponsors include Community Health Network (presenting sponsor), Papa John's Pizza, Kroger, Finish Line and Verizon.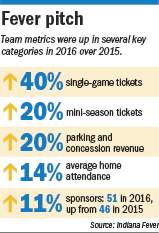 "We've focused on high-dollar inventory and multiyear deals, which has aided in our success," Graue said.
Ken Ungar, founder of local sports marketing firm Charge, isn't surprised the Fever are scoring sponsors.
"This team has an extremely strong brand in this community," Ungar said. "In the last 15 years, a big part of the credit for that goes to Tamika Catchings. It's not just been her ability as a great player. She's been equally great in making connections in the community, and that's what's made her beloved and raised the level of this team's brand."
Ungar said Fever executives will have to put players "as forward as possible" in this year's marketing campaign to continue those connections.
"The worst thing they could do is to ignore Catchings' retirement," Ungar said. "It's incumbent upon [Fever executives and staffers] to devise a player marketing plan that takes into account the absence of Tamika."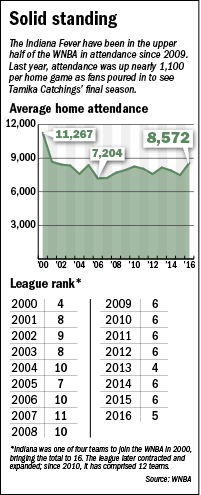 He said the Fever have the personnel—on and off the court—to make the post-Catchings transition.
Fever President "Kelly Krauskopf is one of the most talented managers in professional sports," Ungar said. "She understands the interplay between operations, marketing, public relations and sponsorship sales as well as anyone in sports."
He gave Krauskopf much of the credit for attracting sponsors.
"She's strategic and aggressive. When you see that kind of leadership, I'm not surprised great brands want to be affiliated with it," he said.
Marketing push
Part of the team's post-Catchings strategy involves a bump in its advertising budget and a reinforced effort to introduce players to the community, including printing the names of all the players photographed in ad campaigns and scheduling more than 100 community appearances for players and coaches.
There will also be a heavy emphasis on online advertising.
"Digitally, we're really stepping up our game," Graue said.
The Fever have a dedicated digital marketing director, and the team will reach out to fans through its database, which was expanded through single-game ticket buyers last year, Graue said.
But marketing will also include traditional elements, like print, radio and a new ad campaign on WTHR-TV Channel 13.
The team is also offering special deals on family nights that include food and a ball cap with a ticket; Graue predicted that package will be popular. New this year: An adult who buys a club-level ticket can bring up to three children ages 5 and under for free to four select games.
"Kids love our mascot, Freddie. We think this is a great way to get more people out to watch some of our games," she said.
Graue said the team's biggest marketing thrust might be to make sure players and coaches are accessible.
"There are times where our fans can get up close and even talk to our players and coach before the game. That's what's really special about our brand—that type of accessibility," she said. "And that's what we want to work to continue."•
Please enable JavaScript to view this content.