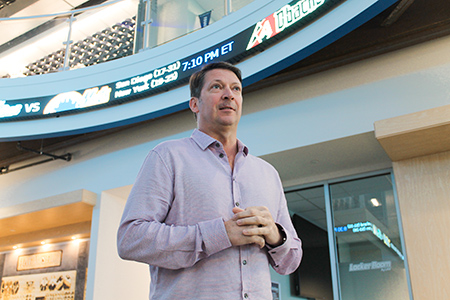 CEO David Baxter isn't so much interested in blowing the top off Lids Sports Group as he is in adjusting the retailer to better fit today's—and tomorrow's—consumer demands.
As a result, Lids is making significant investments in online operations. But that doesn't mean the Zionsville-based company is abandoning its brick-and-mortar stores. Far from it.
Instead, Baxter, who was hired in May 2016, is aiming to marry the two sides of the business to lift the company's profit margin to where it was five years ago.
A new robotic picking system at the company's Indianapolis distribution center; a social media command center manned around the clock at the company's new 150,000-square-foot, $20 million headquarters; and an app and loyalty program rolled out this year will all be big drivers in Lids' revenue and profit, company officials said.
Lids is planning changes to its 1,200 stores across North America to make them more inviting and to bridge with the company's online efforts. (IBJ photo/Eric Learned)
Lids is also planning changes to its 1,200 stores across North America to make them more inviting and to bridge the company's online efforts.
Lids will start testing the new store concept at five locations (in Columbus, Ohio; Chicago; Portland, Oregon; Boston; and New York City) in September, with a larger rollout expected following a three- to six-month test period.
"We'll modernize the look of our stores. It's going to change the impression of Lids," Baxter said. "We're going to roll out as many as we can if we get the results we think we'll get. We certainly plan to roll it out in a significant way in 2018."
Lids, which was founded in 1995 as Hat World, will continue to offer a wide variety of baseball-style caps, both sports- and fashion-themed. Caps drive more than 60 percent of company revenue, and that's where Baxter wants to keep the focus. The balance of sales comes from apparel and sports novelties.
Though details of the store changes haven't been divulged, industry insiders expect more apparel customization operations and options, a new layout and self-checkout stations. One industry expert said the new stores could be like a pizza pick-up location, where customers order custom products online and pick them up—maybe not at a drive-thru window, but certainly in short order.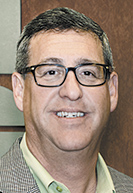 Moroknek
"They could combine the best of brick-and-mortar with the best of online," said John Horan, publisher of Sporting Goods Intelligence, a Pennsylvania-based trade publication.
Lids is promising much more interactivity with customers through its new app—and that will certainly lead to new marketing opportunities.
"Where a lot of the industry is going is one-on-one personalized marketing," said Dave Moroknek, president and owner of MainGate Inc., a locally based manufacturer and seller of licensed products in sports and other sectors. "Companies like Lids have to position themselves to communicate and sell to customers in a whole new way."
Online sales not so easy
Though Baxter declined to say how much of Lids' sales comes from online, he characterized the category as "significant and growing." And he predicted Lids' new interactive app, which is tied to the Access Pass loyalty program, will drive those sales even higher.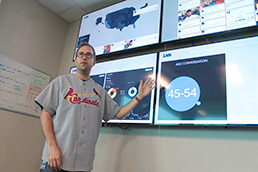 Matt Thompson left his post as digital content specialist at HHGregg in November to become Lids' social media manager and operate the company's new 24/7 social media command center. Before joining HHGregg, Thompson was the director of digital content and social media for "The Bob & Tom Show." (IBJ photo/Carley Lanich)
Selling online seems like a no-brainer. But making money through online sales isn't as easy as just putting up a website.
"There are significant back-end investments," Moroknek said. "You have to scale it so you can reach solid profitability. And some of that—like inventory and distribution systems—can significantly change the way a retailer does business. It can be a tough transition."
Lids' strategy is at least partly a reaction to the success of Jacksonville, Florida-based Fanatics Inc., an online-only retailer with annual sales estimated at $1.4 billion, close to double Lids' revenue. Fanatics sells a slightly wider array of apparel and novelties than does Lids and also runs websites for the NFL, NBA, Major League Baseball, National Hockey League, Major League Soccer and NASCAR, among others.
Either way, Lids and its Nashville, Tennessee-based parent, Genesco Inc., needed to do something, as Lids' profit tumbled nearly $34 million from 2013 to 2015.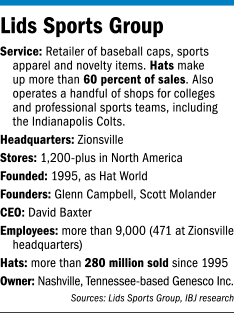 A diversification into team sports saw profit margin plunge from 10.8 percent in 2012 to 5.4 percent in 2015. It cratered in 2016 at 1.7 percent as the company unloaded excess inventory at bargain prices.
After selling Lids Team Sports, which sold uniforms and other apparel to high schools and colleges, to Dallas-based BSN Sports in January 2016 and hiring Baxter five months later, the company is firmly focused—online and in stores—on increasing its market share in the hat world.
"One of my focuses since I got here is to continue to make sure we're always focusing on headware," Baxter said. "When you walk into one of our stores or on our [web]site, we want you to say, 'Wow, these people are the leaders in headware.' It is our lead product. So we want to make sure we always protect that position and make sure we're dominant there. So, what I say is, 'Anything you can do to a hat, we want to do it.'"
Signs of revival
Already, Lids is showing signs of revival. The company posted almost $130 million less in sales in its fiscal year that ended Jan. 30 than in the prior fiscal year, when it rang in $975.5 million. But it boosted profits from $17 million to $41 million and its profit margin grew to nearly 5 percent in the latest fiscal year, thanks to refocusing on low-cost, high-profit-margin products like hats. The Chicago Cubs' World Series triumph—the team's first in 108 years—helped.
While Lids' first quarter—which ended in April— showed a loss of $1.8 million compared to a profit of just more than $6 million during the same period a year earlier, company officials remain optimistic the turnaround will continue.
"Although Lids' profitability is down year-over-year, results for Q1 exceeded our expectation," Genesco CEO Bob Dennis said on a conference call with analysts. "Building on strong progress made in the turnaround last year, we are investing in digital, social and loyalty programs, among others, to allow the business to compete effectively and deliver on customers' heightened expectations in today's retail world."
Dennis, a former CEO of Lids, added that investments made during the first quarter "are generating dramatic sales gains in e-commerce and will generate positive returns over time."
Despite Lids' rosy prognostications, Wall Street analysts covering the company still have a healthy dose of skepticism about mall-based retailers.
"The decrease in mall traffic is an ongoing issue," said Horan, the Sporting Goods Intelligence publisher. "It's a social issue and I'm not sure how retailers deal with it."
Stores like Lids are especially vulnerable, he said.
"You can see that Foot Locker, for instance, is doing better in malls than Lids," Horan said. "Items like shoes are the types of things buyers want to touch and feel—and try on. Caps are not so much that way."
He added that caps in malls are often impulse buys and "the decreasing foot traffic in malls nationwide really hurts sales of a store like that."
Another factor hurting Lids is the shift away from fitted caps, a former specialty of Lids and one that often requires people to try the caps on. The current trend of one-size-fits-all, adjustable caps makes buying online easier, Horan noted.
Downsizing?
Despite the fact that Lids, which still has 9,000 employees, has decreased its store count 10 percent the last two years, Baxter said investor reaction to declining mall traffic is overblown. Most of Lids' 1,200 stores are stand-alone; only about 120 are inside Macy's stores. Lids also operates a handful of pro shops for teams, including the Indianapolis Colts.
"We're all believing the shift to the Amazon side of the business is dramatic and acting like it's never going to end," he said. "To think we're just not all going to be shopping in malls and stores is irrational.
"I think it's just the marketplace finding the right level of what's going to be online and in stores. We believe very heavily that people want experience. People want to go out and shop, to touch and feel and try it on and talk to associates who are knowledgeable."
Baxter added that Lids' reduction in store count isn't necessarily related to the shift to online.
"That's not a plan to reduce. That's just a normal course of business," he said. "We evaluate store performances and leases on a door-by-door level. We will continue to look at our real estate that way."
Baxter said brick-and-mortar stores are part of Lids' plan to be everywhere consumers want to be. "Our mantra is any team, anytime, anywhere."
But analysts said they have been told that Genesco's Dennis wants shorter leases with exit clauses for an increasing number of Lids stores, which underscores the uncertainty retailers face.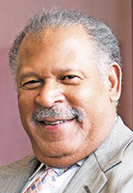 Thompson
And Lids faces another challenge.
"The licensed arena is extremely competitive and only getting more competitive," said Milt Thompson, president of Grand Slam Cos., a locally based sports marketing consultancy. "It's becoming a business strictly for those with considerable financial bandwidth as leagues and players' unions are demanding a bigger and bigger piece of the licensing-fee pie."
The right guy
Those who know Baxter say he's the right guy to chart Lids' course through these uncertain times.
Baxter replaced Ken Kocher, who departed in February 2016 after Lids' profits plummeted.
Baxter, 50, has worked in both retail and wholesale. "I have the unique background of having been a buyer and a seller," he said. "Every day here, I rely on the things I've learned from both sides of the table."
Baxter worked for two national sporting-goods chains before joining Adidas as director of apparel in 1995. He joined sports-licensing merchandiser Logo Athletic in 1998, working as senior vice president of sales at the plant on Indianapolis' east side. He became Logo's president in January 2000 and stayed on with Reebok after it bought Logo Athletic in 2001 and then with Adidas after it bought Reebok.
Following the latter acquisition, he was responsible for overseeing all of Adidas' and Reebok's licensed business with the NBA, MLS, NHL, WNBA and NCAA partners. 
He worked for Adidas through mid-2014.
"David Baxter is very intelligent and very progressive and understands all sides of the business," said Moroknek, who has known Baxter more than 15 years. "I think he's making all the right moves with their online and in-store strategy."
And there's one other thing.
"David, because of his deep background in the business, has the connections and relationships in this industry to really make a difference," Moroknek said. "He has a lot of respect in this industry and all the clout he needs to get the attention of the biggest players."
Baxter is so focused on deepening his contacts that he hasn't had time to decorate his office, he joked from an expansive office barren of personal or sports artifacts on the second floor of Lids' spiffy headquarters.
In the last month, he said, he's traveled to 20 far-flung stores, attended an MLB summit in Chicago, visited vendors in Buffalo and elsewhere, and huddled in Nashville with Genesco executives. Baxter insisted that, once a quarter, the senior management team departs its Zionsville headquarters for one of Lids' marketing regions, talking with not only store and district managers but also customers.
Baxter is ever aware of a counter in Lids' headquarters lobby that ticks off the number of caps sold since the company's founding. It's exceeded 280 million.
"We're a retail business. Our business is with our consumers," Baxter said. "I definitely need to be working with stores and customers. I like to visit stores as much as I can. We've instituted that for our entire staff. This building is nice. It's brand new. But it exists to service the stores. And, of course, the stores need to be on top of serving our customers."•
Please enable JavaScript to view this content.