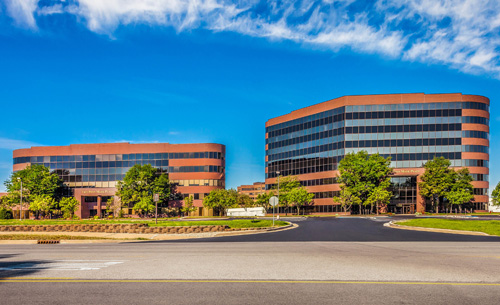 Two large office buildings along the high-profile North Meridian corridor in Carmel have sold, CBRE Group Inc. announced Monday afternoon.
The real estate brokerage's local office represented TNHYIF REIV Sierra LLC, the seller of the One & Two Penn Mark office buildings just south of East 116th Street. The buyer is Omaha, Nebraska-based Metonic Real Estate Solutions.
The two buildings together contain 243,271 square feet of Class A office space, and are 82 percent occupied. One Penn Mark is eight stories tall and Two Penn Mark five stories. The buildings were constructed in 1986.
CBRE did not disclose a purchase price.
In January, local real estate firm Ambrose Property Group purchased the 187,147-square-foot Parkwood West office building near the intersection of North Meridian and Interstate 465 for $47.8 million, although that deal also included 14 acres of adjacent land primed for development.
Dan Richardson, a senior vice president in CBRE's Indianapolis office, represented the seller of One & Two Penn Mark. Metonic Real Estate represented itself in the transaction.
"One & Two Penn Mark provided Metonic a rare opportunity to acquire a Class A, two-building suburban office portfolio at the corner of a main interchange in the Carmel submarket," Richardson said in a press release.
Metonic has selected CBRE to manage the buildings, the company said.
Tenants include PR Mortgage, Cigna, enVista, Orbis Education, Brown & Brown Insurance, New York Life and Nationwide Insurance.
The Carmel submarket is the largest and best occupied office submarket in suburban Indianapolis, Richardson said, boasting an occupancy rate of 90 percent.
Suburban office asking lease rates continued to rise in the first quarter, with suburban Class A space commanding an average rate of $20.78 per square foot, according to CBRE research.
Please enable JavaScript to view this content.