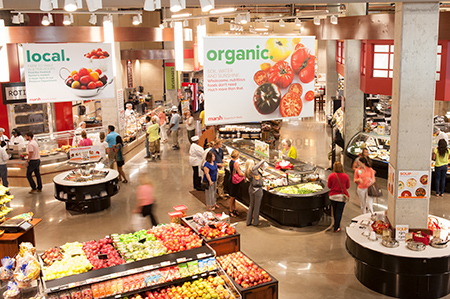 Fishers-based Marsh Supermarkets apparently was unable to line up a so-called stalking horse bidder for its remaining 44 stores by Monday's deadline.
Stalking horse bidders are initial bidders that receive favored treatment in return for making an opening offer for a company's assets. Those advantages typically include a breakup fee if the suitor ultimately is outbid or reimbursement for its expenses.
A sale timetable that Marsh filed with bankruptcy court in Delaware late last month set Monday as the "deadline to designate any stalking horse purchaser." No filings with the court indicate the company was able to line up a stalking horse.
A potential buyer or buyers still might emerge, but time is running out. Under the timeline filed with the court, potential suitors have until 5 p.m. Wednesday to submit bids. If more than one bidder emerges, they will square off at a June 12 auction.
Marsh, which has been trying to find a buyer for months, filed for Chapter 11 bankruptcy reorganization on May 11. The company, which had nearly 120 stores a decade ago, has been retrenching for years amid withering competition from Kroger, Meijer and other chains.
The lack of a stalking horse bidder in a bankruptcy sale does not necessarily signal a lack of suitors, according to a primer on bankruptcy sales posted on the website of Jones Day, a Cleveland-based law firm not involved in the Marsh case.
"Potential purchasers may be reluctant to take on the role of the stalking horse for a variety of reasons, preferring instead to wait for another bidder to negotiate the deal and then participate in the auction," according to the primer.
"The initial bidder typically has to expend greater resources than other bidders in negotiating the deal, performing due diligence, and otherwise setting the 'floor' for the terms of the transaction."
Observers say myriad grocery chains likely are interested some of the stores—ranging from Cincinnati-based Kroger Co., which already is a powerhouse in the central Indiana market, to Pittsburgh-based Giant Eagle, which has only one grocery here.
Marsh' top brass stand to be handsomely compensated if the company can find a buyer. Under a key-employee plan filed with the court, 10 key employees could split as much as $1.1 million if a buyer pays more than $50 million and commits to keep all 44 stores operating as groceries.
Please enable JavaScript to view this content.