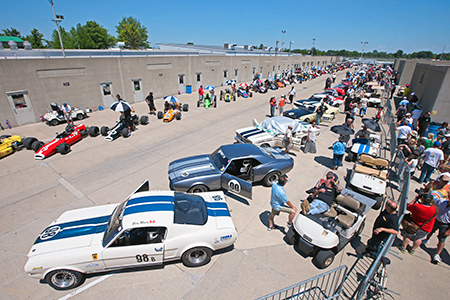 Tony Parella characterized the Sportscar Vintage Racing Association as "a lemonade stand at best" when he bought it in 2012.
No one would call the fast-accelerating enterprise that now, as its vintage racing series rolls into the Indianapolis Motor Speedway this month for an event expected to draw hundreds of competitors and tens of thousands of spectators, and drive millions of dollars into the local economy.
The Indianapolis event—one of the series' biggest—is a cornerstone in the association's growth plan, Parella said.
Racing at the Brickyard was one of Parella's early goals, he said, because Indianapolis' central location makes it accessible to a wide range of vintage car enthusiasts. Plus, it's the racing capital of the world, "and you can't deny the allure of this place. It's everybody's dream to race here," he said.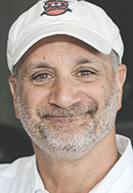 Parella
Parella expects to draw nearly 30,000 June 16-18 to the fourth annual Brickyard Vintage Racing Invitational. "That's ticket-buying attendees," he said. Not bad for an event Speedway officials were initially hesitant to host.
Parella's characterization of the association in 2012 is not a knock on previous owner Peter McLaughlin or founder Ford Heacock III. Parella explained simply: "I have a different vision."
That vision includes building the association and its race series beyond serving its members' desire to race old cars.
In the nearly five years since the 57-year-old Dallas-area entrepreneur bought the group, it has grown membership from 490 to 2,600 and sponsorships from zero to 28—including recent deals with Harley-Davidson, NetJets, Jaguar, Land Rover, Capital One and Hoosier Tire.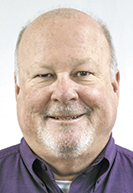 Foss
Parella also has added 10 races to SVRA's now 15-race calendar, and the association's revenue is 22 times higher than it was in 2012, he said, although he declined to provide figures. Parella has overhauled the organization's revenue formula.
When he took over, all revenue came from member licensing and race-registration fees. Now, 51 percent comes from sponsorships and ticket sales. That will grow to 75 percent within three years, he projected.
The association is churning out a seven-figure annual profit, all of which Parella said he is pouring back into the operation. While he declined to say how much he's invested, he said the group has no debt.
"This was never motivated by how much money I would make," he said. "It was about putting a foundation under [the organization] so it would stand the test of time and be here long after I am gone."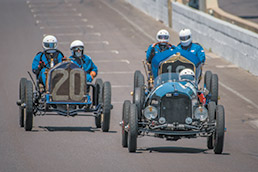 (Photo courtesy of the Indianapolis Motor Speedway)
Parella made his fortune in a 30-year telecommunications career, which was capped off as CEO of Shared Technologies, a company that emerged from bankruptcy and was sold to Arrow Electronics in 2010.
The money from that sale has helped fund his run with the association, said Parella, who started racing vintage cars in 2010.
The group's growth comes at a time when the auto racing industry as a whole has been static at best, with some sectors in considerable decline.
"We're contrarian to most of auto racing," Parella said. "We've had tremendous growth. And I think that will continue."
Parella fueled that growth by bringing into his stable two other vintage series—Historic Sportscar Racing West in 2012 and General Racing Ltd. in 2014.
'Business-like approach'
"Tony has come in like a hurricane," said Tim Suddard, publisher of Classic Motorsports, a national magazine covering the vintage market. "He's brought in a business-like approach this racing segment simply hasn't seen before. Vintage groups have always been regional. Tony has gone national—in a big way."
Suddard isn't surprised Parella has found traction with blue-chip sponsors.
"Members of his association are some of the wealthiest race team owners in the world, and they use a lot of stuff," he said. "The CEO of Burger King, the past CEO of Merrill Lynch, AC/DC lead singer Brian Johnson and Juan Gonzalez Moreno, CEO of Mission Foods—one of the biggest makers of Mexican foods—are all members."
Bruce Foss, business unit manager for Lakeville-based Hoosier Tire, said the association's scale is attractive to sponsors.
"Tony has grown this [race series] dramatically. He's offering companies exposure to not only thousands of racers and team owners, but a growing number of spectators," Foss said. "It's a very appealing combination."

More than 500 cars are expected to compete in 13 classes at the Brickyard Vintage Racing Invitational, including everything from 1940s and 1950s sports cars to 1980s muscle cars. It isn't uncommon to see classic cars from a half-dozen racing disciplines—including IndyCar, NASCAR and Formula One—at a vintage racing event.
In addition to SVRA members dueling it out at the famed Speedway, a pro-am event will feature some of the biggest names from racing's past, including Al Unser Sr., Al Unser Jr., Paul Tracy, Bill Elliott, Geoff Brabham and others.
Racing at the Brickyard gives the series a credibility Parella said is difficult to quantify.
"It's the cathedral of racing. There's just a mystique there," he said. "Every person who's ever sat behind a steering wheel has dreamed of racing at Indianapolis. So we knew we wanted to be there."
Too risky?
Parella is eager to showcase the association with the IMS.
The weekend will be the first of the association's events that is streamed live, a big part of Parella's efforts to take his vintage racing series to the masses.
In 2012, the group didn't even have a Facebook page. But last year, its page had 3.2 million video views totaling 4 million minutes, Parella said.
"This year, we expect 5 million video views—all with a sponsor logo and mention," he said. "It's going crazy."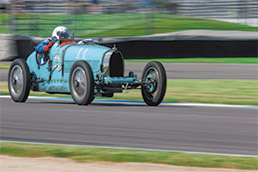 (Photo courtesy of the Indianapolis Motor Speedway)
But Parella didn't exactly find open arms when he first met IMS officials in July 2012—two months before his acquisition of the association closed.
"They thought there was too much risk. They were concerned about liability," he said. "They told me they only allowed professional racers on the track."
Undaunted, Parella forged a deal to hold a vintage racing event at the 1-year-old Circuit of the Americas in Austin, Texas, in November 2013. It drew 600 cars.
Two months later, Parella signed a deal for a 2014 event at the Brickyard.
"I showed them a model they hadn't seen before," he said. "I don't think an amateur racing circuit had ever gone to them with this [revenue] number from the gate and sponsorships. I didn't just want to rent the track for a couple of days."
He didn't seek a long-term arrangement, instead opting for a renewable yearly deal.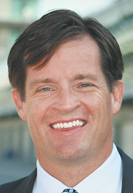 Boles
"I wanted it to be short-term so the event could prove itself," he said. "I don't have to resell it. The numbers do all the talking."
IMS CEO Doug Boles called the deal "a true partnership," adding that the association and the Speedway share in the event's costs and revenue.
"Tony made some strong commitments to the way he'd market and promote this event, and he put his money where his mouth is," Boles said. "This event has become stronger every year."
B-to-B focus
Early on, Parella worked hard to sell sponsors on the idea of business-to-business networking and access to some of the richest Americans—who just happen to love racing vintage cars. The sponsors network a lot among themselves also, Parella added.
"These guys are rich, but they're not snobby," he said. "It's a very friendly and accessible paddock."
His next ambition is to increase attendance at his races enough to catch the attention of more—and in some cases bigger—mainstream companies.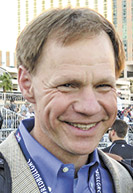 Frost
"I'm intent on going after brands like Cheerios and Tide," Parella said. "I don't think we're too far off."
Chicago motorsports business consultant Tim Frost said the Sportscar Vintage Racing Association's growth has been good for host tracks such as IMS.
"While the SVRA brings in a lot of older folks who love the vintage cars of their youth, it's also been a great tool to introduce a younger fan base to car racing," Frost said. "There's a tremendous amount of father-son and even grandfather-grandson activity surrounding these events."
And the timing of this year's Indianapolis event couldn't be better, said local hospitality officials.
"This event fits in very nicely on Father's Day weekend," said Visit Indy Vice President Chris Gahl. "It's become a very desirable event for the city. It helps us with the narrative that Indianapolis is a very family-friendly city and showcases the diversity of events the Speedway offers."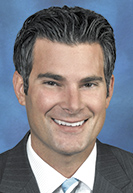 Gahl
Though Visit Indy has done no study on the event's economic impact, local hospitality officials said this year's event could have an impact of up to $15 million. And getting in front of thousands of wealthy business owners and executives is a big plus.
"Some of the SVRA team owners are better financed than some IndyCar teams," Frost said.
Gahl called the crowd drawn by the Brickyard Vintage Racing Invitational a "C-suite group."
Parella estimated the average net worth of association members at more than $4 million. A member of the association said that might be low.
"It's not only the quantity of visitors that this event draws, but the quality," Gahl said. "This group skews very affluent, travel-prone and they have the influence to bring in a meeting to this city or even relocate a business."•
Please enable JavaScript to view this content.