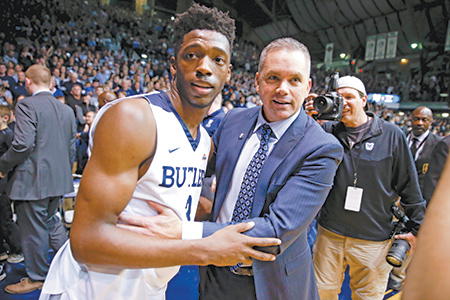 And so another one is out the door of Hinkle Fieldhouse, headed for greener grass. Remember when Butler signed Chris Holtmann through 2025? That was late April. The Bulldogs were hoping against reasonable hope that they had him in the bag for eight more glorious years.
 
He's gone in six weeks.
 
So it goes in big-time college basketball, this eternal ebb and flow of coaching. Butler is still on the tough end of that fact of life.
 
They come, they win, they leave for somewhere else. Holtmann, Brad Stevens, Todd Lickliter, Thad Matta. Even Barry Collier (temporarily). Every last one of them seemed to genuinely love Butler. Every last one of them left for a new challenge. In order: Ohio State, the Boston Celtics, Iowa, Xavier, Nebraska.
 
No one around here needs to be told the quality of Butler's program. Its feats, its stature, its respectability. But it is still a stepping stone, rather than a destination job. Final Fours or not, Big East membership or not, Hinkle aura or not.
 
Thus, there is a revolving door that keeps turning, even picking up speed as the Bulldogs become more successful and nationally renowned. The Butler Way is now looking for its seventh basketball coach this century, and it is only 2017. The program has gone through more bench leaders than Blue the bulldogs.
 
Nothing against Holtmann. He works in a perilous occupation, which can turn on a man in the time it takes a teenager to miss a couple of last-minute jump shots. Consider the man he is replacing. Matta has usually been on the list of best coaches not to win a national championship. Now he is unemployed by mutual consent.
So a coach has to take advantage of the good times. Holtmann is a Big Tenner now, and should leave with Butler's best wishes, which he is. That was the gist of the release from Collier. "Chris is a tremendous basketball coach, but more importantly, he is a great man who has led our program well and embodied the Butler Way during his time with us," Collier said.
And Holtmann will need the karma. When Butler beat Indiana, there was still something of an upset feel to it, even though the Bulldogs have done it plenty of times lately. But now, it's part of the job description. Plus, Ohio State's talent is down. Plus, he's at a school where his sport will always be the junior partner to football. Sometimes that's good, sometimes not.
One other thing. The recent track record of Butler departees is mixed. Collier did OK at Nebraska but couldn't quite get a hoop-challenged program to turn the corner and returned here to go into sports administration. Lickliter had a brief and unfulfilling stay in Iowa City. Holtmann will have his hands full. But it won't be noticed as much in Columbus, if Ohio State has quarterback issues.
So who's next? Butler is an habitual inside hirer, and with its success, who can quibble? That might mean an opening for Terry Johnson, who has put in several years of service on the staff. Or maybe Collier might want to try something different, if the right candidate comes across the desk. Whichever, he'll have to move quickly. No school really wants to be looking for a basketball coach this close to Father's Day.
And what about the new recruits? This is where tweaking must be done on the NCAA rulebook. The guys who signed—your Cooper Neese, your Aaron Thompson, your Kyle Young, et al—are committed. They're in. Can't transfer unless the school grants their releases. Some schools have held to the theory they signed with a school, not a coach.
Sounds nice, but it's not reality. The single most powerful recruiting factor in most cases is the relationship between prospect and coach. Take the coach out of the equation, and the world is suddenly totally different for the kid who is not even on campus yet.
The rule should be clear. If a coach leaves, the incoming freshmen should be automatically free to reconsider. It's only fair.
But that is not Butler's problem at the moment. Replacing Chris Holtmann is—and at least the Bulldogs have an athletic director who seems adept at the task. Collier has been pretty successful at finding the proverbial next man up at Hinkle Fieldhouse.
Good thing, too. The Butler Way might be a set of values, but is also a door, and coaches are going to step through it for the right opportunity on the other side. Tony Hinkle doesn't coach here anymore. Butler is a great place to work and win. It looks appealing on the resume, too—more so all the time, in fact.
And you know what that means. Lots of days like Friday.
Please enable JavaScript to view this content.