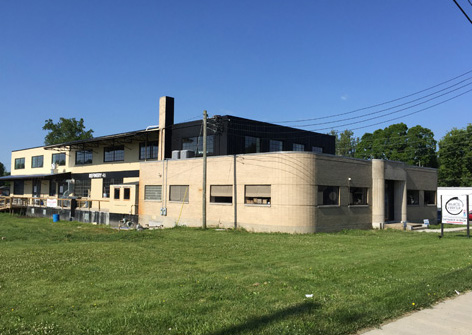 A local heating and cooling company that moved its headquarters to a former warehouse on the north side is converting part of the building into co-working space for other tradespeople—a twist on the trend of offering shared work environments.
Homesense Heating and Cooling's owners bought the 30,000-square-foot structure at 2201 E. 46th St. in December 2015 and moved the following May. Urban grocery chain Double 8 Foods for years had housed its office and warehouse there before ceasing operations in July 2015.
Constructed in 1944, the two-story building with a limestone façade originally was home to Sutho Suds, a local detergent brand, that quickly folded following World War II.
Homesense now is occupying 5,000 square feet, and Black Circle Brewing, which opened in December, another 2,500 square feet at the rear of the building. The co-working concept will take the largest chunk of space—about 12,000 square feet.
It should be finished in the next few months. Its offerings will include lockers for tradespeople who simple need to store tools and equipment; small offices and co-working space on the below-ground level of the building; and two to six offices on the second floor for more established companies wanting longer-term leases.
Homesense owners are calling the building Refinery 46, for its location on East 46th Street. Whereas the Speak Easy and others in the growing field of shared work environments typically offer co-working space for growing tech companies and entrepreneurs, Refinery 46 is targeting plumbers, electricians and others in the trades.
"As far as we can tell, we're the first entity applying the co-working model in the home services and building trades," said Brian Schutt, a co-owner of Homesense. "So, we don't know what we don't know."
Schutt, 37, founded Homesense in 2009 along with Jesse Cross. Tom Lazzara, who operates home remodeler Custom Living Inc. and is not affiliated with Homesense, is a partner in Refinery 46.
Including the purchase price, the three are spending about $1 million to renovate the building.
In the lower level, 19 offices will be available to lease for one-year terms, while the larger offices on the upper level will require 3- to 5-year commitments. Monthly rents will range from $150 to $750. Lockers can be rented on a month-to-month basis.
The space also will feature an open area, cafe, and meeting and conference rooms, in addition to Internet service and dedicated mailboxes.
Six tenants already are leasing temporary space in the building until the offices are finished. Among them is Ryvit, a St. Louis, Missouri-based startup that develops software for the construction industry. Ryvit is an offshoot of Carmel-based GadellNet Consulting Services LLC.
Refinery 46 is a good fit for Ryvit, said Mike Gadus, who's leading the startup's local operations, "because it's about skilled trades and it allows me to immerse myself in the environment."
Schutt and Cross of Homesense are launching Refinery 46 based on their own struggles to find office space as a fledgling startup. They bounced around from various locations before renting a small office at 54th Street and Keystone Avenue, north of their new home.
Then, Homesense didn't need warehouse space, because the owners relied on subcontractors to perform the company's residential heating and cooling work. Homesense since has grown to 18 employees and a fleet of eight service vans. Schutt declined to divulge revenue but said it has grown 25 percent to 35 percent annually since launching in 2009.
"The idea was to create a facility that would be attractive to other people in the building trades, to set them up to grow," Schutt said. "It's born from our own experiences. We had the frustration with real estate and understood the economic anxieties with long-term leases."
Neither had any experience in the trades when they started Homesense eight years ago.
Schutt graduated from Purdue University in 2003, earning a degree in business management from the Krannert School of Management. Cross finished the previous year with a degree in finance.
The two met at Purdue while serving as presidents of their respective fraternities. Schutt was working at local marketing firm Element Three and Cross at accounting firm KPMG when the recession hit. Out of necessity, Schutt said, they launched Homesense.
Now they hope Refinery 46 can help others in the trades grow by providing them temporary office space and a place to bounce ideas off others in similar stages of business ownership.
"It's humorous looking back at how little we knew," Schutt said. "It took a lot of learning. We definitely underestimated the complexities of the industry."
Please enable JavaScript to view this content.