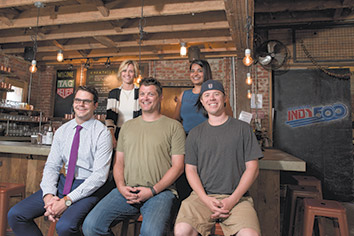 So, four law school graduates and a businessman walk into a bar … and begin distilling, bottling and selling their own artisan liquor.
It's no joke. The journey into the alcohol business began with Travis Barnes, a graduate of Indiana University Robert H. McKinney School of Law. He got a still, cooked some booze and convinced his law school classmates — his now-wife Hilary Barnes, Adam Willfond, and Nabeela Virjee and her husband, Brian Willsey, an MBA from the University of Indianapolis — to capitalize on the state's artisan distiller law.
In 2013, as the law school chums were preparing for graduation and their careers, the Indiana Legislature passed a law allowing craft distillers to get licensed and operate outside the three-tier system, just like craft breweries and wineries. The small spirit-makers would be able to distill and serve alcohol from the same location.
Initially, Travis' idea was met with up-turned noses, but the U.S. Marine veteran who served multiple tours in Iraq does not have the word "no" in his vocabulary. Hilary and the others came to realize how intent he was, and their skeptical "why should we?" morphed into "why not?"
"We literally had nothing to lose," Nabeela said. "We didn't own anything. All I had was student loan debt."
Adam interjected, "They can have that."
Their dream opened as Hotel Tango Artisan Distillery in September 2014. Inside a 106-year-old former carriage house in the Fletcher Place neighborhood just south of downtown Indianapolis, the distillery features a bar from repurposed wood, tables made from doors and, over on the side behind a railing, two 26-gallon stills for the gin and a 150-gallon still for the moonshine, rum and vodka. The name comes from Hilary and Travis stirring their first initials with the military phonetic alphabet that designates H as Hotel and T as Tango.
It was the first craft distillery in Indianapolis and the first service-disabled veteran-owned distillery in the country.
Today, bottles of Hotel Tango spirits are sold in stores in Indiana and the neighboring states of Ohio, Kentucky and Michigan as well as Texas. Recently, the distillery signed a contract to supply the U.S. Navy commissaries throughout the country.
Hotel Tango has licensed its name to a new bar in Fort Wayne that will showcase the distillery's spirits. And, with a new license, the Indianapolis operation is expanding to include a new production and distribution facility complete with a 650-gallon still.
Hilary, Adam and Nabeela all have active law practices and help the business in legal matters ranging from zoning to contract negotiations. Travis and Brian work at the distillery full time.
Travis completed his legal studies but did not try to get licensed. As his friends point to the distillery, they explain he studied for a different kind of bar. Even so, he credits the reasoning and problem-solving skills he learned in law school with helping him create the distillery.
"I got a C on the final in secured transactions, but you've got to give me an A for practical application," Travis said.
If the distillery had not launched, the three licensed attorneys said they would have gone back to their Plan A. They would have gotten out of bed the next morning and gone to their law offices, albeit maybe a little dejectedly.
For Travis, he figured out in law school that his Plan A, opening a small law practice in his hometown of Albion, Indiana, was not something he really wanted to do. So, he turned to his "Plan Better" — distilling. The alcohol market was crowded with craft brewers, but Travis saw an opportunity in spirits.
He started in his bathtub with a mixture of corn, water and Fleischmann's dry yeast dumped into a 5-gallon water jug. On top, following a tip he learned while studying distilling, he snapped a condom to regulate the fermentation. Sometimes the chemical reaction would go awry and the contents in the containers would explode, plastering the tiles and ceiling with corn and crud.
When the fermenting worked, Travis put the product into his backyard still concocted from a tall metal milk can and a long piece of copper pipe jutting straight out of the top. Using a turkey fryer to supply the heat and garden hoses kept in an ice-filled Igloo cooler as the source of the cold water, he cooked batch after batch of moonshine (clear whiskey that has not been aged).
Eventually the alcohol coming out of the still was clear, pure and tasty. He started pouring the homemade booze into one-gallon wooden barrels and gifting it to friends. The compliments bolstered the idea of turning the hobby into a business.
"We got a lot of shitty whiskey until we got the good stuff," Travis said.
But to be legal, the distillery had to get licensed.
To obtain an Indiana artisan distiller's permit, the business first had to get a federal license to make alcohol by Jan. 1, 2014, in order to immediately begin selling alcohol by the bottle and glass on the premises. Otherwise, the distillers would have to wait three years before serving their beverages.
The U.S. Alcohol and Tobacco Tax and Trade Bureau requires new distilleries to have all the components in place — the still, the building, insurance and bonding — before granting the license to operate an establishment to manufacture liquor. In 2013, Hotel Tango submitted its application, including a rendering of the still Travis drew using graph paper, a slide ruler and compass, and then began waiting.
Anticipation became apprehension then consternation when the government shut down in October 2013. Finally, the day before Thanksgiving, the alcohol entrepreneurs got the email that made them especially celebratory.
"We'll always remember that night," Brian said.
The next step was getting a cash infusion.
For that, Travis took his still and made a presentation one evening to a group gathered for a Scotch tasting at the University Club of Indianapolis. Among those attending was R. Matthew Neff, entrepreneur and consultant with experience in venture capital.
Peering at the milk-can-copper-pipe contraption, Matt conceded he wondered if Travis and his colleagues had sampled too much of their product, but he was soon won over by the combination of Travis' knowledge of the new distilling law and business strategy. He convinced three other friends (two of whom are lawyers like him) to join him in investing in Hotel Tango. Matt now serves as the chair of the board for the business.
"He's a very principled, humble guy," Matt said of Travis. "He's very good about delivering on his word."
On opening night, Travis had envisioned Hotel Tango operating like a winery. Customers would sample a flight of liquor, buy a bottle then leave. But he and his colleagues quickly learned patrons prefer cocktails.
"People just didn't want to come and take shots of vodka," Hilary deadpanned, so they hired bartenders.
With the state law prohibiting Hotel Tango from serving any alcohol that has not been made onsite, the Hotel Tango mixologists reconfigure some traditional favorites and incorporate seasonal ingredients like blood oranges and basil to craft their unique refreshments.
Sitting near the bar at their distillery, the four lawyers and the businessman still seemed a little surprised. They never thought Hotel Tango would be what it has become, and they're not certain what will happen in the future, but Travis is confident they won't stumble on their leap of faith.
"The short time we've been going, it's been a very rapid growth," he said. "I don't see any reason for it to slow down."•
Please enable JavaScript to view this content.