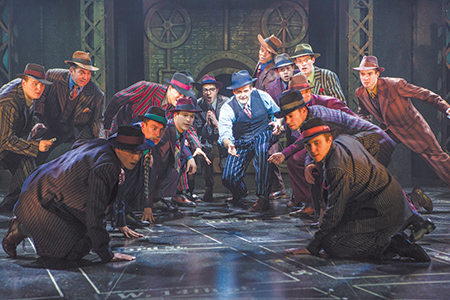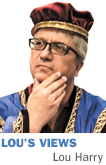 For vacation this year, I took a trek to Verona, Ilyria, Broadway and a tropical island that housed buried treasure.
My passport came courtesy of Ontario's Stratford Festival.
Since 1953, Stratford (not to be confused with Stratford-Upon-Avon in England, which is a much longer trip) has proven that economic development and a commitment to artistic excellence can go hand in hand.
The town that looked in trouble when the railroad industry pulled out instead became home to one of the largest theater festivals in North America. It now incorporates 14 productions in its May-to-October season, features a 100-strong acting company and operates on a budget of more than $60 million. The festival has sparked a vibrant, friendly business community packed with pubs and local restaurants. Past performers here include Maggie Smith, Brian Dennehy, Eric McCormack (yes, Will of "Will and Grace" spent five seasons here), Christopher Plummer and Jessica Tandy.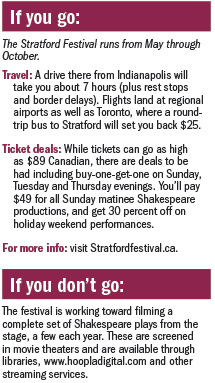 Fear not if you are Bard-shy. Formerly known—and still often referred to—as the Stratford Shakespeare Festival, the four-theater operation produces far more than just the works of its once-title playwright.
This year's offerings include the classic musical "Guys and Dolls," the Gilbert & Sullivan operetta "H.M.S. Pinafore," the restoration comedy "The School for Scandal," a children's theater production of "Treasure Island," and a spattering of more contemporary work, all presented using resources that most theaters can only dream of. When was the last time you saw 30 actors on stage in a non-musical, let alone in costumes that would rival anything in the movies?
My early-in-the-season visit allowed time for four plays—two Shakespeare, two not.
The lead women and supporting players dominated a bouyant, high-energy "Guys and Dolls," where a stunning "Crapshooters Dance"/"Luck Be a Lady" led to a hilarious "Sue Me" and into a truly show-stopping "Sit Down You're Rockin' the Boat." (Hat's off to Steve Ross' Nicely Nicely Johnson.)
But it wasn't just the music that sold this show. Director/choreographer Donna Feore demonstrated a clear understanding that for "Guys and Dolls" to live up to its potential, there has to be no doubt that, despite his schemes, Nathan truly loves Adelaide. And that Sky Masterson and Sarah Brown bring out the best in each other.  
Just as strong was "Twelfth Night," a magical foray into one of Shakespeare's most popular comedies, with Tony-winner Brent Carver providing the anchor as a soulful, unimposing-but-knowing Feste, and Tom Rooney, who as Sir Andrew was able to wring laughs out of small gestures and looks. I've been enamored with a shot-from-the-stage video production of an early Stratford production of "Twelfth Night" and feared that this totally new take would be a letdown. This one, however, had grace and humor all its own. And the audience, including me, adored it.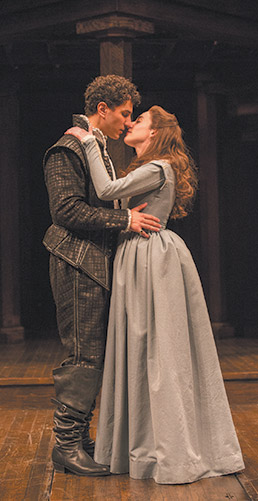 Antoine Yared and Sara Farb are appropriately youthful and impetuous teens at the center of "Romeo and Juliet." (Photos courtesy of Cylla von Tiedemann)
At Stratford, you are unlikely to find modern dress adaptations of Shakespeare or productions that set "Julius Caesar," for example, in Washington or "The Taming of the Shrew" in the old West. I've got nothing against such transformations elsewhere—I've loved many of them. But Stratford does something few theaters seem to do anymore: honor the intended period while bringing a rich clarity to the performances. Even "Romeo and Juliet," perhaps the most familiarly plotted piece in the Shakespeare canon, comes across as fresh when presented with the level of emotional honesty displayed here, particularly by Sara Farb as Juliet and as volatile as her violent kinsmen and lover.
The trick: embracing the fact that R&J are teenagers, for all the impetuosity that that implies. And in understanding that while they provide the center of the play, they aren't the whole play. Here, the substantial cast makes clear that this isn't just a play about a pair of lovers and their friends—it's also about the impact of this tragedy on a community.
My only disappointment was in "Treasure Island," which proved much ado about an adventure best left to the page and screen. A production that seemed fairly reverent initially seemed to abandon its ideals at intermission. But I have to admit it was fun to have red rubber balls (the kind you might remember from gym class) substituting for cannon balls and being launched from the theater boxes onto the stage (accompanied by video "splashes").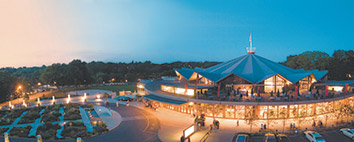 Stratford's four theatrical spaces includes the Festival Theatre, which also features extensive gardens on the grounds. The deck is a popular intermission spot. (Photo courtesy of Richard Bain)
The Stratford experience goes beyond the theaters. The details of the town accentuate what's on stage. Lovely gardens, bookstores, streets and parks add to the ambiance, and a thriving local restaurant scene with pubs open late offer plenty to do before, between and after the shows. (Tip: Don't be discouraged by the line for poutine at the tiny Boomers Gourmet Fries. It's worth the wait.)
I strongly recommend saving some of that downtime for the Stratford Warehouse Tour. Best to go during the week, when work is being done, but even on weekends it's a fascinating hour-long look behind the scenes at the tens of thousands of costumes and props that have and continue to go into the stage offerings. The tour culminates in an opportunity to try on some of the garb (see my headshot), making for some fun photo ops as well as a greater appreciation for the weight and detail of these one-of-a-kind pieces.•
__________
This column appears weekly. Send information on upcoming arts and entertainment events to lharry@ibj.com.
Please enable JavaScript to view this content.