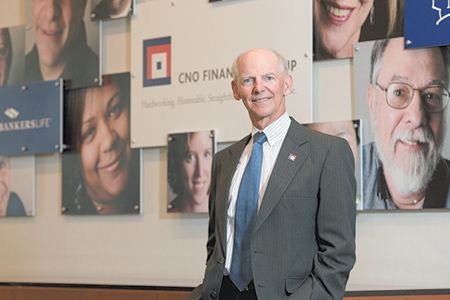 CNO Financial Group CEO Edward "Ed" Bonach has been a busy guy the past decade.
When he joined the insurer, then known as Conseco Inc., as CFO in 2007, it was just four years out of bankruptcy. Bonach was tasked with refocusing the company and getting it out of its riskier lines of business.
Then came the Great Recession, which knocked CNO on its heels. At its low, CNO stock traded for 26 cents a share. (Shares now trade above $20.)
Bonach, 63, who plans to retire at the end of this year, recently sat down with IBJ to talk about weathering challenges and coming out intact.
What was the darkest day?
The darkest day, or time period, was March of 2009. The markets were down tremendously. Our stock price was 26 cents. The markets were saying, "We didn't think there was much value in the company; it probably wouldn't survive."
When you have millions of customers, millions of shareholders, thousands of employees and agents, that's a pretty dark time if the markets were going to be right and we weren't going to survive. Thankfully, they weren't right.
Was there a point or some event that happened that gave you hope?
Yeah. I would say, if I had to pick one, it was when we secured some additional capital to calm the markets and the rating agencies.
We secured that capital principally by working with Paulson and Co. [Firm partner John Paulson made his name, and billions of dollars, by shorting the subprime housing market in 2007.] They entered our capital structure in a couple of different ways that gave us that financial support that was necessary in those times to show that we had other sources of capital besides what we naturally generated. We were able to secure that later in March of 2009 and April of 2009.
How did you keep going during that time so that you had the fortitude to do what you needed to do at work?
I feel like I operate that way in most days, meaning that—number one—I try to have balance in my life and take care of myself with how I eat, exercising, doing things that keep you physically fit, that help you stay also mentally strong.
Having people I could go to—my wife, my family—that will also give you that grounding. And then, stay focused on the task at hand. Thankfully, something else that I followed most of my career is: Know your business. I knew that, fundamentally, we had a sound business.
What's your favorite form of exercise?
Two things. I love golfing; I love to walk. When I golf, either with a caddy or carrying my own clubs, that's more than exercise. It's also getting in an environment where I can unplug more from things that are going on and have time to either totally unplug or reflect because of that.
Now, you can't do that on a regular basis with my job, so it's more alternating between cardio on the elliptical and those kinds of machines, and light weights. Thankfully, we've got a convenient way to do it right here with our own on-site fitness center [at CNO's Carmel headquarters], which we opened about a year ago.
So you actually use the workplace center?
I'm usually the first one in there most mornings. … 5 a.m. Thankfully, I don't know if it's genes or what, but I can usually get by on less sleep than most. Starting early is good for me.
After you retire, are you still going to get up early and exercise at 5 a.m.?
(Chuckles) We'll see. I sort of have a natural clock. It may wear off some over time. My wife is more of a night owl and I'm more of an early bird. So I'm sure we'll each morph to some degree to have more common time.•
Please enable JavaScript to view this content.