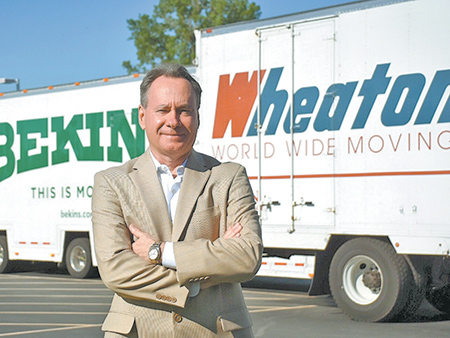 Revenue for Wheaton Van Lines Inc., a trucking, storage and moving company, has continued to move in the right direction, from $196 million in 2015 to $209 million in 2016. And it's up 12 percent through the first five months of this year, according to company officials.
With acquisitions in 2012 and 2013, Wheaton now operates under the Wheaton World Wide Moving, Bekins Van Lines and Clark & Reid brands.
Wheaton Van Lines CEO Mark Kirschner, 57, talked with IBJ about the company's growth and other topics.
How is your firm doing right now?
We're in a mature industry. Fewer people are moving due to lifestyle, technology and the ability to work remotely. But our company is strong and growing.
What's the fastest-growing part of the business?
Private residential. While we've always been strong players in the military and corporate [sectors], and continue to be players in both of those lines of business, we're particularly strong in the private residential arena.
How many trucks does Wheaton own?
The van line model is a little different. We don't actually own any tractors. We own 125 trailers and our agents own 800 to 1,000. Our agents and independent drivers own all the tractors.
Is the company in acquisition mode?
Absolutely. We've looked at two targets this last year. They didn't fit our model. To make an acquisition, it has to add value to our company, agents and drivers.
Where are the biggest growth opportunities in the business?
Residential. Within the private residential market, we're working on growing our ability to handle more smaller shipments, less than 5,000 pounds. In addition, there are technological tools—like video surveying—that we're working with to help drive the growth in that area.
What's the biggest issue currently facing your industry?
Driver shortage. We're not losing drivers; there's just no new drivers coming into the industry. The average age of long-distance truckers is in the mid-50s. Forty percent of the business is in the summer, and getting enough drivers during that time is a real challenge.
Have online reviews had a dramatic impact on the trucking industry?
Moving is very emotional. So the reviews—positive or negative—are very emotional. Referrals are the No. 1 reason people choose a moving company and online reviews are No. 2.
Do you ever jump behind the wheel of one of the big-rig trucks yourself?
Once. We had an event here and I drove in our parking lot. I think I topped out at 10 miles an hour.
Do truckers still use CB radios?
10-4, good buddy. (Laughter). No, most use cell phones and driver apps. We now have apps to track and communicate with our drivers.
What's your favorite trucking movie?
"Smokey and the Bandit." It has the long-est chase scene of any movie ever made.
What's your favorite trucking song?
"Convoy." I love all the trucker talk—and slang—woven throughout that song. It tells a good story.
Please enable JavaScript to view this content.