The owners of the Indy Fuel professional hockey team and Indianapolis-based developer Gershman Partners announced plans Monday to team up on a $40 million-plus sports, family entertainment and hospitality complex on 60 acres along Interstate 65 in Greenwood.
Indiana Ice Arenas LLC, owned by Fuel owners Jim and Sean Hallett, and Gershman Partners said they have signed letters of intent with Greenwood to develop the project south of County Line Road and are seeking an incentive package worth $8.5 million from the city.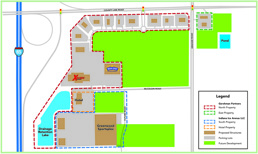 Click image for larger view: Greenwood Sportsplex would be located on the southern border of the larger development. (Image courtesy city of Greenwood)
The development would be anchored by the $25 million Greenwood Sportsplex, a 175,000-square-foot facility with two ice rinks, two turf fields, five basketball courts, a fitness and training facility, pro shop, locker rooms and food service facilities. The turf fields would be convertible into two additional ice rinks and the basketball courts would be convertible into 10 volleyball courts.
The project would replace an earlier proposal by the Halletts to build a $20 million ice rink project on six acres in Greenwood's Freedom Park.
Gershman said it would spend an additional $15 million on the initial phase of the overall development, which would include another 125,000 square feet of entertainment, dining, retail and hospitality projects.
The developer said it has early agreements in place with Xscape Theatres and Main Event Entertainment to serve as anchors for that portion of the development. Xscape operates multi-screen movie theaters, and Main Event operates bowling-alley entertainment facilities that also offer laser tag, billiards, bars and dining.
Ten outlots at the development would include a 200-room hotel, convenience store and restaurants. The site also could eventually include medical and office space.
Gershman, the developer behind Hamilton Town Center in Noblesville and The Bridges in Carmel, has been trying to develop high-profile piece of land in Greenwood since 2015. It initially proposed a $90 million development called Greenwood Town Center that would contain 700,000 square feet of shopping, dining and entertainment. But construction on that project didn't get started as expected late last year after Gershman struggled to find larger anchor-type tenants, Greenwood Mayor Mark Myers told IBJ in January.
The sports complex, Xscape theater and Main Event facility appears to give Gershman the anchors it needs to get the project off the ground. 
"The initial phase of this development would bring nearly 300,000 square feet of sports and entertainment facilities to Greenwood," said Greenwood Mayor Mark Myers in written comments. "The project creates a focus for youth sports in the Midwest and positions our city to host a variety of regional and national events. It also provides a unique recreational opportunity for residents of Greenwood and surrounding areas."
The Halletts had previously proposed developing a $20 million project called the Greenwood Iceplex on six acres in Freedom Park, south of Smith Valley Road between State Road 135 and U.S. 31 South. But the proposed location has not been met favorably by nearby residents and members of the Greenwood Common Council. A spokesman for the Halletts said Monday that Greenwood officials put design mandates on that project that made it "not financially feasible."
In total, the Halletts and the Fuel expect to invest up to $30 million in the overall project, including about $25 million on the sports facility and other investments in the hotel and other developments, the spokesman said.
The Greenwood Redevelopment Commission is scheduled to hold a special meeting Monday evening to hear a presentation on the new project and the requested incentives.
Those incentives include up to $3.7 million for construction of site improvements, up to $1.8 million for off-site infrastructure improvements on County Line and Graham roads, and reimbursement of up to $3 million for capital improvements at Greenwood Sportsplex, payable over 10 years with continual operations.
RDC President Brent Tilson said he's in favor of the project.
"This is a special opportunity for Greenwood," Tilson said in a written statement. "The value to our city is immediate and will only increase over time. We're confident this will spur accelerated development in both the immediate and surrounding areas."
The RDC is expected to vote on the incentive packages during its July 11 meeting. The development also requires variance requests through the Board of Zoning Appeals and plat/site plan approval from the Advisory Plan Commission.
The developers said they would like to have definitive agreements in place by the end of August.
Previous attempts to develop the site have failed. Cabela's pulled plans to build a store there in 2009, and GoodSports backed out of a plan for the site in 2014, when it couldn't secure financing for a $22 million sports complex and hotel project.
Dallas-based Main Event Entertainment already operates one area venue. It opened a location this year in the north-side Rivers Edge Shopping Center previously occupied by Latitude 360. It operates nearly 40 venues nationally.
New Albany-based Xscape targets "underserved" markets in has suburban areas. It has multi-screen theaters in Florida, New Jersey, Kentucky, Ohio and Maryland.
Please enable JavaScript to view this content.